Porpora: Cantatas for Soprano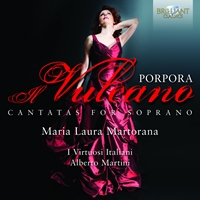 Composer
Niccolo Porpora
Artist
Maria Laura Martorana soprano
I Virtuosi Italiani
Alberto Martini violin and concert master
Format
1 CD
Cat. number
94311
EAN code
5028421943114
Release
November 2012
About this release
Behind all great students is a great teacher. This is true of Haydn, Scarlatti and Pergolesi, who, among others, were all taught by the celebrated Nicola Porpora. As a professor of singing and composition, Porpora gave lessons in his native Italy and across Europe. A distinguished composer in his own right, his extensive knowledge of vocal technique allowed him to compose cantatas as well as a host of operas, all of which were considered masterpieces in their own day.

Most of Porpora's cantatas – veritable masterclasses of vocal composition – are found in the 1735 collection, published in London and dedicated to Frederic, Prince of Wales. This disc, however, also presents three of an unknown date; while Venticel che tra la frondi and Il Vulcano can be traced back to Porpora's time in Venice (the former in particular contains similarities to his Venetian sacred music), Il Ritiro is likely to be the most modern, carefully reconstructed from a collation of various possible manuscripts. At any rate, these cantatas are a testimony to the composer's reputation as one of the most important and influential musicians of the 18th century.

Coloratura soprano Maria Laura Martorana has received many awards over the years, including the prestigious 'Singer of the Year' prize at the 1996 Festival of Martina in Italy. She has participated in the recording of numerous operas, and sang the role of Cleonilla in the 2008 recording of Vivaldi's Ottone in Villa (BC 94105) for Brilliant Classics. Joining Martorana on this disc is the internationally renowned ensemble, I Virtuosi Italiani.

Other information:
- Recorded in April 2012, Villa San Fermo, Lonigo, Vicenza, Italy.
- The Italian elite band "I Virtuosi Italiani" play original instruments.
- Maria Laura Martorana possesses all the qualities required for an effective performance of this music: effortless and brilliant vocal technique, capable of the most daunting vocal acrobatics, and a passionate and dramatic temper, conveying the strong emotions expressed in these Baroque Cantatas. Includes booklet notes on each of the pieces and a biography of the composer.
- Contains comprehensive booklet notes.
Track list
Disk 1
Niccolo Porpora: Il Vulcano (?1734): Sinfonia: Vivace

Niccolo Porpora: Il Vulcano (?1734): Sinfonia: Minuetto

Niccolo Porpora: Il Vulcano (?1734): Recitativo 'Da tue veloci candide colombe'

Niccolo Porpora: Il Vulcano (?1734): Aria 'Non lasciar chi t'ama tanto' (Lento)

Niccolo Porpora: Il Vulcano (?1734): Recitativo 'Non ti rammenti ingrate'

Niccolo Porpora: Il Vulcano (?1734): Aria 'Seguitarti ovunque vai' (Allegro)

Niccolo Porpora: Il Sogno (1735): Aria 'Nel mio sonno almen talora' (Lento)

Niccolo Porpora: Il Sogno (1735): Recitativo 'Pria dell'Aurora'

Niccolo Porpora: Il Sogno (1735): Aria 'Partì con l'ombra è ver' (Andantino)

Niccolo Porpora: Venticel che tra le frondi (?1730): Aria 'Venticel che trà le frondi' (Lento)

Niccolo Porpora: Venticel che tra le frondi (?1730): Recitativo accompagnato 'Così Tirsi piangendo'

Niccolo Porpora: Venticel che tra le frondi (?1730): Aria 'D'un cor che tace e pena' (Allegro)

Niccolo Porpora: Il Nome (1735): Aria 'Scrivo in te l'amato nome' (Adagio sostenuto)

Niccolo Porpora: Il Nome (1735): Recitativo 'Oh pianta avventurosa'

Niccolo Porpora: Il Nome (1735): Aria 'Per te d'amico Aprile' (Allegretto)

Niccolo Porpora: Il Ritiro: Sinfonia: Moderato

Niccolo Porpora: Il Ritiro: Sinfonia: Allegretto

Niccolo Porpora: Il Ritiro: Recitativo 'Lasciovi al fin grandezze'

Niccolo Porpora: Il Ritiro: Aria 'A voi ritorno' (Moderato)

Niccolo Porpora: Il Ritiro: Recitativo accompagnato 'Povero ma tranquillo'

Niccolo Porpora: Il Ritiro: Aria 'Sorte un'umile capanna' (Andante)