Porpora, Monn, Haydn: Cello Concertos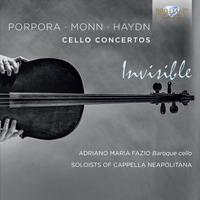 Composer
Franz Joseph Haydn, Georg Matthias Monn, Nicola Porpora
Artist
Adriano Fazio baroque cello
Soloists of Cappella Neapolitana
Format
1 CD
Cat. number
95570
EAN code
5028421955704
Release
November 2017
About this release
According to Early Music Review, 'Easy lyricism and musicality' was a hallmark of Adriano Maria Fazio's debut for Brilliant Classics in six cello sonatas by Porpora. Now the cellist continues his exploration of the birth of his instrument's repertoire with three concertos which significantly enlarged and redefined wider understanding of the cello, not merely as a textural and harmonic underpinning element for another melody instrument but as more than capable of holding the limelight in its own right.

Fazio returns first to Porpora, with a G major Concerto which is not so well known as another A minor work in the same genre, but is no less shapely or melodically rewarding. Here already are complex technical challenges which far outstrip anything required of the cello in basso continuo mode, such as thumb position and intensive use of the higher register. Porpora it was who, having left his native Naples to settle in Vienna, took on the teenage Joseph Haydn as an assistant.

Under the elder composer's guidance, Haydn's musicianship was greatly refined, not only as a composer but a singer and instrumentalist. Thus the present recording presents a very rare opportunity to hear the extent of Haydn's debt to Porpora. And just as Porpora must have had a formidable soloist in mind to write the G major Concerto, so Haydn, now employed at Esterhazy, could call upon the formidable talents of the court orchestra's principal cellist, Joseph Weigl. The C major Concerto remains Haydn's most splendidly virtuosic concerto for any instrument, written to fit the full capacity of a soloist like a kid-leather glove, daring and yet effortlessly stylish.

In between Haydn and Porpora, Adriano Maria Fazio places the G minor Concerto of Georg Philipp Monn, which was revived in the middle of the 20th century by an unlikely but successful reorchestration for updated orchestral forces by Arnold Schoenberg. These days, however, Monn's original stands on its own two feet, as a missing link between Porpora's effervescent but formal Italian Baroque style and Haydn's brand of Viennese Classicism.

This new recording presents three Cello Concertos originated from the two Capitals of classical music at the time: Naples and Vienna.
Nicola Porpora (Naples 1686-1768) and Georg Matthias Monn (Vienna 1717-1750) were both transitory musical figures, rooted in the Baroque, they introduced the Galant Style: cantabile melodies embedded in baroque forms, paving the way for the classical style of Haydn, the genius of Viennese Classicism.
Excellent historically informed performance by young Italian cellist Adriano Fazio, who already released a successful recording for Brilliant Classics (BC95408) of Cello Sonatas by Porpora: "Adriano Fazio and Kataryna Solecka play with a lovely rapport and with an easy lyricism and musicality, conveying well their justified enthusiasm for this expressive and original music" (Early Music Review). The Cappella Neapolitana is specialized in unearthing musical treasures from Naples, and play on period instruments.
Liner notes in English and Italian, written by musicologists, are included in the booklet.
Track list
Disk 1
Cello Concerto in G Major: I. Adagio

Cello Concerto in G Major: II. Allegro

Cello Concerto in G Major: III. Adagio

Cello Concerto in G Major: IV. Allegro

Cello Concerto in G Minor: I. Allegro moderato

Cello Concerto in G Minor: II. Adagio

Cello Concerto in G Minor: III. Allegro non tanto

Cello Concerto No. 1 in C Major, Hob. VIIb:1: I. Moderato

Cello Concerto No. 1 in C Major, Hob. VIIb:1: II. Adagio

Cello Concerto No. 1 in C Major, Hob. VIIb:1: III. Finale. Allegro molto