Poulenc, Britten, Debussy: Concerto for 2 Pianos, Scottisch Ballad, Suite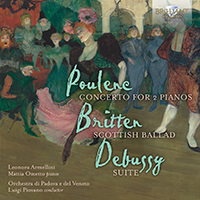 Composer
Benjamin Britten, Claude Debussy, Francis Poulenc
Artist
Mattia Ometto piano
Leonora Armellini piano
Orchestra di Padova e del Veneto
Luigi Piovano conductor
Format
1 CD
Cat. number
96163
EAN code
5028421961637
Release
November 2020
About this release
Three 20th-century masters, painting glittering rainbows of colours with two pianos.

From Javanese gamelan to Mozart, from nursery rhymes to passionate outbursts, from primitive percussion to the café chantant, Francis Poulenc gathered up almost all the formative influences on his style in his Concerto for Two Pianos of 1932. Aside from Mozart, there is also an evident allusion to Ravel, in particular to the two piano concertos, which were published and performed in the same year. Yet the originality of the concerto is never in doubt; the deep feeling and light touch of the central Larghetto bear Poulenc's fingerprints as clearly as the final gallop home.

Much less familiar is the Scottish Ballad composed in 1941 by Benjamin Britten as a free fantasy for two pianos and orchestra based on a number of Scottish tunes, including 'Dundee', 'Turn Ye to Me' and 'Flowers of the Forest'. A lamenting funeral march is followed by a flamboyant Highland fling, in which Britten parodies 'Scottish' music in a display piece of great wit and vitality. This unique compilation concludes with a two-piano piece in which the orchestra is 'silent': the Premiere Suite written with orchestra in mind by Debussy in his early 20s. However, the orchestral score was lost for many years – even this two-piano version was only published in 2008 – and its four movements show Debussy's language in the act of formation: unmistakably French, and harmonically novel for its time, but still working in self-contained forms – a toccata, a ballet, a shimmering nocturne and a tumultuous final bacchanale.

The soloists here are a pair of experienced performers and teachers. Having won several Italian piano competitions, Leonora Armellini appeared at the Projetto Martha Argerich in Lugano and has played chamber music with the likes of Lilya Zilberstein and the cellist Mario Brunello. The author of a popular book introducing classical music to younger audiences, she is joined here by the Padovan born Mattia Ometto, a pupil of Aldo Ciccolini and Earl Wild who has given concerts at Carnegie Hall and recorded with Leslie Howard: a Brilliant Classics album of the symphonic poems in transcription (95748) which attracted enthusiastic reviews: 'Leslie Howard and Mattia Ometto navigate Liszt's technical challenges with fluency and ease, but they also treat the scores seriously, playing for effect only when necessary, achieving impressive unanimity and long-lined shape.' (Classics Today)

This cd contains two 20th century masterworks for 2 pianos and orchestra: the Scottish Ballad by Benjamin Britten (1913-1976) and the Concerto for 2 Pianos and Orchestra by Francis Poulenc.
The Concerto for two pianos and orchestra is one of the most famous pieces by Francis Poulenc (1899-1963). Here we find the summary of the author's style, which from the very first movement plays with formal elements, loosening the schemes of the traditional sonata form to adapt to that kaleidoscope which is his stylistic signature. From Javanese gamelan to Mozart's atmospheres, from the childish nursery rhyme to the passionate impulse, from primitive percussiveness to café chantant.
Benjamin Britten wrote his Scottish Ballad in 1941. The works is rhapsodic in character and nostalgic in tone, exploring folkloristic material.
Concluding this program the piano duo plays the First Orchestral Suite by Debussy, in an arrangement for two pianos by the composer.
Mattia Ometto and Leonora Armellini are two young and brilliant Italian pianists. Their perfect pianistic ensemble brings out all the humour, wit and melancholy of these wonderful works for two pianos.
Listening
Track list
Disk 1
Francis Poulenc: Concerto in D Minor, FP 61: I. Allegro ma non troppo - Très calme

Francis Poulenc: Concerto in D Minor, FP 61: II. Larghetto - Beaucoup plus allant - Tempo I

Francis Poulenc: Concerto in D Minor, FP 61: III. Allegro molto - Agité - Plus calme - Tempo I subito

Benjamin Britten: Scottish Ballad, Op. 26

Claude Debussy: Première suite d'orchestre: I. Fête

Claude Debussy: Première suite d'orchestre: II. Ballet

Claude Debussy: Première suite d'orchestre: III. Rêve

Claude Debussy: Première suite d'orchestre: IV. Cortège et bacchanale