Poulenc: Complete Chamber Music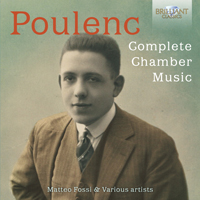 Composer
Francis Poulenc
Artist
Matteo Fossi piano
Marco Gaggini piano
Federica Ferrati piano
Duccio Ceccanti violin
Vittorio Ceccanti cello
Domenico Orlando oboe
Andrea Zucco bassoon
Claudia Bucchini flute
Format
3 CD
Cat. number
95351
EAN code
5028421953519
Release
November 2017
About this release
There are 20 separate works on this, the most complete set yet released of Poulenc's chamber music. No single movement is more than a few minutes long and yet the sequence adds up to an absorbing narrative which takes us from the 20-year-old enfant terrible of 1920s Paris to the penultimate year of his life, with three masterfully written, unusually reflective wind sonatas. Like his older friend Satie, progenitor of Les Six, Poulenc tended to write music in short, repeated fragments. Unlike Satie, however, the younger man could and would switch moods – from clownish humour to lugubrious melancholy – at the drop of a hat.

Like his other compositional mentor Stravinsky, he composed at the piano, and his own fluency as a performer is evident from the piano parts of the many sonatas and trios in this collection. He much preferred wind instruments to solo strings, for their more personable qualities, though it helped that he had a wide circle of friends for whom to write such works.

Matteo Fossi is the animating spirit behind this comprehensive set. He also has a duet partnership with Marco Gaggini, which has made successful recordings of other 20th-century music for Brilliant Classics, including Bartók (BC94737) and arrangements of Schoenberg's chamber symphonies (BC94957): 'a very successful release,' remarked MusicWeb of the Schoenberg CD. According to Gramophone's review of the Bartók, 'Matteo Fossi and Marco Gaggini play like a dream.'

With only one, full-price rival in the current catalogue, this new recording will make an attractive, indeed essential acquisition for all lovers of chamber music, of Poulenc's ever-renewed idiom, of music that smiles, laughs and sympathises with your moods like a good friend.

The complete chamber music by Poulenc on 3 CDs!
Francis Poulenc is one of the most remarkable French composers of the 20th century. Inspired by many (Debussy, Satie, his fellow composers of the "Groupe des Six") he found his essential own voice, an unique blend of French gaiety and a deep, serious and sometimes melancholic feeling.
These new recordings present Poulenc's complete chamber music, written for a wide variety of instruments: violin, viola, cello, double-bass, flute, oboe, clarinet, trumpet, trombone, horn, bassoon, English horn and piano: a multi-coloured palette of sonorities, characters and emotions.
Italian pianist Matteo Fossi gathered an excellent line-up of instrumentalists/friends for this huge enterprise, and the result is a sheer delight, the feeling of a "labour of love" permeates every single performance, leaving the listener marveling about the originality and emotional impact of the music.
The booklet contains excellent liner notes written by a musicologist.
Listening
Track list
Disk 1
Francis Poulenc: Capriccio d'après le "bal masqué", FP 155

Francis Poulenc: L'Embarquement pour Cythère in E-Flat Major, FP 150

Francis Poulenc: Elégie, FP 175

Francis Poulenc: Sonata for Piano Four Hands, FP 8: I. Prélude

Francis Poulenc: Sonata for Piano Four Hands, FP 8: II. Rustique

Francis Poulenc: Sonata for Piano Four Hands, FP 8: III. Final

Francis Poulenc: Sonata for 2 Pianos, FP 156: I. Prologue

Francis Poulenc: Sonata for 2 Pianos, FP 156: II. Allegro molto

Francis Poulenc: Sonata for 2 Pianos, FP 156: III. Andante lyrico

Francis Poulenc: Sonata for 2 Pianos, FP 156: IV. Epilogue

Francis Poulenc: Violin Sonata, FP 119: I. Allegro con fuoco

Francis Poulenc: Violin Sonata, FP 119: II. Intermezzo

Francis Poulenc: Violin Sonata, FP 119: III. Presto tragico

Francis Poulenc: Le bal masque, FP 60
Disk 2
Francis Poulenc: Cello Sonata, FP 143: I. Allegro

Francis Poulenc: Cello Sonata, FP 143: II. Cavatine

Francis Poulenc: Cello Sonata, FP 143: III. Ballabile

Francis Poulenc: Cello Sonata, FP 143: IV. Finale

Francis Poulenc: Suite française, d'après Claude Gervaise, FP 80: I. Bransle de Bourgogne

Francis Poulenc: Suite française, d'après Claude Gervaise, FP 80: II. Pavane

Francis Poulenc: Suite française, d'après Claude Gervaise, FP 80: III. Petite marche militaire

Francis Poulenc: Suite française, d'après Claude Gervaise, FP 80: IV. Complainte

Francis Poulenc: Suite française, d'après Claude Gervaise, FP 80: V. Bransle de Champagne

Francis Poulenc: Suite française, d'après Claude Gervaise, FP 80: VI. Sicilienne

Francis Poulenc: Suite française, d'après Claude Gervaise, FP 80: VII. Carillon

Francis Poulenc: Trio for Oboe, Bassoon and Piano, FP 43: I. Presto

Francis Poulenc: Trio for Oboe, Bassoon and Piano, FP 43: II. Andante

Francis Poulenc: Trio for Oboe, Bassoon and Piano, FP 43: III. Rondo

Francis Poulenc: Sextet, FP 100: I. Allegro vivace

Francis Poulenc: Sextet, FP 100: II. Divertissement

Francis Poulenc: Sextet, FP 100: III. Prestissimo
Disk 3
Francis Poulenc: Flute Sonata, FP 164: I. Allegro malincolico

Francis Poulenc: Flute Sonata, FP 164: II. Cantilena

Francis Poulenc: Flute Sonata, FP 164: III. Presto giocoso

Francis Poulenc: Villanelle, FP 74

Francis Poulenc: Oboe Sonata, FP 185: I. Elégie

Francis Poulenc: Oboe Sonata, FP 185: II. Scherzo

Francis Poulenc: Oboe Sonata, FP 185: III. Déploration

Francis Poulenc: Clarinet Sonata, FP 184: I. Allegro tristamente

Francis Poulenc: Clarinet Sonata, FP 184: II. Romanza

Francis Poulenc: Clarinet Sonata, FP 184: III. Allegro con fuoco

Francis Poulenc: Elégie, FP 168

Francis Poulenc: Sonata for Two Clarinets, FP 7: I. Presto

Francis Poulenc: Sonata for Two Clarinets, FP 7: II. Andante

Francis Poulenc: Sonata for Two Clarinets, FP 7: III. Vif

Francis Poulenc: Sonata for Clarinet and Bassoon in D Major, FP 32: I. Allegro

Francis Poulenc: Sonata for Clarinet and Bassoon in D Major, FP 32: II. Romance

Francis Poulenc: Sonata for Clarinet and Bassoon in D Major, FP 32: III. Finale

Francis Poulenc: Sonata for Horn, Trumpet and Trombone, FP 33: I. Allegro moderato

Francis Poulenc: Sonata for Horn, Trumpet and Trombone, FP 33: II. Andante

Francis Poulenc: Sonata for Horn, Trumpet and Trombone, FP 33: III. Rondeau

Francis Poulenc: Mouvements perpétuels, FP 14: I. Assez modéré

Francis Poulenc: Mouvements perpétuels, FP 14: II. Très modéré

Francis Poulenc: Mouvements perpétuels, FP 14: III. Alerte