Presti: Complete Music for 2 Guitars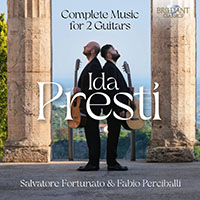 Composer
Ida Presti
Artist
Salvatore Fortunato guitar
Fabio Perciballi guitar
Format
1 CD
Cat. number
96708
EAN code
5028421967080
Release
November 2023
About this release
Ida Presti was a remarkable musician whose extraordinary talent and virtuosity on the guitar left an indelible mark on the world of classical music. Born 31 May 1924 in Suresnes, France, Presti began a journey as a guitarist at a young age that would ultimately shape her life and career.

At the age of nine, Presti began studying at the Paris Conservatoire, where she was exposed to a rich musical education and had the opportunity to collaborate with other talented musicians. It was during this period that she formed a lifelong partnership, both musically and romantically, with fellow guitarist and student Alexandre Lagoya, which resulted in numerous collaborations and recordings that are still revered today. The duo's extraordinary synergy and technical mastery elevated the guitar duo to new heights, earning them a prominent place in the classical music world. Tragically, Ida Presti's life was cut short at the age of 43 when she suffered a fatal brain haemorrhage in April 1967. Her untimely death left a void in the world of classical guitar and robbed the music community of a true virtuoso. However, her legacy lives on through her recordings, compositions and the inspiration she continues to provide to aspiring guitarists.

Today, Ida Presti is celebrated as one of the most influential and accomplished guitarists of the 20th century. Her profound musicality, technical brilliance, and innovative interpretations continue to captivate audiences and inspire guitarists worldwide. She pushed the boundaries of what was thought possible on the instrument, leaving an indelible mark on the history of classical guitar.

Other information:
- Recorded 2022 in Rome
- Booklet in English contains liner notes on the composer and profiles of the guitarists

- Ida Presti (1924-1967) was a French classical guitarist and composer. She first came to prominence as a child prodigy, before maturing into what Alice Artzt has called "the greatest guitarist of the 20th century, and possibly of all time."
- Presti was born as Yvette Ida Montagnon in Suresnes, a suburb of Paris, France, to a French father and Sicilian mother. She studied harmony and music theory with guitarist and luthier Mario Maccaferri. Presti gave her first full-length concert at the age of ten, at the Salle Pleyel. After marrying her second husband, guitarist Alexandre Lagoya, she stopped performing as a solo artist and formed the Duo Presti-Lagoya with him, concentrating on works for two guitars. The two formed one of the most accomplished and famous classical guitar duos in history, performing over 2,000 concerts.
- This new recording presents Presti's complete works for two guitars, highly attractive, melodious and brilliant music, exploring the possibilities and sonorities of the two guitars to the utmost.
- A great homage to one of the most remarkable and talented female guitar players of the 20-th century!
Listening
Track list
Disk 1
Ida Presti: La Hongroise

Ida Presti: Prélude

Ida Presti: Tarantelle

Ida Presti: Danse d'avila

Ida Presti: Espagne

Ida Presti: Bagatelle

Ida Presti: Danse gitane

Ida Presti: Étude No. 1

Ida Presti: Berceuse à ma mère

Ida Presti: Chanson et jeux

Ida Presti: Étude No. 2

Ida Presti: Sérénade

Ida Presti: Valse de l'an nouveau

Ida Presti: Étude fantasque