Purcell: Sacred Music - Funeral Sentences for Queen Mary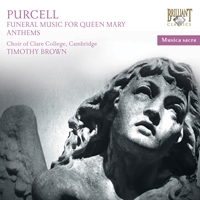 Composer
Henry Purcell
Artist
Andrew Manze violin
Crispian Steele-Perkins trumpet
Choir of Clare College, Cambridge
Baroque Brass of London
Timothy Brown conductor
Format
1 CD
Cat. number
93981
EAN code
5028421939810
Release
July 2009
About this release
November 1694 was a busy month for Purcell. First, the triumphant return to London of King William III from the campaign in Flanders saw the composer produce a new anthem depicting the vanquishing of the King's enemies. Secondly, for the celebration of St Cecilia's Day, composed not the expected ode, but a Te Deum and a Jubilate. The Te Deum is full of grandeur, with the extra trumpets adding some thrilling drama to sections of the work. The scoring is also intimate, with some of Purcell's most personal music –especially 'Vouchsafe, O Lord', where the piling up of dissonances depicts a cry for mercy remarkable for the period. These two works are masterpieces in Purcell's output.

However, the triumph was to be short-lived. In December 1694 a smallpox epidemic swept London, and Queen Mary died on 28 December. Purcell produced some of his greatest music for the Funeral Sentences, which he composed for her burial setting words found in The Book of Common Prayer, Purcell's music is moving and austere, and the sense of grief is almost palpable. The muted drums and Flatt trumpets in the Canzona leave a
lasting impression on the listener. Purcell himself died eleven months later, aged 36.

Other information:
- First-rate line up of instrumentalists, including Andrew Manze and Crispian Steele-Perkins.
- Booklet notes and sung texts included.
Track list
Disk 1
Sacred Music: Te Deum

Sacred Music: Jubilate Deo

Sacred Music: My Beloved Spake

Sacred Music: O God, Thou art my God

Sacred Music: Lord, how long wilt Thou be angry?

Sacred Music: Remember not, Lord, our offences

Sacred Music: Hear my prayer, O Lord

Funeral Sentences for Queen Mary: Funeral March

Funeral Sentences for Queen Mary: Man that is born of a woman

Funeral Sentences for Queen Mary: In the midst of life

Funeral Sentences for Queen Mary: Canzona

Funeral Sentences for Queen Mary: Thou knowest, Lord

Funeral Sentences for Queen Mary: Funeral March