Quantz: Concertos & Trio Sonatas with Recorder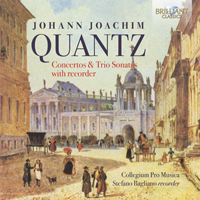 Composer
Johann Joachim Quantz
Artist
Collegium Pro Musica
Stefano Bagliano recorder
Format
1 CD
Cat. number
95386
EAN code
5028421953861
Release
January 2018
About this release
An attractive introduction to one of the seminal figures in 18th-century music.

Apart from being a virtuoso flautist, Johann Joachim Quantz (1697–1773) was also a theorist, composer and flute maker of outstanding stature and acclaim. Despite his humble origins as the son of a blacksmith, he rose to great eminence in the 18th-century flute world, becoming a personal friend of Frederick the Great of Prussia and living happily at the emperor's court in Potsdam, where for 32 years. During this period he wrote and performed over 300 works for the flute, playing them on specially devised instruments that brought out their particular melodic vein.

Quantz is in many ways the 'father of the flute', as instrument-maker, composer and finally performer. His own music owes much of its zest and charm to contemporary Italianate examples such as Vivaldi, whom Quantz met in Venice.

Almost 300 concertos survive, and over 200 sonatas: where to start with so prodigious an output? On this new recording, Stefano Bagliano has selected two concertos (in F major and G minor, nicely contrasted) and a pair of trio sonatas, in C major and again in G minor, the close relative of B flat major to which the flute is technically well suited: many sinfonias and movements of designedly pastoral character have been composed in those keys with the flute playing a starring role. Indeed, all the slow movements on this recording are distinguished by their gently flowing, pastoral character.

This is the latest disc in the extensive and well-received discography of Stefano Bagliano, period-instrument flautist, recorder player and ensemble-leader, on Brilliant Classics. Previous successes include discs of Vivaldi (BC94332), Telemann (BC94334), C.P.E. Bach (BC94864) and Fiorenza and Mele (BC93956). 'A bountifully filled disc of splendid music in first-rate performances,' remarked MusicWeb International of the Collegium Pro Musica/Bagliano album of Sammartini (BC94157). 'The Collegium Pro Musica has a fine, warm, authentic sound.'

Johann Joachim Quantz (1697-1773) was a composer, theorist, flutist and flute maker of great name and fame. Despite being of humble origin he quickly rose to great eminence, becoming a personal friend and court composer of Frederick The Great, living happily at the sumptuous Potsdam court for 32 years, where he produced over 300 works for the flute, playing them on the specially devised instruments that brought out their particular melodic beauty.
This new recording includes two Concertos for recorder and strings, a trio sonata for recorder, flute and B.C. and a trio sonata for recorder, violin and B.C. Works of great charm, melodious inventiveness and brilliant virtuosity.
Played by one of Italy's foremost recorder players, Stefano Bagliano, together with his musical friends violinist Federico Guglielmo, flutist Lorenzo Cavasanti and harpsichordist Andrea Coen.
Liner notes in English and Italian, written by the artist.
Track list
Disk 1
Flute Concerto in F Major, QV5:139: I. Allegretto

Flute Concerto in F Major, QV5:139: II. Arioso ma un poco andante

Flute Concerto in F Major, QV5:139: III. Presto

Concerto for 2 Flutes in G Minor, QV6:8a: I. Allegro

Concerto for 2 Flutes in G Minor, QV6:8a: II. Amoroso

Concerto for 2 Flutes in G Minor, QV6:8a: III. Presto

Trio Sonata in C Major, QV2:Anh.3: I. Affettuoso

Trio Sonata in C Major, QV2:Anh.3: II. Alla breve

Trio Sonata in C Major, QV2:Anh.3: III. Larghetto

Trio Sonata in C Major, QV2:Anh.3: IV. Vivace

Trio Sonata in G Minor QV2:20: I. Allegro ma non tanto

Trio Sonata in G Minor QV2:20: II. Affettuoso

Trio Sonata in G Minor QV2:20: III. Vivace