Rachmaninoff: Piano Concerto No. 5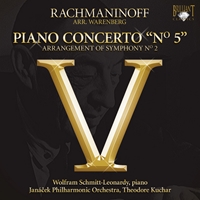 Composer
Sergei Rachmaninoff
Artist
Wolfram Schmitt-Leonardy piano
Janácek Philharmonic Orchestra
Theodore Kuchar
Format
1 CD
Cat. number
8900
EAN code
5029365890021
Release
April 2006
About this release
Rachmaninoff's fifth piano concerto? How could you have missed it? Well, do not be alarmed, there has been no such thing until last year, 2007. In fact this concerto is an arrangement of Rachmaninoff's second symphony. But putting it like that would be selling short this work.

These days injured pianist Alexander Warenberg mainly works as a composer and arranger. He was asked to tackle the seemingly ludicrous task of changing the second symphony into a work with an important piano part. Warenberg has meticulously reworked the four movements of the symphony into the regular three movements of Rachmaninoff's concertos.

In this process the piece has been reduced by some 40% and several necessary re-orchestrations have been carried out. The result is more than just an interesting experiment. This engaging concerto shows off Warenberg's no mean talent as a 're-composer' and it is more than recognizably Rachmaninoff.

Pianist Wolfram Schmitt-Leonardy took it upon himself to familiarize himself with this entirely new score. And so did conductor Theodore Kuchar with the Janácek Philharmonic Orchestra. Their brilliant performance is a truly romantic one. Since Boosey & Hawkes published the score, other musicians may feel tempted to try this fifth piano concerto as well.

A treat for any Rachmaninoff and piano lover and any one else curious about Warenberg's achievements.
Track list
Disk 1
Symphony No. 2 in E Minor, Op. 27, arranged as Piano Concerto, by Alexander Warenberg (Publisher: Boosey & Hawkes): Largo-allegro moderato

Symphony No. 2 in E Minor, Op. 27, arranged as Piano Concerto, by Alexander Warenberg (Publisher: Boosey & Hawkes): Adagio-molto allegro

Symphony No. 2 in E Minor, Op. 27, arranged as Piano Concerto, by Alexander Warenberg (Publisher: Boosey & Hawkes): Allegro vivace