Rachmaninoff & Prokofiev: Cello Sonatas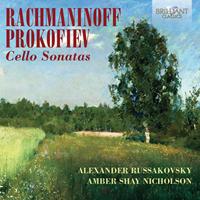 Composer
Alexander Glazunov, Piotr Ilyich Tchaikovsky, Sergei Prokofiev, Sergei Rachmaninoff
Artist
Alexander Russakovsky cello
Amber Shay Nicholson piano
Format
1 CD
Cat. number
94771
EAN code
5028421947716
Release
April 2014
About this release
Bringing together works for cello and piano by some of the greatest composers in Russian music history, the set begins with Rachmaninoff's Cello Sonata – a landmark piece for the composer and whose highlights include a lyrical opening movement and the furiousness of an apparent snowstorm in the second-movement Scherzo. The Pas d'action from Tchaikovsky's ballet Sleeping Beauty, which follows, depicts the moment where Prince Désiré, wandering alone in the forest, is approached by the Lilac Fairy who shows him a vision of the beautiful princess Aurora, and this is followed by Glazunov's Sérénade espagnole – the first of the composer's 'Spanish' works, one which employs a ringing tone reminiscent of a Spanish guitar or lute. Bringing the collection to an end is Prokofiev's Cello Sonata. This piece, beginning with a distinctly serious tone, metamorphoses into a triumphant carnival-like finale, complete with the festive bells that are so symbolic of Russian music.

Cellist Alexander Russakovsky enjoys an international reputation as a performer and teacher. He has given masterclasses as far afield as Latin America and Taiwan, and in recent years has won first prize at the Angela and Maurice M. Clairmont Competition in Tel Aviv and the Performing Arts Foundation Competition in Santa Barbara. Pianist Amber Shay Nicholson won the 2001 Rachmaninoff Concerto No.3 competition at the Eastman School of Music; she is also a former member of the piano faculty of the University of Southern Mississippi.

Other information:
- Recorded in 2012.
- This new recording brings together two great, but altogether different 20th century Cello Sonatas from Russia: the gorgeous and deeply romantic cello sonata by Rachmaninoff, of near-symphonic proportions, and the cello sonata by Prokofiev, a hybrid piece of his later period, a fascinating mixture of the romantic, the grotesque and the introspective side of the multi faceted composer.
- As interludes we hear arrangements of Tchaikovsky's ballet music from Sleeping Beauty, and the Sérénade Espagnole by Glazunov, a brilliant show piece.
- Beautiful, expressive and "Slavic" performances by Russian cellist Alexander Russakovsky.
- Contains liner notes on the works and performer biographies.
Track list
Disk 1
Sergei Rachmaninoff: Cello Sonata in G Minor, Op. 19: I. Lento – Allegro moderato

Sergei Rachmaninoff: Cello Sonata in G Minor, Op. 19: II. Allegro scherzando

Sergei Rachmaninoff: Cello Sonata in G Minor, Op. 19: III. Andante

Sergei Rachmaninoff: Cello Sonata in G Minor, Op. 19: IV. Allegro mosso

Piotr Ilyich Tchaikovsky: Sleeping Beauty, Op. 66, Act 2: No. 15, Pas d'action. Andante cantabile (Arr .Albert Kleineke)

Alexander Glazunov: Pieces for Cello and Orchestra, Op.20: II. Sérénade Espagnole

Sergei Prokofiev: Cello Sonata in C Major, Op. 119: I. Andante grave

Sergei Prokofiev: Cello Sonata in C Major, Op. 119: II. Moderato

Sergei Prokofiev: Cello Sonata in C Major, Op. 119: III. Allegro ma non troppo