Rainer: Music for Baroque Guitar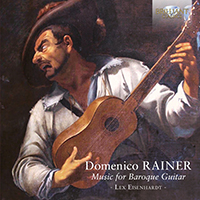 Download booklet
| | |
| --- | --- |
| Composer | Domenico Rainer |
| Artist | Lex Eisenhardt baroque guitar |
| Format | 1 CD |
| Cat. number | 95866 |
| EAN code | 5028421958668 |
| Release | July 2019 |
About this release
Of Domenico Rainer hardly anything is known beyond his name, which appears many times within a voluminous manuscript, held at the library of the Accademia Nazionale di Santa Cecilia in Rome. The manuscript contains guitar music, notated in tablature, from the 17th and 18th centuries. To judge from the style of the fugues and dances left to us – probably a mere fraction of his total output – Rainer worked at the turn of the 18th century.

The dances are mostly grouped in pairs – of allemandes followed by courantes, sarabandes and gigues. The allemandes are particularly impressive, often majestic and serious in mood, while the complementary dances are lighter in character. The title and authorship of several other works here is not easy to establish from the poor condition of the manuscript, but Lex Eisenhardt has assigned them to Rainer after close study of the source.

Rainer seems to have taken inspiration in several cases from the work of Arcangelo Corelli: the gigues in particular demonstrate a distinctly 'violinistic' approach, with abundant broken-chord figuration, and a contemporary sense of tonality and chord hierarchy. Rainer adapted Corelli's language for the guitar with considerable imagination and ingenuity.

Recently retired as a long-standing professor at the conservatoire in Amsterdam, Lex Eisenhardt has studied, taught and performed at the forefront of the historically informed performance tradition on plucked instruments for more than 40 years, and this recording is deeply informed by his experience. In 2015 his widely acclaimed monograph on the baroque guitar was published by the University of Rochester Press, Italian Guitar Music of the Seventeenth Century. This is his debut album for Brilliant Classics.

The works on this CD were recently found in a manuscript in the Accademia Nazionale di Santa Cecilia in Rome, containing 230 pages of music notated in guitar tablature. Several of these works bear the name of Domenico Rainer (or Raineri), a composer of whom literally nothing is known.
The works of Rainer are dances which are usually arranged in certain groups, later known as suites or orders, consisting of Allemanda, Corrente, Gavotta, Sarabanda, Gigue, Capriccio or Minuet. The groups are of various length, from 2 to 7 pieces per group..
The style is in the tradition of the 17th century Italian-French mixed battuto-pizzicato style as used by virtuosi like Bartolotti, Corbetta and De Visée. Rainer was also influenced by Corelli in his distinctly "violinistic" approach, with broken-chord figuration and a modern sense of tonality and chord hierarchy.
Dutch guitarist Lex Eisenhardt is a specialist in Early Music and he made several recording with period instruments. He has given solo recitals and lectures all over the world. He wrote the excellent liner notes for this CD himself.
Listening
Track list
Disk 1
Domenico Rainer: Alemanda il pentimento in B Minor

Domenico Rainer: Alemanda in G Minor

Domenico Rainer: Allegro in G Minor

Domenico Rainer: Giga in G Minor

Domenico Rainer: Sarabanda in G Minor

Domenico Rainer: Gavotta in G Minor

Domenico Rainer: Giga del Rainer in G Minor

Domenico Rainer: Passacaglia in G Minor

Domenico Rainer: Alemanda in C Major

Domenico Rainer: Sarabanda in tempo di minuet in C Major

Domenico Rainer: Minuet del Rainer in C Major

Domenico Rainer: Preludio in A Minor

Domenico Rainer: Corrente del Rainer in A Minor

Domenico Rainer: Fuga in D Minor

Domenico Rainer: Giga in D Minor

Domenico Rainer: Allegro in D Minor

Domenico Rainer: Preludio in B Minor

Domenico Rainer: Sarabanda del Rainer in B Minor

Domenico Rainer: Giga del Rainer in B Minor

Domenico Rainer: Alemanda del Rainer in G Minor

Domenico Rainer: Sarabanda in G Minor

Domenico Rainer: Capriccio in G Minor

Domenico Rainer: Alemanda del Rainer in C Minor

Domenico Rainer: Corrente dell' istesso in C Minor

Domenico Rainer: Alemanda del Rainer in B Minor

Domenico Rainer: Giga dell' istesso Rainer in B Minor

Domenico Rainer: Alemanda in B Minor