Reger Collection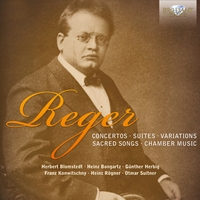 | | |
| --- | --- |
| Composer | Max Reger |
| Artist | Various artists |
| Format | 11 CD |
| Cat. number | 94663 |
| EAN code | 5028421946634 |
| Release | April 2013 |
About this release
Inspired to follow a career in music after attending a performance of Wagner's Die Meistersinger von Nürnberg, celebrated composer Max Reger began his musical endeavours as an organist. His compositional style gradually developed, and today his name is synonymous with the schools of Brahms and Beethoven, his two greatest influences.

This extensive collection provides a showcase of Reger's finest music. Although the composer generally avoided large-scale works such as the symphony, some of his Variations nevertheless have a symphonic feel: the J.A. Hiller Variations, which enjoyed much popularity during the composer's lifetime; the resplendent Fugue finale of the Beethoven Variations; and the Mozart Variations, long considered a masterpiece. The selection also includes his Concertos, both of which have a distinctly Brahmsian quality, his magnificent Chorale Preludes for organ, as well as music for voice – including the renowned Lied To Hope, reminiscent of Wagner's Tristan, the Hymn of Love and several sacred songs. Reger further proved his versatility by writing A Ballet Suite, something so unlike anything else he had written that the composer himself said of it: '[this] could be by any other composer, just not by me.'

The collection boasts a wealth of acclaimed conductors, soloists and orchestras including, among others, violinist Walter Hartwich, organist Wouter van den Broek, and conductors Heinz Rögner and Otmar Suitner.

Other information:
-In 2013, a Reger "Anniversary Year", Brilliant Classics is proud to release a substantial Collection on 11 CD's of this great and unjustly neglected composer.
- This set presents Reger's best known works: the glorious orchestral Böcklin Suite, the Mozart-, Beethoven- and Hiller Variations, the mighty piano concerto and violin concerto, the beautiful clarinet quintet (not in the least inferior to Brahms' masterpiece), the complete Chorale Fantasias for organ (Reger, organist himself, wrote extensively and superbly for his instrument) and a fine selection of choral works.
- Excellent performances by the finest German forces of the Gewandhaus Orchester Leipzig, Staatkapelle Berlin and Dresden, and conductors like Franz Konwitchny, Günther Herbig and Otmar Suitner.
- Licenced treasures from the Berlin Classics catalogue.
- Contains extensive liner notes on the pieces as well as sung texts and organ disposition information.
Track list
Disk 1
Max Reger: A Ballet Suite, Op. 130: I. Entrée: Tempo di marcia

Max Reger: A Ballet Suite, Op. 130: II. Colombine: Adagietto (molto tranquillo)

Max Reger: A Ballet Suite, Op. 130: III. Harlequin: Vivace

Max Reger: A Ballet Suite, Op. 130: IV. Pierrot und Pierrette: Larghetto

Max Reger: A Ballet Suite, Op. 130: V. Valse d'amour: Sostenuto – Tempo di valse

Max Reger: A Ballet Suite, Op. 130: VI. Finale: Presto

Max Reger: Concerto in the Old Style, Op. 123: I. Allegro con spirito

Max Reger: Concerto in the Old Style, Op. 123: II. Largo

Max Reger: Concerto in the Old Style, Op. 123: III. Allegro

Max Reger: Variations and Fugue on a Theme of Beethoven, Op. 86 (arr. for orchestra): Andante

Max Reger: Variations and Fugue on a Theme of Beethoven, Op. 86 (arr. for orchestra): Variation 1: Un poco più lento

Max Reger: Variations and Fugue on a Theme of Beethoven, Op. 86 (arr. for orchestra): Variation 2: Appassionato

Max Reger: Variations and Fugue on a Theme of Beethoven, Op. 86 (arr. for orchestra): Variation 3: Andantino grazioso

Max Reger: Variations and Fugue on a Theme of Beethoven, Op. 86 (arr. for orchestra): Variation 4: Vivace

Max Reger: Variations and Fugue on a Theme of Beethoven, Op. 86 (arr. for orchestra): Variation 5: Andante sostenuto

Max Reger: Variations and Fugue on a Theme of Beethoven, Op. 86 (arr. for orchestra): Variation 6: Allegretto con grazia

Max Reger: Variations and Fugue on a Theme of Beethoven, Op. 86 (arr. for orchestra): Variation 7: Poco vivace

Max Reger: Variations and Fugue on a Theme of Beethoven, Op. 86 (arr. for orchestra): Variation 8: Allegro pomposo

Max Reger: Variations and Fugue on a Theme of Beethoven, Op. 86 (arr. for orchestra): Fugue: Con spirito (non troppo allegro)
Disk 2
: Variations and Fugue on a Theme of J.A. Hiller, Op. 100: Theme: Andante grazioso

: Variations and Fugue on a Theme of J.A. Hiller, Op. 100: Variation 1: Più andante

: Variations and Fugue on a Theme of J.A. Hiller, Op. 100: Variation 2: Allegretto con grazia – Meno allegretto – Andante sostenuto – Largo

: Variations and Fugue on a Theme of J.A. Hiller, Op. 100: Variation 3: Vivace

: Variations and Fugue on a Theme of J.A. Hiller, Op. 100: Variation 4: Poco vivace

: Variations and Fugue on a Theme of J.A. Hiller, Op. 100: Variation 5: Andante sostenuto –Quasi più andante – Tempo primo – Più lento

: Variations and Fugue on a Theme of J.A. Hiller, Op. 100: Variation 6: Tempo di minuetto – Meno mosso – Tempo primo

: Variations and Fugue on a Theme of J.A. Hiller, Op. 100: Variation 7: Presto

: Variations and Fugue on a Theme of J.A. Hiller, Op. 100: Variation 8: Andante con moto

: Variations and Fugue on a Theme of J.A. Hiller, Op. 100: Variation 9: Allegro con spirito – Poco meno mosso – Tempo primo

: Variations and Fugue on a Theme of J.A. Hiller, Op. 100: Variation 10: Allegro appassionato

: Variations and Fugue on a Theme of J.A. Hiller, Op. 100: Variation 11: Andante con moto – Più lento – Largo – Più largo

: Variations and Fugue on a Theme of J.A. Hiller, Op. 100: Fugue: Allegro moderato – Meno mosso – Tempo primo –Quasi largo – Più largo
Disk 3
Max Reger: Variations and Fugue on a Theme of Mozart, Op. 132: Andante grazioso

Max Reger: Variations and Fugue on a Theme of Mozart, Op. 132: Variation 1: L'istesse tempo

Max Reger: Variations and Fugue on a Theme of Mozart, Op. 132: Variation 2: Poco agitato

Max Reger: Variations and Fugue on a Theme of Mozart, Op. 132: Variation 3: Con moto

Max Reger: Variations and Fugue on a Theme of Mozart, Op. 132: Variation 4: Vivace

Max Reger: Variations and Fugue on a Theme of Mozart, Op. 132: Variation 5: Quasi presto

Max Reger: Variations and Fugue on a Theme of Mozart, Op. 132: Variation 6: Sostenuto

Max Reger: Variations and Fugue on a Theme of Mozart, Op. 132: Variation 7: Andante grazioso

Max Reger: Variations and Fugue on a Theme of Mozart, Op. 132: Variation 8: Molto sostenuto

Max Reger: Variations and Fugue on a Theme of Mozart, Op. 132: Fugue: Allegretto grazioso

Max Reger: Four Tone Poems after Arnold Böcklin, Op. 128: I. The hermit playing the violin: Molto sostenuto

Max Reger: Four Tone Poems after Arnold Böcklin, Op. 128: II. The play of the waves: Vivace

Max Reger: Four Tone Poems after Arnold Böcklin, Op. 128: III. The isle of the dead: Molto sostenuto (doch nie schleppend)

Max Reger: Four Tone Poems after Arnold Böcklin, Op. 128: IV. Bacchanal: Vivace
Disk 4
Max Reger: Sinfonietta, Op. 90: I. Allegro moderato (quasi allegretto) –

Max Reger: Sinfonietta, Op. 90: II. Scherzo: Allegro vivace – Trio: Moderato

Max Reger: Sinfonietta, Op. 90: III. Larghetto

Max Reger: Sinfonietta, Op. 90: IV. Allegro con spirito – Più allegro

Max Reger: To Hope, Op. 124, for Alto and Orchestra

Max Reger: Hymn of Love, Op. 136, for Alto/Baritone and Orchestra
Disk 5
Max Reger: Violin Concerto, Op. 101: I. Allegro moderato

Max Reger: Violin Concerto, Op. 101: II. Largo con gran espressione –

Max Reger: Violin Concerto, Op. 101: III. Allegro moderato (ma con spirito)
Disk 6
Max Reger: Piano Concerto, Op. 114: I. Allegro moderato

Max Reger: Piano Concerto, Op. 114: II. Largo con gran espressione –

Max Reger: Piano Concerto, Op. 114: III. Allegro con spirito
Disk 7
Max Reger: Symphonic Prologue to a Tragedy, Op. 108 (short version): Grave – Allegro agitato – Andante sostenuto – Largo

Max Reger: A romantic suite, Op. 125: I. Notturno: Molto sostenuto

Max Reger: A romantic suite, Op. 125: II. Scherzo: Vivace

Max Reger: A romantic suite, Op. 125: III. Finale: Molto sostenuto
Disk 8
Max Reger: String Trio in A Minor, Op. 77b: I. Sostenuto – Allegro agitato

Max Reger: String Trio in A Minor, Op. 77b: II. Larghetto

Max Reger: String Trio in A Minor, Op. 77b: III. Scherzo: Vivace

Max Reger: String Trio in A Minor, Op. 77b: IV. Allegro con moto

Max Reger: Clarinet Quintet, Op. 146: I. Moderato ed amabile

Max Reger: Clarinet Quintet, Op. 146: II. Vivace

Max Reger: Clarinet Quintet, Op. 146: III. Largo

Max Reger: Clarinet Quintet, Op. 146: IV. Poco allegretto
Disk 9
Max Reger: Chorale Fantasia, Op. 27: Ein' feste Burg ist unser Gott

Max Reger: Chorale Fantasia, Op. 30: Freu' dich sehr, o meine Seele

Max Reger: Chorale Fantasias, Op. 40: Wie schön leucht't uns der Morgenstern

Max Reger: Chorale Fantasias, Op. 40: Straf' mich nicht in deinem Zorn
Disk 10
Max Reger: Chorale Fantasias, Op. 52: Alle Menschen müssen sterben

Max Reger: Chorale Fantasias, Op. 52: Wachet auf, ruft uns die Stimme

Max Reger: Chorale Fantasias, Op. 52: Halleluja! Gott zu loben, bleibe meine Seelenfreud
Disk 11
Max Reger: 8 Sacred Songs, Op. 138, for 4–8 Mixed Voices: No. 1: Der Mensch lebt und bestehet nur eine kleine Zeit

Max Reger: 8 Sacred Songs, Op. 138, for 4–8 Mixed Voices: No. 2: Morgengesang (Du höchstes Licht)

Max Reger: 8 Sacred Songs, Op. 138, for 4–8 Mixed Voices: No. 3: Nachtlied (Die Nacht ist kommen)

Max Reger: 8 Sacred Songs, Op. 138, for 4–8 Mixed Voices: No. 4: Unser lieben Frauen Traum

Max Reger: Sacred Songs, Op. 110, 5-part Motets for A Capella Choir: No. 1: Mein Odem is nicht schwach

Max Reger: Sacred Songs, Op. 110, 5-part Motets for A Capella Choir: No. 2: Ach, Herr, strafe mich nicht

Max Reger: Sacred Songs, Op. 110, 5-part Motets for A Capella Choir: No. 3: O Tod, wie bitter bist du