Reger: Complete Music for Clarinet and Piano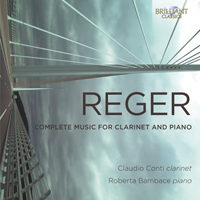 Composer
Max Reger
Artist
Claudio Conti clarinet
Roberto Bambace piano
Format
1 CD
Cat. number
95258
EAN code
5028421952581
Release
March 2016
About this release
Just as Brahms had done, Max Reger wrote sonatas for either clarinet or viola, exploiting their mellow tone-colours and rich, inner-part voicing within autumnal Romantic textures. Indeed, it was hearing the two clarinet sonatas composed by Brahms for his friend Richard Mühlfeld that inspired Reger to take on the genre which was so suited to his highly wrought style.

Though the two Op.49 sonatas follow the Brahmsian model closely, they are also highly distinctive in their pervasive handling of melody and the breadth of their phrasing. If the finale of No.1 shows the composer at his most scintillating – unlikely word for Reger – the second is the more ambitious of the pair, with relaxed outer movements which tend towards melancholy, enclosing Scherzo which glints with offbeat accents and ironic twists of expression, followed by a soulful Larghetto.

Reger composed op.49 in 1900; Op.107 was written a little less than a decade later, in a more formally complex but melodically accessible style, with a cyclical motto-theme that is transformed throughout the four movements before gently dissolving to leave the Ländler-finale in a Brahmsian mist.

The appeal of this beautifully played disc to all enthusiasts for late-Romantic chamber music will be further enhanced by the inclusion of two rarely heard miniatures which testify to the pleasure Reger (like Brahms) took in domestic music-making and the German tradition of Hausmusik: a Tarantella which is far more cheerful than its G minor key would suggest, and a lovely, achingly Brahmsian Albumblatt in E flat major, full of fond remembrance of times past.

This year 2016 sees the commemoration of the death of Max Reger (1873-1916), one of the most intriguing and misunderstood German Romantics. Reger's Clarinet Sonatas Op. 49 are clearly modelled on the clarinet sonatas Op. 120 by Brahms. Characteristic are the long melodic lines, the intense, intertwining dialogue between the two instruments, the extended chromatic harmony and the overall complexity of both texture and counterpoint. Beautiful performance by Italian clarinettist Claudio Conti, prize winner of several international competitions, and Roberta Bambace, piano.
Excellent liner notes in English and Italian.
Track list
Disk 1
Clarinet Sonata No. 1 in A-Flat Major, Op. 49: I. Allegro affanato

Clarinet Sonata No. 1 in A-Flat Major, Op. 49: II. Vivace

Clarinet Sonata No. 1 in A-Flat Major, Op. 49: III. Larghetto

Clarinet Sonata No. 1 in A-Flat Major, Op. 49: IV. Prestissimo assai

Clarinet Sonata No. 2 in F-Sharp Minor, Op. 49: I. Allegro dolente

Clarinet Sonata No. 2 in F-Sharp Minor, Op. 49: II. Vivacissimo

Clarinet Sonata No. 2 in F-Sharp Minor, Op. 49: III. Larghetto

Clarinet Sonata No. 2 in F-Sharp Minor, Op. 49: IV. Allegro affabile

Clarinet Sonata No. 3 in B-Flat Major, Op. 107: I. Moderato

Clarinet Sonata No. 3 in B-Flat Major, Op. 107: II. Vivace – Adagio – Vivace

Clarinet Sonata No. 3 in B-Flat Major, Op. 107: III. Adagio

Clarinet Sonata No. 3 in B-Flat Major, Op. 107: IV. Allegretto con grazia (Vivace)

Albumblatt in E-Flat Major, WoO II/13: I. Andante con moto

Tarantella in G minor: I. Äußerst lebhaft