Reger: Organ Sonatas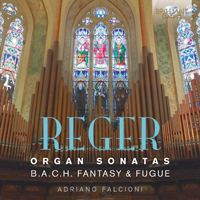 | | |
| --- | --- |
| Composer | Max Reger |
| Artist | Adriano Falcioni organ |
| Format | 1 CD |
| Cat. number | 95075 |
| EAN code | 5028421950754 |
| Release | May 2017 |
About this release
Recorded just last November at the Cathedral of San Lorenzo in the Umbrian city of Perugia, the latest Brilliant Classics album from Adriano Falcioni has an especially personal impulse behind it. He decided to record the first two sonatas of Max Reger after receiving the approval of the composer's granddaughter, who happened to attend one of his recitals. Like many organists before him, looking for repertoire which would stretch his skills to the utmost, he came across the Second Sonata as a student: 'it made me fall in love with his music,' says Falcioni. 'Moreover, it has been essential to my development as an organist.'

Indeed the recording serves as an ideal introduction to a body of work which still has a forbidding aspect to many listeners. Outside Germany, Reger is still underappreciated for the density of his counterpoint and the richness of his harmonic language, which could hardly exist without Wagner and yet places itself at a distance from the erotic aspect of the operas, while also pursuing a path distinct from his Modernist contemporaries. The Fantasy and Fugue on B-A-C-H is one of Reger's most accomplished and dramatic homages to the composer he loved above all others. The First Sonata concludes with an extended Passacaglia – one of several in the composer's output which inevitably recalls the great C minor Passacaglia of the young Bach.

But it is the Second Sonata in which the mastery of Reger's mature style is most persuasively evident, from the striking gestures of the opening Improvisation, through the gentle solemnity of the Invocation to the taut and thrilling progress of the concluding Fugue. The album complements the organist's well-received recordings of late 19th-century organ music for Brilliant Classics, among them the complete organ sonatas of Guilmant (BC94227) and the complete organ music of Franck (BC94349).

This new recording contains three monumental organ works by Max Reger: the two Organ Sonatas and the B.A.C.H. Fantasy & Fugue. The Organ Sonatas are not written in the traditional sonata form, but use the generic title sonata for a 3 or 4 movement work of contrasting character. Both start with an improvisatory movement (called "improvisation' and 'fantasy'') followed by an intermezzo, which acts as the upbeat to a triumphant conclusion in strict contrapuntal style, a fugue or a passacaglia. The cd starts fittingly with an homage to Reger's idol Johan Sebastian Bach, the Fantasy & Fugue on B.A.C.H.
Italian master organist Adriano Falcioni chose for this recording the magnificent Tamburini organ (1967) of the Cathedral of Perugia, where he is titular organist. The full specifications of the organ are included in the booklet, which is written in English and Italian.
Track list
Disk 1
Fantasy and Fugue on B-A-C-H in B-Flat Minor, Op. 46: I. Fantasy

Fantasy and Fugue on B-A-C-H in B-Flat Minor, Op. 46: II. Fugue

Organ Sonata No. 1 in F-Sharp Minor, Op. 33: I. Fantasy

Organ Sonata No. 1 in F-Sharp Minor, Op. 33: II. Intermezzo

Organ Sonata No. 1 in F-Sharp Minor, Op. 33: III. Passacaglia

Organ Sonata No. 2 in D Minor, Op. 60: I. Improvisation

Organ Sonata No. 2 in D Minor, Op. 60: II. Invocation

Organ Sonata No. 2 in D Minor, Op. 60: III. Introduction

Organ Sonata No. 2 in D Minor, Op. 60: IV. Fugue