Reger: Piano Trio Op.102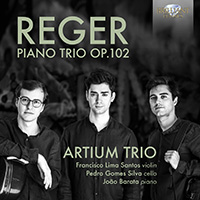 Download booklet
| | |
| --- | --- |
| Composer | Max Reger |
| Artist | Artium Trio |
| Format | 1 CD |
| Cat. number | 95727 |
| EAN code | 5028421957272 |
| Release | April 2021 |
About this release
Max Reger (1873-1916) was an astonishingly prolific composer, amassing a total of well over a thousand works in a short career. His earliest compositions were lieder and chamber works, and it was the latter genre that inspired Reger to compose his finest music. His mature output reflected both the Baroque revival and modernist tendencies, with two of the most lasting influences upon his style being Brahms and Bach.

Reger has an unfair reputation for complexity and turgidity that by no means defines a large share of his oeuvre. Today his music is rarely played, yet in a 1922 letter Schoenberg described him as a genius, including Reger in the same breath with Wagner, Mahler, Strauss and Debussy.

Reger's Piano Trio in E minor is sometimes described as his 'Second Piano Trio' but is in fact the first he composed for the usual three instruments. The first movement is a large-scale extended sonata structure on a seminal E–F–D sharp–E motif that in the manner of Brahms binds not only the movement but the entire work. A spectral pizzicato scherzo in C minor follows, then a Largo sonata–rondo with a beautiful hymn-like theme. The Brahmsian finale includes examples of Reger's beloved fugal writing, march-rhythms and a chorale-like theme. A propensity for full textures, exemplified in much of this trio, suggests the influence of the organ loft, where Reger was perhaps most at home.

The three pieces Op.79d for violin and piano, dating from 1902/4, just a few years before the Piano Trio, reveal Reger the miniaturist, as do the two brief pieces for cello and piano Op.79e. Though relatively slight in the context of Reger's output, these sets are greatly varied in mood and indicative of the expressive range that characterises the composer's musical output as a whole.

- Recorded September 2018 in Lisbon
- The booklet contains liner notes by musicologist Philip Borg-Wheeler about the composer and works, as well as biographies of the musicians
- Max Reger holds a controversial position in Music History. His vast output, more than 1000 works written in his relatively short life, is often accused of Academism, contrived, dry and opaque, while others (notably Arnold Schoenberg) call him a genius, in the line of Wagner, Mahler and Richard Strauss.
- Reger was born in the small Bavarian town of Brand. He began his musical studies at a young age and his talent for composition became clear early on. His family expected him to become a school teacher but he met the eminent musicologist Hugo Riemann, who was so impressed by Reger's talent that he urged him to devote himself entirely to music. Reger studied with him for nearly five years. By 1907 Reger was appointed to the prestigious position of Professor of composition at the Leipzig Conservatory. In addition to this he was widely regarded as one of the best living conductors and organists. In a career that only lasted 20 years, Reger wrote a prodigious amount of music in virtually every genre except opera and the symphony.
- Chamber music figures prominently within Reger's oeuvre. The Piano Trio Op. 102 is one of his best chamber music works. Of huge proportions it contains all the Reger characteristics: dense chromatic writing of great beauty and fluency, a gift for melody and a strong sense of classical structure and form.
- The Trio is performed by the Artium Trio, formed in 2016 by three highly talented young musicians from Portugal.
Listening
Track list
Disk 1
Max Reger: Piano Trio, Op. 102: I. Allegro moderato, ma con passione

Max Reger: Piano Trio, Op. 102: II. Allegretto

Max Reger: Piano Trio, Op. 102: III. Largo

Max Reger: Piano Trio, Op. 102: IV. Allegro con moto

Max Reger: Suite, Op. 79d: I. Wiegenlied

Max Reger: Suite, Op. 79d: II. Capriccio

Max Reger: Suite, Op. 79d: III. Burla

Max Reger: 2 Pieces, Op. 79e: I. Caprice

Max Reger: 2 Pieces, Op. 79e: II. Kleine Romanze