Regondi: Complete Solo Guitar Music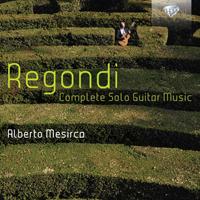 | | |
| --- | --- |
| Composer | Giulio Regondi |
| Artist | Mesirca Alberto guitar |
| Format | 2 CD |
| Cat. number | 94841 |
| EAN code | 5028421948416 |
| Release | May 2014 |
About this release
An important figure in the history of Romantic guitar music, Giulio Regondi was widely admired during his lifetime but unfairly neglected and forgotten for decades after his death. Most of the poetic, captivating works recorded here were rediscovered in the late 20th century and edited by eminent guitar scholar Simon Wynberg (who is also the author of the booklet notes for this release).

Regondi's early life is shrouded in mystery: his birthplace (probably Geneva, but maybe Genoa or Lyons) and parentage are uncertain. His father (or possibly stepfather or foster father), who was himself an accomplished guitarist and composer, tirelessly cultivated and showcased the young Regondi's musical talent, presenting him as a child prodigy of the guitar at concerts all over Europe. Regondi went on to become a much-fêted guitarist and composer, touring with other renowned musicians including Clara Schumann, and writing virtuosic and beautifully lyrical works for the guitar. He was also one of the few 19th-century guitarists to excel on another instrument – the concertina, which was a new invention at the time. This disc brings together Regondi's complete works for solo guitar, including the world premiere recording of Feuille d'album, which was only discovered in 2010 and which Alberto Mesirca describes as a 'wonderful piece'.

Young guitarist Alberto Mesirca has won a Golden Guitar award three times (in 2007, 2009 and 2013) and has been hailed by Classical Guitar Magazine as 'prodigiously talented'.

Other information:
- This release presents the complete solo guitar music by Giulio Regondi.
- Rarely recorded repertoire, featuring 'Feuille d'album', a world premiere recording.
- Regondi was a celebrated guitarist in his time, the 19th century; travelling Europe as a virtuoso, and accompanying other celebrities, like Clara Schumann.
- Regondi's works are highly attractive genre pieces, Characterstücke and little tone poems, written in a highly developed, rich instrumental style, with evocative titles like "Fête villageoise", "Rêverie" and "Nocturne".
- Alberto Mesirca is one of the most remarkable guitarists of his generation, enjoying an international career, winner of several important prizes, among which three times the Golden Guitar Award; he is "prodigiously talented" (Classical Guitar Magazine).
- Booklet includes a detailed portrait of Regondi by Simon Wynberg, and a biography of Alberto Mesirca.
Track list
Disk 1
Feuille d'album. Ad libitum

Rêverie - Nocturne, Op. 19 (Larghetto – Più mosso)

Fête villageoise, Op. 20 (Rondo caprice. Allegretto giusto)

Premier Air varié, Op. 21: I. Introduction (Larghetto) - II. Tema (Andante) - III. Var. 1 - IV. Var. 2 - V. Var. 3 - VI. Var. 4 (Risoluto)

Deuxième air varié, Op. 22: I. Introduction (Andante) - II. Tema (Andante) - III. Var. 1 - IV. Var. 2 - V. Var. 3 (Leggiero) - VI. Var. 4 (Larghetto) - VII. Var. 5 (Brillante)

Introduction et caprice, Op. 23 (Adagio – Allegretto scherzando)
Disk 2
Air varié de l'opéra de Bellini I Capuleti e i Montecchi: I. Andante con moto - II. Tema - III. Var. 1 - IV. Var. 2 - V. Var. 3 (Andante) - VI. Var. 4 (Allegretto vivace – Presto)

Solo on Don Giovanni: I. Larghetto con moto - II. Tema "Là ci darem la mano" - III. Var. 1 - IV. Var. 2 - V. Andante - VI. Finale

Etudes: Etude No. 1 in C Major (Moderato)

Etudes: Etude No. 2 in A Minor (Andante con moto)

Etudes: Etude No. 3 in A Major (Allegretto con moto)

Etudes: Etude No. 4 in E Major (Adagio cantabile)

Etudes: Etude No. 5 in A Major (Allegretto)

Etudes: Etude No. 6 in D Minor (Andante)

Etudes: Etude No. 7 in D Major (Allegretto)

Etudes: Etude No. 8 in G Major (Allegretto con moto)

Etudes: Etude No. 9 in E Major (Larghetto)

Etudes: Etude No. 10 in A Major (Allegretto moderato)