Rendez-Vous Royal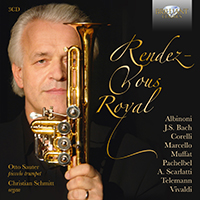 Composer
Antonio Vivaldi, Alessandro Scarlatti, Johann Sebastian Bach
Artist
Otto Sauter piccolo trumpet
Christian Schmitt organ
Format
3 CD
Cat. number
95565
EAN code
5028421955650
Release
October 2018
About this release
On this album of concertos and transcriptions ranging from the Baroque era to the present day, the Instrument of the Kings meets the Queen of Instruments.

This newly recorded album has been compiled by Otto Sauter, one of the leading trumpet virtuosos of our time, who specialises in the piccolo trumpet. He describes it as a 'fascinating challenge' to a take concertos originally written by the outstanding composers of the Baroque era for the most prominent treble instruments of their day, the recorder and the violin.

The album accordingly begins with a violin concerto by Vivaldi, with further transcriptions of violinistic showpieces by Corelli and Roberto Valentino. Works originally written for wind instruments include the famous Adagio composed by Marcello as part of his D minor Oboe Concerto, a sinfonia by Alessandro Scarlatti and a sonata by Telemann. The popular appeal of the compilation is enhanced by the inclusion of Albinoni's Adagio, now in trumpet and organ guise, and a chaconne (not the ubiquitous Canon) by Pachelbel.

The E flat Sonata for transverse flute by Bach is a particular high-point, complemented by two of his grandest works for solo organ, the D major Prelude and Fugue BWV532 with its spectacular closing pedal cadenza, and the Gothic splendour of the G minor Fantasy and Fugue. The E flat Concertino by Albrechtsberger is a thrilling example of late-Baroque trumpet writing, and the collection moves forward chronologically with the F minor Organ Sonata of Mendelssohn.

The sonata is complemented on CD 3 by several world premiere recordings of pieces written for the distinctive combination of trumpet and organ. Appassionata is a Beethoven-inspired sonata by the Lithuanian composer Juraj Filas, and the Adagio by the same composer is a follow-up work commissioned by Otto Sauter. The Dutch composer and conductor Jan Koetsier likewise wrote his Echo Concerto for Sauter (and his teacher, Bo Nilsson), who gave the first performance in 1991. The collection comes full circle with Koetsier's homage to the brilliance of Baroque trumpet writing, the Partita Op.4 'Lobe den Herren, den mächtigen König'.

An original and attractive program of works for trumpet and organ, a "royal" combination, in festive, jubilant and melodious works, both original and arranged. The featured composers are Vivaldi, Bruhns, J.S. Bach, Albinoni (Adagio!), Albrechtsberger, Valentino, Marcello (Adagio), Muffat, Scarlatti, Pachelbel (Canon), Telemann, Corelli, Mendelssohn, Koetsier.
Played by two of the best instrumentalists of today: Otto Sauter, trumpet and Christian Schmitt, organ, a golden duo, masters of their instrument.
Track list
Disk 1
Concerto in G Major, RV 310: I. Allegro

Concerto in G Major, RV 310: II. Largo

Concerto in G Major, RV 310: III. Allegro

Prelude in E Minor

Sonata in E-Flat Major, BWV 1033: I. Andante

Sonata in E-Flat Major, BWV 1033: II. Allegro

Sonata in E-Flat Major, BWV 1033: III. Adagio

Sonata in E-Flat Major, BWV 1033: IV. Menuett

Prelude & Fugue in D Major, BWV 532: I. Prelude

Prelude & Fugue in D Major, BWV 532: II. Fugue

Adagio in G Minor

Concertino in E-Flat Major: I. Moderato

Concertino in E-Flat Major: II. Menuett

Concertino in E-Flat Major: III. Larghetto

Concertino in E-Flat Major: IV. Vivace

Adagio from Oboe Concerto in D Minor
Disk 2
Sonata in D Minor: I. Adagio

Sonata in D Minor: II. Allegro

Sonata in D Minor: III. Adagio

Sonata in D Minor: IV. Allegro

Toccata Octava in G Major

Sinfonia in G Major: I. Grave

Sinfonia in G Major: II. Allegro

Sinfonia in G Major: III. Allegro

Sinfonia in G Major: IV. Sarabande

Sinfonia in G Major: V. Gigue

Ciaconna in F Minor, P.43

Sonata in B-Flat Major, TWV 41:f1: I. Cantabile

Sonata in B-Flat Major, TWV 41:f1: II. Allegro

Sonata in B-Flat Major, TWV 41:f1: III. Grave

Sonata in B-Flat Major, TWV 41:f1: IV. Vivace

Fantasy and Fugue in G Minor, BWV 542: I. Fantasy

Fantasy and Fugue in G Minor, BWV 542: II. Fugue

Sonata in E-Flat Major: I. Preludio

Sonata in E-Flat Major: II. Allegro

Sonata in E-Flat Major: III. Adagio

Sonata in E-Flat Major: IV. Vivace

Sonata in E-Flat Major: V. Gavotte

Adagio in G Minor
Disk 3
Adagio

Apassionata: I. Grave

Apassionata: II. Allegro

Sonata No. 1 in F Minor, Op. 65: I. Allegro moderato e serioso

Sonata No. 1 in F Minor, Op. 65: II. Adagio

Sonata No. 1 in F Minor, Op. 65: III. Andante recitativo

Sonata No. 1 in F Minor, Op. 65: IV. Allegro assai vivace

Echo Concert, Op. 124: I. Allegro

Echo Concert, Op. 124: II. Larghetto

Echo Concert, Op. 124: III. Allegro moderato

Partita "Lobe den Herren, den mächtigen König", Op. 4: I. Allegro

Partita "Lobe den Herren, den mächtigen König", Op. 4: II. Andante sostenuto

Partita "Lobe den Herren, den mächtigen König", Op. 4: III. Vivace

Partita "Lobe den Herren, den mächtigen König", Op. 4: IV. Moderato

Partita "Lobe den Herren, den mächtigen König", Op. 4: V. Andante maestoso