Respighi: Complete Orchestral Music Vol. 3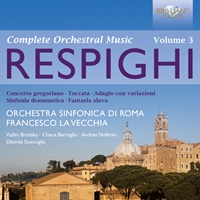 Composer
Ottorino Respighi
Artist
Orchestra Sinfonia di Roma
Francesco la Vecchia conductor
Format
2 CD
Cat. number
94394
EAN code
5028421943947
Release
February 2013
About this release
The third volume of Respighi's complete orchestral cycle contains several concertante works for piano, violin and cello, large-scale compositions giving evidence of Respighi's diverse sources of inspiration, going back as far as Gregorian Chant from the Middle Ages, and Italian (pre)- Baroque style of Frescobaldi and Vivaldi.

Ottorino Resphighi's quest to create his own musical style led him to the conflict of wider European tradition and the roots of Italian music. Several of the works in this collection show the influence of the former: Fantasia slava contains Russian melodies and is written in the style of Rimsky-Korsakov with whom Respighi studied, while the Adagio con variazioni includes elements of folk song, its mournful theme and variations for cello underpinned by orchestral colour. The composer's Sinfonia drammatica, a distinctly gloomy work of huge proportions, reflects the mood of Europe prior to the First World War.

Respighi's exploration of early Italian music is evident in the Concerto gregoriano, to which the influence of Gregorian chant adds a certain spirituality. The work, which combines the use of modal harmony and Respighi's own creative idiom, showcases some of the composer's most beautiful, and technically demanding, writing for solo violin (his own instrument). Similarly, the masterpiece Toccata for pianoforte and orchestra owes much to early music, but is Neoclassical in structure. It includes the influence of organ repertoire –particularly that of Bach, as regards harmonic progression and direct quotations reminiscent of the Fantasia cromatica cadenza – and also Vivaldi and Frescobaldi.

The works are played by the Orchestra Sinfonica di Roma, directed by Francesco La Vecchia, and feature astute readings by soloists Vadim Brodski, Andrea Noferini, Chiara Bertoglio and Désirée Scuccuglia. The orchestra is one of Italy's leading orchestras, making their name with recordings of lesser known Italian repertoire (Casella, Malipiero and others), for which they receive high praise (Diapason d'Or, 5-star reviews). About Respighi the press writes: "impressive..beautiful and luminous.." (Dutch Classical Magazine) , "Eloquent" (Gramophone).
An important and prestigious series, of high artistic value.

Other information:
- Recordings made 2009 to 2011.
- Contains extensive liner notes on the works and artist biographies in English and Italian.
- An engaging follow-up to the other two orchestral volumes in the series.
Track list
Disk 1
Concerto gregoriano for violin and orchestra: I. Andante tranquillo

Concerto gregoriano for violin and orchestra: II. Andante espressivo e sostenuto

Concerto gregoriano for violin and orchestra: III. Finale: Alleluja

Toccata for piano and orchestra: Grave – Allegro moderato

Adagio con variazioni for cello and orchestra (1921)
Disk 2
Sinfonia drammatica: I. Allegro energico

Sinfonia drammatica: II. Andante sostenuto

Sinfonia drammatica: III. Allegro impetuoso

Fantasia slava: Andante