Respighi Complete Orchestral Music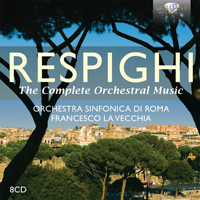 Composer
Ottorino Respighi
Artist
Francesco La Vecchia conductor
Orchestra Sinfonica de Roma
Format
8 CD
Cat. number
94900
EAN code
5028421949000
Release
May 2015
About this release
Respighi is best remembered for his scenic views of Rome, namely the wonderfully descriptive triptych Feste romane, Fontane di Roma and Pini di Roma; look beyond these works, however, and you'll find a sizeable, rich and varied orchestral output – unsurprising for a composer who is today regarded as one of the supreme masters of orchestration.

Anyone interested in a Respighi orchestral intégrale, therefore, should seriously consider this comprehensive set – a bringing-together of four previously released volumes in which Francesco La Vecchia and his Roman orchestra unite the famous with a generous helping of not-so-famous works. Of Volume 4 (CDs 5 and 6), Gramophone commented on how "La Vecchia directs proceedings with obvious affection, and the playing has engaging spirit and no mean grace", and this certainly applies to the rest of the set, which includes a number concertante offerings played by several assured performers – cellist Andrea Noferini, for example, creates an "impassioned, songful" rendition of Adagio con variazioni, and pianist Désirée Scuccuglia gives 'a red-blooded and formidably secure account' (Gramophone) of Concerto in modo misolidio.

Italy's musical past is of course in evidence throughout the box, for the composer spent much of his career arranging Baroque music and experimenting with neo-Classical techniques; there's a deft account of The Birds (Gli uccelli), Respighi's most exciting example of 'early music' (here Baroque harpsichord pieces), with Concerto a cinque taking the form of an updated Corellian concerto grosso. Covering the period 1902–33, the works cover the majority of Respighi's working career and serve to highlight his unique and colourful sound world, simultaneously tracing his development of style. Priced at a super-budget 17,60 Euros, this is a highly desirable box set.

The only edition of the complete orchestral music by Respighi, now available in a 8CD set!
Respighi is one of the foremost Italian composers of the first half of the 20th century. His fame rests on his Roman Trilogy, the scenic depiction of the Italian capital, its festivals, its pines and its fountains. His other works however are equally remarkable, and show an symphonist pur sang, with a rich and innovative orchestration and feeling for colour and atmosphere, inspired by the long musical heritage of his country (influences of Gregorian Chant, renaissance songs and dances, Rossini's musical pranks).
Excellent performances by the Orchestra Sinfonica di Roma, conducted by Francesco la Vecchia, who did inestimable work recording neglected Italian symphonists like Dallapiccola, Malipiero and Ghedini.
"conducted with obvious affection, the playing has engaging spirit and grace" (Gramophone).
A real bargain at budget price!

Other information:
• Booklet contains comprehensive notes in the music.
• Recording made between 2009 and 2012.
Track list
Disk 1
Feste Romane, P. 157: I. Circenses

Feste Romane, P. 157: II. Il giubileo

Feste Romane, P. 157: III. L'Ottobrata

Feste Romane, P. 157: IV. La befana

Fontane di Roma, P. 106: I. La fontana di valle Giulia all'alba

Fontane di Roma, P. 106: II. La fontana del tritone al mattino

Fontane di Roma, P. 106: III. La fontana di Trevi al meriggio

Fontane di Roma, P. 106: IV. La fontana di vita Medici al tramonto

Pini di Roma: I. I pini di Villa Borghese

Pini di Roma: II. Pini presso una catacomb

Pini di Roma: III. I pini del Gianicolo

Pini di Roma: IV. I pini della Via Appia
Disk 2
Gli Uccelli, P. 154: I. Preludio (after Bernardo Pasquini)

Gli Uccelli, P. 154: II. La colomba (after Jacques de Gallot)

Gli Uccelli, P. 154: III. La gallina (after Jean-Philippe Rameau)

Gli Uccelli, P. 154: IV. L'usignuolo (after 16th-century anon., transcribed by Jacob van Eyck)

Gli Uccelli, P. 154: V. Il cuccù (after Bernardo Pasquini)

Suite for Strings, P. 041: I. Ciaccona

Suite for Strings, P. 041: II. Siciliana

Suite for Strings, P. 041: III. Giga

Suite for Strings, P. 041: IV. Sarabanda

Suite for Strings, P. 041: V. Burlesca

Suite for Strings, P. 041: VI. Rigaudon

Suite in sol maggiore, P. 058: I. Preludio

Suite in sol maggiore, P. 058: II. Aria

Suite in sol maggiore, P. 058: III. Pastorale

Suite in sol maggiore, P. 058: IV. Cantico
Disk 3
Impressioni brasiliane, P. 153: I. Notte tropicale

Impressioni brasiliane, P. 153: II. Butantan

Impressioni brasiliane, P. 153: III. Canzone e danza

Trittico botticelliano: I. La primavera

Trittico botticelliano: II. L'adorazione dei magi

Trittico botticelliano: III. La nascita di Venere

Vetrate di Chiesa, P. 150: I. La fuga in Egitto

Vetrate di Chiesa, P. 150: II. San Michele Arcangelo

Vetrate di Chiesa, P. 150: III. Il mattutino di Santa Chiara

Vetrate di Chiesa, P. 150: IV. San Gregorio Magno
Disk 4
Concerto a cinque: I. Moderato – Allegro – Grave

Concerto a cinque: II. Adagio

Concerto a cinque: III. Allegro vivo – Allegro moderato – Largo

Poema autunnale, P. 146: Calmo – Molto lento – Largamente – Allegro moderato – Allegro con spirito – Moderato – Tranquillo – Lento – Calmo come al principio

Concerto all'antica, P. 075: I. Allegro

Concerto all'antica, P. 075: II. Adagio non troppo

Concerto all'antica, P. 075: III. Vivace
Disk 5
Concerto gregoriano: I. Andante tranquillo – Allegro molto moderato – Calmo, tempo I

Concerto gregoriano: II. Andante espressivo e sostenuto

Concerto gregoriano: III. Finale (Alleluja). Allegro energico

Toccata: Grave, Allegro moderato – Andante lento ed espressivo – Allegro vivo

Adagio con variazioni
Disk 6
Sinfonia drammatica, P. 102: I. Allegro energico

Sinfonia drammatica, P. 102: II. Andante sostenuto

Sinfonia drammatica, P. 102: III. Allegro impetuoso

Fantasia slava in G Minor, P. 50: Andante – Presto – Tempo I – Lento – Allegro
Disk 7
Antiche danze et arie per liuto, Suite No. 1: I. Balletto detto 'Il conte Orlando' [Simone Molinaro]. Allegretto moderato

Antiche danze et arie per liuto, Suite No. 1: II. Gagliarda [Vincenzo Galilei]. Allegro moderato – Andantino mosso

Antiche danze et arie per liuto, Suite No. 1: III. Villanella [anon., end of 16th century]. Andante cantabile

Antiche danze et arie per liuto, Suite No. 1: IV. Passo mezzo e mascherada (anon., end of 16th century): Allegro vivo – Vivacissimo – Allegretto – Vivace – Allegretto – Vivo – Vivacissimo – Tempo I

Antiche danze et arie per liuto, Suite No. 2, P. 138: I. Laura soave (Balletto con gagliarda, saltarello e canario) [Fabrizio Caroso, c.1531]. Andantino – Allegro marcato – Lo stesso tempo – Andantino

Antiche danze et arie per liuto, Suite No. 2, P. 138: II. Danza rustica [Jean-Baptiste Besard, c.1617]. Allegretto

Antiche danze et arie per liuto, Suite No. 2, P. 138: III. Campanae parisienses [anon. 17th-century melody]. Andante mosso – Aria [Mersenne Marin]. Largo espressivo

Antiche danze et arie per liuto, Suite No. 2, P. 138: IV. Bergamasca [Bernardo Gianoncelli, known as Il Bernardello]. Allegro

Antiche danze et arie per liuto, Suite No. 3: I. Italiana [anon., late 16th century]. Andantino

Antiche danze et arie per liuto, Suite No. 3: II. Arie di corte [Jean-Baptiste Besard, 16th century]. Andante cantabile – Allegretto – Vivace – Lento con grande espressione – Allegro vivace – Vivacissimo – Andante cantabile

Antiche danze et arie per liuto, Suite No. 3: III. Siciliana [anon., late 16th century]. Andantino

Antiche danze et arie per liuto, Suite No. 3: IV. Passacaglia [Lodovico Roncalli, 1692]. Maestoso – Vivace

Rossiniana Suite, after Rossini, P. 148: I. "Capri e Taormina" (Barcarola e siciliana). Allegretto – Andantino – Allegretto

Rossiniana Suite, after Rossini, P. 148: II. Lamento. Andantino maestoso

Rossiniana Suite, after Rossini, P. 148: III. Intermezzo. Allegretto – Poco più mosso – Tempo I

Rossiniana Suite, after Rossini, P. 148: IV. Tarantella "puro sangue" (con passaggio de la processione). Allegro vivacissimo – Andante religioso – Tempo I
Disk 8
Concerto in modo misolidio: I. Moderato

Concerto in modo misolidio: II. Lento – Andante con moto

Concerto in modo misolidio: III. Passacaglia. Allegro energico

Metamorphoseon: I. Theme. Andante moderato, II. Modus I. Moderato non troppo, III. Modus II. Allegretto, IV. Modus III. Lento, V. Modus IV. Lento espressivo, VI. Modus V. Molto vivace, VII. Modus VI. Vivo, VIII. Modus VII. Cadenza, IX. Modus VIII. Andantino mosso, X. Modus IX. Lento non troppo, XI. Modus X. Molto allegro, XII. Modus XI. Molto allegro, XIII. Modus XII. Vivo non troppo