Respighi: Complete Solo Piano Music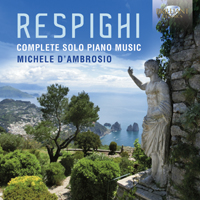 | | |
| --- | --- |
| Composer | Ottorino Respighi |
| Artist | Michele D'Ambrosio piano |
| Format | 2 CD |
| Cat. number | 94442 |
| EAN code | 5028421944425 |
| Release | September 2016 |
About this release
Acclaimed composer, violinist and musicologist, Ottorino Respighi has been remembered mostly for his vivid and skilful orchestral writing. Little known are his many fine piano works (he also worked frequently as an accompanist for singers and soloists), which include arrangements of his own and original works for the instrument.

Works such as Antiche danze ed arie per liuto and Tre preludi su melodie gregoriane betray Respighi's fascination with ancient music. Active as an arranger and transcriber during the latter half of his life, both works are arranged from their original orchestral versions (selections from Antiche danze suites I & III and Vetrate di Chiesa P150 respectively), and retain the vivacity, colour and poignancy of the originals, whilst showcasing Respighi's dexterous writing for piano. Other pieces find Respighi in
more familiar romantic territory: the Sei pezzi's characterful six movements – including the gorgeous Nocturne – display his mastery of old musical forms and an uncanny ability to dress them in 19th-century musical language, with smatterings of Debussy and Schumann throughout. Schumann's influence is present also in the Sonata in F minor, with decidedly more tempestuous writing, and demonstrates Respighi's ability to write clarity and emotional depth into his music. Much of Respighi's early work is under-represented, and pianist Michele D'Ambrosio brings these surprising and powerful works to life with a rare display of Respighi's precocious talent. Largely written whilst still a student, the Sonata in A minor and Andante in F show the early influence of Schubert, whilst the Suite shows inspiration from Tchaikovsky.

Many of these works are newly discovered and, having also recorded the entire piano works of Alfredo Casella, D'Ambrosio
brings his dedication to cataloguing these rare and under-performed works along with technical prowess and interpretive imagination.

Ottorino Respighi (1879-1936) is widely considered as one of the most important and successful Italian composers of the first half of the 20th century. His sumptuous, large scale orchestral works, like Pini di Roma and Fontane di Roma gained him world fame as a symphonist, colourist and innovative orchestrator. It is less known that he wrote a substantial oeuvre for piano solo.
This 2 CD set contains the complete works for piano solo by Respighi. His two Piano Sonatas reveal a promising youth still under the influence of Schumann and Chopin, his 6 Pieces show his individual style: picturesque, charming and colourful. Also included are the piano solo version of the famous " Ancient Dances and Airs for the lute" and the "3 Preludes" which were later successfully orchestrated by the composer under the title "Vetrate di Chiesa" (Church Windows).
Excellent performances by Italian pianist Michele D'Ambrosio, who already recorded for Brilliant Classics the complete piano works by Alfredo Casella, which was hailed enthousiastically by the press, resulting in several 5 Star reviews.

Contains extensive liner notes on the history of the works.
Recorded in Italy in July 2014.
Listening
Track list
Disk 1
Ottorino Respighi: Sonata in F Minor, P. 016: I. Allegro

Ottorino Respighi: Sonata in F Minor, P. 016: II. Lento

Ottorino Respighi: Sonata in F Minor, P. 016: III. Allegretto

Ottorino Respighi: Sei pezzi, P. 044: I. Valse caressante

Ottorino Respighi: Sei pezzi, P. 044: II. Canone

Ottorino Respighi: Sei pezzi, P. 044: III. Notturno

Ottorino Respighi: Sei pezzi, P. 044: IV. Minuetto

Ottorino Respighi: Sei pezzi, P. 044: V. Studio

Ottorino Respighi: Sei pezzi, P. 044: VI. Intermezzo – Serenata

Ottorino Respighi: Antiche danze ed arie per liuto, P. 114: I. Balletto detto "Il Conte Orlando"

Ottorino Respighi: Antiche danze ed arie per liuto, P. 114: II. Villanella

Ottorino Respighi: Antiche danze ed arie per liuto, P. 114: III. Gagliarda

Ottorino Respighi: Antiche danze ed arie per liuto, P. 114: IV. Italiana

Ottorino Respighi: Antiche danze ed arie per liuto, P. 114: V. Siciliana

Ottorino Respighi: Antiche danze ed arie per liuto, P. 114: VI. Passacaglia

Ottorino Respighi: Tre preludi su melodie gregoriane, P. 131: I. Molto lento

Ottorino Respighi: Tre preludi su melodie gregoriane, P. 131: II. Tempestoso

Ottorino Respighi: Tre preludi su melodie gregoriane, P. 131: III. Lento
Disk 2
Ottorino Respighi: Sonata in A Minor, P. 004: I. Allegro moderato

Ottorino Respighi: Sonata in A Minor, P. 004: II. Andantino

Ottorino Respighi: Sonata in A Minor, P. 004: III. Finale. Allegro vivace

Ottorino Respighi: Andante in F Major, P. 006

Ottorino Respighi: Andante in D Major, P. 007

Ottorino Respighi: Allegro in B Minor, P. 010

Ottorino Respighi: Suite, P. 022: I. Vivace

Ottorino Respighi: Suite, P. 022: II. Tema. Andante poco mosso

Ottorino Respighi: Suite, P. 022: III. Sarabanda. Lento

Ottorino Respighi: Suite, P. 022: IV. Allegro con brio

Ottorino Respighi: Suite, P. 022: V. Presto

Ottorino Respighi: Preludio in B-Flat Minor, P. 023

Ottorino Respighi: Preludio from Suite per pianoforte, P. 043

Ottorino Respighi: Preludio in D Minor, P. 043a

Ottorino Respighi: Variazioni sinfoniche, P. 028