Respighi: Orchestral Works Vol. 2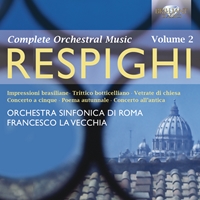 Composer
Ottorino Respighi
Artist
Orchestra Sinfonia di Roma
Francesco la Vecchia conductor
Format
2 CD
Cat. number
94393
EAN code
5028421943930
Release
September 2012
About this release
The second 2CD volume of Respighi's orchestral music (of a projected four from the Rome orchestra) focuses on the concerto form, and on Respighi's relationship with early music. He was a pioneer in this field, and applied Renaissance rhythms and harmonies to the vocabulary and instrumentation of Richard Strauss's idiom, both in small (Antique Airs and Dances) and large forms (the early Concerto all'Antica). The Poema Autunnale is a more freeflowing, rhapsodic development of the violin concerto form, moody and with a touch of melancholy as befits the season.

On CD1 we find the sultry sounds of Respighi's 'Brazilian Impressions' (composed after a 1927 tour to South America) evoking a tropical night, Carnival dances and even the mighty indigenous snakes (which he saw in a Reptile institute). The four 'Church Windows' are hardly more chaste in effect, such is Respighi's love of voluptuous orchestration. 'Respighi's sizeable orchestral output has only latterly come into its own on disc and this release from Brilliant is announced as the first volume of a complete traversal. It gives a pertinent overview, moreover, of the twin aspects that inform the composer's thinking throughout his maturity: namely Italy's scenic and musical past... La Vecchia secures eloquently wrought readings.' Gramophone, June 2012, reviewing the first volume of the series.

Other information:
- Recorded in 2009–2010.
- Includes comprehensive booklet notes.
- The first volume of the Respighi series (Brilliant Classics 94392) met already with great critical acclaim.The Orchestra Sinfonica di Roma and maestro Francesco La Vecchia have recently won several awards for their recordings (Diapason d'Or, Choc deClassica, etc).
- New recordings, newly written liner notes, by an Italian specialist.
Listening
Track list
Disk 1
Ottorino Respighi: Impressioni Brasiliane (1928): I. Notte tropicale

Ottorino Respighi: Impressioni Brasiliane (1928): II. Butantan

Ottorino Respighi: Impressioni Brasiliane (1928): III. Canzone e Danza

Ottorino Respighi: Trittico Botticelliano (1927): I. La primavera

Ottorino Respighi: Trittico Botticelliano (1927): II. L'adorazione dei Magi

Ottorino Respighi: Trittico Botticelliano (1927): III. La nascita di Venere

Ottorino Respighi: Vetrate di chiesa (1926): I. La fuga in Egitto

Ottorino Respighi: Vetrate di chiesa (1926): II. S. Michele Arcangelo

Ottorino Respighi: Vetrate di chiesa (1926): III. Il mattutino di S. Chiara

Ottorino Respighi: Vetrate di chiesa (1926): IV. S. Gregorio Magno
Disk 2
Ottorino Respighi: Concerto a cinque for oboe, trumpet, violin, double bass, piano and strings (1933): I. Moderato

Ottorino Respighi: Concerto a cinque for oboe, trumpet, violin, double bass, piano and strings (1933): II. Adagio

Ottorino Respighi: Concerto a cinque for oboe, trumpet, violin, double bass, piano and strings (1933): III. Allegro vivace

Ottorino Respighi: Poema autunnale (1925): Calmo – Molto lento – Allegro moderato – Allegro con spirito – Tranquillo – Lento – Calmo come al principio

Ottorino Respighi: Concerto all'antica: I. Allegro

Ottorino Respighi: Concerto all'antica: II. Adagio non troppo

Ottorino Respighi: Concerto all'antica: III. Vivace