Respighi: Violin Sonatas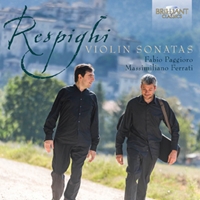 Composer
Ottorino Respighi
Artist
Fabio Paggioro violin
Massimiliano Ferrati piano
Format
1 CD
Cat. number
94445
EAN code
5028421944456
Release
December 2013
About this release
Ottorino Respighi is best known for his exuberant and expansive orchestral works, such as the Roman Trilogy, but he was also an important composer of chamber and salon music. His musical education began with him learning violin and piano as a child, and for the first 20 years of his career as a composer he only wrote for these instruments. He was an accomplished violinist, and his mastery of the instrument manifests itself in the idiomatic violin-writing heard in the works on this disc.

Respighi's violin sonatas demonstrate the astonishingly wide range of his musical interests and the influences on his style: from early music, through German Romanticism, to impressionist tone colours. They are also a showcase for his remarkable gift for melody. The D minor Sonata dates from Respighi's early period and contrasts lively and energetic outer movements with a gentle yet passionate Adagio. The B minor Sonata, composed 20 years later, is a grander, more intense and dramatic work, and is testimony to the mature Respighi's command of chamber music. The two violin sonatas are complemented by the Six Pieces for violin and piano: these elegant and charming works show the lighter side of Respighi.

These works are performed by award-winning violinist Fabio Paggioro and acclaimed pianist Massimiliano Ferrati, who has been praised by the Corriere della Sera for his "highly refined sound [that] turns to magic".

Other information:
- Ottorino Respighi, gone into music history as a sorcerer of colourful orchestration, wrote a substantial oeuvre of chamber music works. A virtuoso violinist himself, he wrote two violin sonatas, which offer vintage Respighi: an eclectic use of various styles, from modal early music, through romantic pathos, to impressionistic colour experiments.
- Both sonatas require the highest technical and musical command from both players, and violinist Fabio Paggioro and pianist Massimiliano Ferrati do them full justice: committed and passionate music making!
- Contains liner notes and artist biographies.
- Fabio Paggioro performs on a Vincentus Postiglione violin (Naples, 1899).
Track list
Disk 1
Ottorino Respighi: Violin Sonata in D Minor, P. 15: I. Lento – Allegro – Lento – Assai animato

Ottorino Respighi: Violin Sonata in D Minor, P. 15: II. Adagio

Ottorino Respighi: Violin Sonata in D Minor, P. 15: III. Scherzo. Allegretto

Ottorino Respighi: Six Pieces for Violin and Piano, P. 31: I. Berceuse

Ottorino Respighi: Six Pieces for Violin and Piano, P. 31: II. Melodia

Ottorino Respighi: Six Pieces for Violin and Piano, P. 31: III. Leggenda

Ottorino Respighi: Six Pieces for Violin and Piano, P. 31: IV. Valse caressante

Ottorino Respighi: Six Pieces for Violin and Piano, P. 31: V. Serenata

Ottorino Respighi: Six Pieces for Violin and Piano, P. 31: VI. Aria

Ottorino Respighi: Violin Sonata in B Minor, P. 110: I. Moderato

Ottorino Respighi: Violin Sonata in B Minor, P. 110: II. Andante espressivo

Ottorino Respighi: Violin Sonata in B Minor, P. 110: III. Allegro moderato ma energico