Rheinberger: Organ Music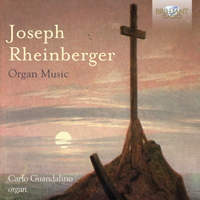 | | |
| --- | --- |
| Composer | Joseph Rheinberger |
| Artist | Carlo Guandalino organ |
| Format | 2 CD |
| Cat. number | 95466 |
| EAN code | 5028421954660 |
| Release | February 2017 |
About this release
Joseph Rheinberger was unquestionably the foremost German composer working within the framework of the Cecilian movement, which promoted Classical values within the tradition of sacred music in mid-19th century Germany: Mendelssohn was decisively influenced by its precepts, especially in his later sacred music and 'Hymn of Praise'. A remarkably versatile musician, Rheinberger was best known as a teacher during his lifetime – of Engelbert Humperdinck and Wihelm Furtwangler, among many others – but he was a prolific composer, especially for his own instrument, the organ.

The 20 organ sonatas speak most eloquently for his skill in infusing classical forms such as the Sonata with the warmth of late-Romanticism. The Fourth Sonata in A minor is now the most-often heard of those sonatas, especially for its masterful closing chromatic fugue. The first movement uses a medieval psalm tone which returns in glory at the climax of the fugue. The 214-bar Passacaglia from the Eighth Sonata is an even more impressive demonstration of Rheinberger's mastery of Baroque forms, and a superb example of musical architecture.

With the 12 Characteristic Pieces Op.156, Rheinberger returned to the language of Romanticism, which is immediately evident even in the choice of titles: Duetto, Canzonetta, Vision and Intermezzo. On this recording, Carlo Guandalino plays a new instrument constructed by Alessio Lucato in the style of the German Romantic organ for the church of San Michele delle Badesse in Padua. This is Guandalino's second album for Brilliant Classics, after the complete keyboard music by Domenico Zipoli (BC95212).

Joseph Rheinberger (1839-1901) was a German romantic composer of mainly works for the organ, his own instrument. He was one of the leading figures in the "Cecilian Movement" which, in a world of increasing secularization, propagated the return to religious values of the past, expressing itself in a renewed interest in Gothic architecture and polyphony.
Rheinberger's organ works are a happy blend of the Romantic spirit of his time and a healthy dose of polyphony and counterpoint, in this he was a worthy successor of Felix Mendelssohn.
These newly recorded two CD's are presented his popular 4th Organ Sonata, Ten Trios Op. 49 and the beautiful "12 Character Pieces" Op. 156.
Italian organist Carlo Guandalino plays the organ in San Michelle delle Badese, a magnificent organ inspired by the romantic and symphonic German organ building, with 30 registers and 1885 pipes.
The booklet contains liner notes in English and Italian, as well the specifications and photo of the organ.
Track list
Disk 1
Organ Sonata No. 4 in A Minor, Op. 98: I. Senza titolo

Organ Sonata No. 4 in A Minor, Op. 98: II. Intermezzo

Organ Sonata No. 4 in A Minor, Op. 98: III. Fuga cromatica

Ten Organ Trios, Op. 49: I. Andante

Ten Organ Trios, Op. 49: II. Moderato

Ten Organ Trios, Op. 49: III. Adagio

Ten Organ Trios, Op. 49: IV. Allegretto quasi andantino

Ten Organ Trios, Op. 49: V. Con moto

Ten Organ Trios, Op. 49: VI. Alla breve

Ten Organ Trios, Op. 49: VII. Andantino amabile

Ten Organ Trios, Op. 49: VIII. Adagio ma non troppo

Ten Organ Trios, Op. 49: IX. Moderato

Ten Organ Trios, Op. 49: X. Andante molto

Organ Sonata No. 8 in E Minor, Op. 132
Disk 2
12 Characteristic Pieces, Op. 156: I. Praeludium

12 Characteristic Pieces, Op. 156: II. Romanze

12 Characteristic Pieces, Op. 156: III. Canzonetta

12 Characteristic Pieces, Op. 156: IV. Intermezzo

12 Characteristic Pieces, Op. 156: V. Vision

12 Characteristic Pieces, Op. 156: VI. Duett

12 Characteristic Pieces, Op. 156: VII. In memoriam

12 Characteristic Pieces, Op. 156: VIII. Pastorale

12 Characteristic Pieces, Op. 156: IX. Klage

12 Characteristic Pieces, Op. 156: X. Abendfriede

12 Characteristic Pieces, Op. 156: XI. Passacaglia

12 Characteristic Pieces, Op. 156: XII. Trauermarsch