Rhené-Baton: Chamber Music for Piano and Strings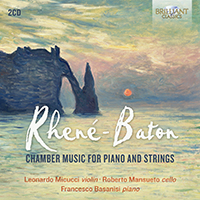 Download booklet
Composer
Rhené Emmanuel Baton
Artist
Leonardo Micucci violin
Francesco Basanisi piano
Roberto Mansueto cello
Format
2 CD
Cat. number
95554
EAN code
5028421955544
Release
June 2019
About this release
Although now largely forgotten, Rhené-Emmanuel Bâton (1879-1940) was a key figure in Parisian musical circles during the early 1900s. Rhené-Baton, as he was later known, was born in Normandy to a Breton family. but trained at the Paris Conservatoire to become a composer, pianist and conductor. A meeting with Serge Diaghilev led to the engagement to conduct the Ballets russes on tour, and as a conductor he was the subject dedicatee of several works such as Roussel's Second Symphony.

Meanwhile Rhené-Baton continued to compose, and it was through his own music that he felt most free to express his Breton identity. Almost all the chamber music presented here dates from the years 1921-27. Both the Cello Sonata and Violin Sonata call for piano playing of great virtuosity, probably because Rhené-Baton intended those parts for himself, while the melody line unfolds in a mode of archaic, neoclassical lyricism. The peak of his achievement in the chamber-music genre, however, is the A minor Piano Trio, composed in 1923. The second movement is a 'Divertissement sur un vieil air Breton' – the 'vieil air' in question being Gwin ar c'hallaoued' (the wine of Gall), one of the best-known Breton tunes.

The Suite Ancienne (1933) is different in character: a collection of dances like a Baroque suite (Prelude, Aria, Gavotte, Gigue). The more intimate mood of this chamber repertoire evokes a series of everyday musical scenes: interiors, winter hearths, summer festivities and ancient celebrations in which Rhené-Baton is both narrator and participant. Founded in 2009, the Wolferl Trio comprises three Italian musicians all with distinguished careers as performers and teachers in their own right.

Rhené-Baton (1879-1940, born as Rhené-Emmanuel Baton) was a key figure in the first half of 20th century Paris. A pianist, composer and orchestral conductor he led many world premieres of the time (among which works by Debussy and Ravel), he was conductor at the Opéra-Comique and he led international tours of the famous Les Ballets Russes.
Rhené-Baton's compositions include many genres: symphonies, concertos, chamber music, choral works and piano works. His style is a reflection of his time, while he drew inspiration from the folk music of his native Brittany, resulting in a lyrical, neo-archaic musical language.
This new recording presents two violin sonatas, a cello sonata and a piano trio, highly attractive works full of dazzling colours, folksy melodies and rhythms, and instrumental virtuosity.
Played by the Wolferl Trio, three excellent Italian soloists come together through their love for undiscovered chamber music treasures.
Listening
Track list
Disk 1
Rhené Emmanuel Baton: Violin Sonata No. 1 Op. 24: I. Allegro non troppo – Allegro vivo assai

Rhené Emmanuel Baton: Violin Sonata No. 1 Op. 24: II. Larghetto

Rhené Emmanuel Baton: Violin Sonata No. 1 Op. 24: III. Allegro vivo

Rhené Emmanuel Baton: Violin Sonata No. 2, Op. 46: I. Allegro comodo

Rhené Emmanuel Baton: Suite ancienne, Op. 55: I. Prélude

Rhené Emmanuel Baton: Suite ancienne, Op. 55: II. Aria

Rhené Emmanuel Baton: Suite ancienne, Op. 55: III. Gavotte

Rhené Emmanuel Baton: Suite ancienne, Op. 55: IV. Gigue
Disk 2
Rhené Emmanuel Baton: Cello Sonata, Op. 28: I. Andante tranquillo – Allegro vivo e agitato

Rhené Emmanuel Baton: Cello Sonata, Op. 28: II. Andante un poco maestoso

Rhené Emmanuel Baton: Cello Sonata, Op. 28: III. Allegro vivo – Largo e maestoso

Rhené Emmanuel Baton: Piano Trio, Op. 31: I. Lento – Allegro

Rhené Emmanuel Baton: Piano Trio, Op. 31: II. Divertissement sur un vieil air Breton

Rhené Emmanuel Baton: Piano Trio, Op. 31: III. Andante – Allegro vivace e agitato