Ries & Limmer: Nepomuk Forte Quintet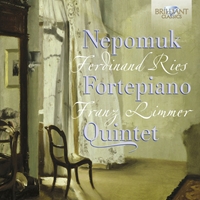 | | |
| --- | --- |
| Composer | Ferdinand Ries, Franz Limmer |
| Artist | Nepomuk Fortepiano Quintet |
| Format | 1 CD |
| Cat. number | 92200 |
| EAN code | 5028421922003 |
| Release | April 2006 |
About this release
This premiere release contains pianoforte quintets by two early Romantics. Ferdinand Ries is best known for being a favourite pupil of Beethoven. In his works he takes distance from the Classicism and is the forerunner of Romantics like Mendelssohn and Schumann. Franz Limmer's quintet is an amazing piece, full of virtuosity and stormy romantic emotions.

Other information:
- Beautifully and with great dedication played by the Nepomuk Fortepiano Quintet, playing on period instruments.
- Excellent 16 page booklet with illuminating texts on the composers and the musicians.
Track list
Disk 1
Piano Quintet in B Minor, Opus 74: I Grave – allegro con brio

Piano Quintet in B Minor, Opus 74: II Larghetto

Piano Quintet in B Minor, Opus 74: III Rondo (allegro-andantino-allegro)

Piano Quintet in D Minor, Opus 13: I Allegro energico

Piano Quintet in D Minor, Opus 13: II Scherzo

Piano Quintet in D Minor, Opus 13: III Adagio

Piano Quintet in D Minor, Opus 13: IV Finale