Ries: Sonatas for Flute & Piano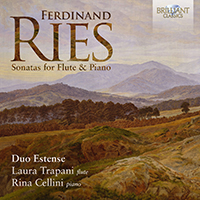 Composer
Ferdinand Ries
Artist
Duo Estense
Laura Trapani flute
Rina Cellini piano
Format
1 CD
Cat. number
96132
EAN code
5028421961323
Release
June 2022
About this release
The figure of Ferdinand Ries (1784–1838) enjoys a peripheral familiarity among music-lovers as the friend and amanuensis of Beethoven. A bond had formed when Ries's father Franz taught Beethoven in Bonn. While Beethoven doubtless cast his eye over his friend and student's pieces from time to time, he sent Ries to his own teacher Johann Albrechtsberger for lessons in composition.

The Sonata Sentimentale appears to mark the high-point of the composer's writing for the flute, which extended to several 'earlier'-sounding sonatas and lighter fantasias as well as flute-centric chamber music such as six quartets for flute and string trio. Here, to a degree unprecedented in the rest of his work, the flautist is the star of the show.

The three Sonatas Op.86, on the other hand, are evidently designed for performers of more modest talents: 'Sonates faciles' as they were designated on the title page of their first publication in 1839. This set dates with fair certainty from London in 1819, and Ries appears to have composed it with the profitable market of proficient amateurs in mind.

According to manuscript dates the Sonatinas Op.5 were the last works on this album to be composed, in London in 1821, published two years later there by Muzio Clementi. The rippling 'Alberti bass' sequences in the left hand, the preponderance of moderate tempi and straightforward two- and three-part textures, lying well under the fingers, indicate that Ries had in mind the same public market for these attractively sunny pieces as the Op.86 sonatas.

Ferdinand Ries (1784-1838) was born in Bonn and moved to Vienna in 1801, where his life became closely related to that of Ludwig van Beethoven (also a native of Bonn…). Ries studied piano with him, copied his scores and was the interpreter of several new works, notably the premiere of the Third Piano Concerto. Ries also wrote the first biography of Beethoven, an invaluable source of first-hand information.
Ries' style inevitably is modelled on that of his master Beethoven, he was however strong enough to stand on his own. This disc contains four of Ferdinand Ries' numerous sonatas representing a common type of piano sonata 'with accompaniment'. The idea of this type of music is to fill in the relatively short sound of the keyboard instrument with the sustained sound of a violin or wind instrument, thereby increasing the dynamic power of the music and highlighting its important moments.
This new recording presents the most substantial and famous Sonata Sentimentale, the three flutes sonatas Op. 86, as well as two sonatinas for the pianoforte.
Played by Laura Trapani (flute) and Rina Cellini (piano), two excellent Italian soloists who share a passion for unexplored repertoire.

Recorded May 2021 in Ferrara, Italy.
Booklet in English contains liner notes by musicologist Peter Quantrill on the composer and these works, along with the artists' biographies.
Listening
Track list
Disk 1
Ferdinand Ries: Sonata sentimentale in E-Flat Major, Op. 169: I. Allegro moderato

Ferdinand Ries: Sonata sentimentale in E-Flat Major, Op. 169: II. Adagio con moto

Ferdinand Ries: Sonata sentimentale in E-Flat Major, Op. 169: III. Rondo. Allegro

Ferdinand Ries: Sonata No. 1 in E-Flat Major, Op. 86: I. Allegro

Ferdinand Ries: Sonata No. 1 in E-Flat Major, Op. 86: II. Andante

Ferdinand Ries: Sonata No. 1 in E-Flat Major, Op. 86: Rondo. Allegro

Ferdinand Ries: Sonata No. 2 in D Major, Op. 86: I. Allegro con brio

Ferdinand Ries: Sonata No. 2 in D Major, Op. 86: II. Romance. Andante

Ferdinand Ries: Sonata No. 2 in D Major, Op. 86: III. Rondo. Allegro

Ferdinand Ries: Sonata No. 3 in B-Flat Major, Op. 86: I. Allegro non troppo

Ferdinand Ries: Sonata No. 3 in B-Flat Major, Op. 86: II. Larghetto

Ferdinand Ries: Sonata No. 3 in B-Flat Major, Op. 86: III. Rondo. Allegretto

Ferdinand Ries: Sonatina for Pianoforte No. 1 in B-Flat Major, Op. 5: I. Allegro ma non troppo

Ferdinand Ries: Sonatina for Pianoforte No. 1 in B-Flat Major, Op. 5: II. Andantino

Ferdinand Ries: Sonatina for Pianoforte No. 1 in B-Flat Major, Op. 5: III. Rondo. Allegretto

Ferdinand Ries: Sonatina for Pianoforte No. 2 in F Major, Op. 5: I. Allegro non troppo

Ferdinand Ries: Sonatina for Pianoforte No. 2 in F Major, Op. 5: II. Andantino

Ferdinand Ries: Sonatina for Pianoforte No. 2 in F Major, Op. 5: III. Rondo. Allegretto vivace