Robert Lach: Sonatas & Lyrische Stücke for Viola d'Amore and Piano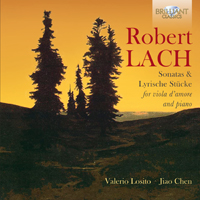 Composer
Robert Lach
Artist
Valerio Losito viola d'amore
Jiao Chen piano
Format
2 CD
Cat. number
95321
EAN code
5028421953212
Release
June 2016
About this release
Robert Lach (1874-1958) is another name almost lost to history and now partially rehabilitated by Brilliant Classics. At least it will now be possible to hear the creative voice of this law-student turned ethnomusicologist whose more-than-cultural interest in German Nationalism produced many collections of vernacular material such as folksongs as well as a strong association with Hitler's National Socialist Party. In fact he was a stern critic of his colleagues' slavish attempts to link racial theory to musicology with panegyrics to Wagner and Bruckner, and his interests remained primarily academic, as attested by his painstaking work in catalogueing the collection of musical manuscripts in the National Library of Vienna.

Lach's own compositions include eight masses, ten symphonies, twenty-five string quartets and a great deal of other instrumental music, but little of his music has been published beyond his songs, a genre in which he was no less prolific. His historiographical enthusiasms may now be freshly appreciated with this new recording of the sonatas he wrote for an instrument which was long obsolete even by the late 19th-century, the viola d'amore. The instrument's noon came in the Baroque era: Biber, Scarlatti and Vivaldi all wrote sonatas, though as late as 1756, Leopold Mozart could remark that it sounds 'especially charming in the stillness of the evening.'

Valerio Losito has demonstrated the particular qualities of the viola d'amore on two previous Brilliant Classics releases, of solo music from the Baroque period (BC94367) and sonatas by Scarlatti (BC94242). Lach, however, was composing in a richly Romantic idiom comparable with the late music of Brahms, and his three sonatas date from 1913-22, being thus doubly archaic in style. The album is completed with nine Lyric Pieces (1920-23) which explore Romantic moods and characters, as their titles reveal (Idylle, Humoreske, Romanze, Barcarole, Elegie, Cavatine, Legende, Ballade, Gavotte).

Robert Lach (1874-1958) was an Austrian scholar, (ethno)musicologist, philosopher, Professor at the Wiener Akademie, in short a scientist pur sang, with a passion for composing: he wrote a substantial oeuvre of 10 symphonies, masses, 25 string quartets and other chamber music. His style is Post-Brahmsian: quietly flowing and arching melodies over rich and late-romantic harmonies.
Robert Lach was the last composer writing for the viola d'amore, an instrument much in use in the baroque, but later overshadowed by the violin and viola. This recording presents his complete 3 sonatas for this instrument, as well as the 9 Lyrische Stücke.
Italian violinist Valerio Losito is a strong advocate of this music, he already recorded a highly praised viola d'amore solo album for Brilliant Classics (BC94367) as well as sonatas by Veracini, Tessarini and Scarlatti.
This disc is a FIRST RECORDING, and a real find!
Extensive liner notes written by the artist.
Track list
Disk 1
Sonata No. 2 in G Major, Op. 36: I. Moderato, assai cantabile ed espressivo

Sonata No. 2 in G Major, Op. 36: II. Adagio molto espressivo

Sonata No. 2 in G Major, Op. 36: III. Allegro assai sempre scherzando. Trio, molto cantabile ed espressivo

Sonata No. 2 in G Major, Op. 36: IV. Allegro con brio

Sonata No. 1 in E Minor, Op. 25: I. Moderato assai, molto espressivo

Sonata No. 1 in E Minor, Op. 25: II. Andante sostenuto e molto espressivo

Sonata No. 1 in E Minor, Op. 25: III. Scherzino, allegretto scherzando. Trio, moderato assai

Sonata No. 1 in E Minor, Op. 25: IV. Allegro ma non troppo
Disk 2
Sonata No. 3 in E-Flat Major, Op. 66: I. Moderato

Sonata No. 3 in E-Flat Major, Op. 66: II. Andante molto sostenuto

Sonata No. 3 in E-Flat Major, Op. 66: III. Allegro assai quasi presto

Sonata No. 3 in E-Flat Major, Op. 66: IV. Allegro assai molto energico

9 Lyrische Stücke, Op. 23: I. Idylle

9 Lyrische Stücke, Op. 23: II. Humoreske

9 Lyrische Stücke, Op. 23: III. Romanze

9 Lyrische Stücke, Op. 23: IV. Barcarole

9 Lyrische Stücke, Op. 23: V. Elegie

9 Lyrische Stücke, Op. 23: VI. Cavatine

9 Lyrische Stücke, Op. 23: VII. Legende

9 Lyrische Stücke, Op. 23: VIII. Ballade

9 Lyrische Stücke, Op. 23: IX. Gavotte