Röntgen: Orchestral, Choral & Chamber Music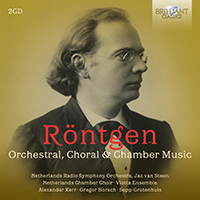 Download booklet
Composer
Julius Röntgen
Artist
Netherlands Radio Symphony Orchestra
Jac van Steen conductor
Netherlands Chamber Choir
Viotta Ensemble
Alexander Kerr violin
Gregor Horsch cello
Sepp Grotenhuis piano
Format
2 CD
Cat. number
96104
EAN code
5028421961040
Release
January 2020
About this release
A late-Romantic Symphony, Serenade, motets and chamber music by the composer and teacher who energised Dutch musical life for over half a century.

In February 1896, Clara Schumann described Julius Röntgen in a letter to Johannes Brahms: 'He has remained a child, so innocent, pure, open, enthusiastic… But we certainly can and must take him seriously.' Brahms certainly agreed, and stole from the younger composer a theme from the Serenade which opens this compilation, for use in his own Second Symphony; when Röntgen pointed this out, he was the recipient of a rare apology from Brahms.

Born in 1855, Röntgen grew up in Leipzig, the son of the leader of the Gewandhaus orchestra. As a boy he met Liszt, having already composed music for the likes of Joseph Joachim. His move to Amsterdam in 1877 launched a multifaceted career as a pianist, conductor and teacher who continued to compose prolifically in all the classical genres. He became friends with Grieg, who dedicated a volume of Lyric Pieces to him, and much of his own output convincingly welds Austro-German forms with a fresh, Scandinavian-accented simplicity of expression.

This portrait of Röntgen ranges across his diverse output, from the Serenade of 1876 to one of the symphonies he wrote late in life, a single-movement form composed in 1930 with a soprano vocalise. A youthful and joyous Violin Sonata of 1879 was composed for the violinist Amanda Maier, who would soon become his first wife; its high spirits are shared by the Theme and Variations for two pianos from the previous year. The Cello Sonata Op.56 is dedicated to the memory of a friend and adapts the final chorus of Bach's St Matthew Passion. His Sixth Piano Trio Op.50 opens in high Brahmsian style with a passionate main melody and a tender slow movement. A trio of motets dates from the 1920s and features some of his most daring harmonies, before the Symphony strikes a vein of pastoral contemplation akin to the Sinfonia Espansiva of Nielsen, who had also become a friend.

Julius Röntgen (1855-1932) was born in Leipzig to a Dutch father, who was concertmaster of the famous Gewandhaus Orchester, and a German mother, a pianist. He trained as a pianist and performed Brahms' 2nd Piano Concerto under the baton of the composer himself. In 1878 he moved to Amsterdam, The Netherlands, where he stayed the rest of his life, becoming an important member of the musical society, co-founding the Amsterdam Conservatory and the Concertgebouw.
Röntgen's style is closely modelled on the works of Johannes Brahms, his colleague and close friend. But also Reger, Nielsen and Grieg were his inspirations.
This 2 CD set presents a musical portrait of Röntgen, in symphonic works, chamber music and choral works: beautiful, full blooded romantic music of the highest quality (not without reason Brahms confessed to have stolen a melody of Röntgen for his own second symphony!).
Previously issued on the NM Classics label. They present excellent performances by Dutch musicians: Netherlands Radio Symphony Orchestra, Jac van Steen, Netherlands Chamber Choir and many more.
Listening
Track list
Disk 1
Julius Röntgen: Serenade in A Major, Op. 14: I. Allegro tranquillo

Julius Röntgen: Serenade in A Major, Op. 14: II. Scherzo

Julius Röntgen: Serenade in A Major, Op. 14: III. Andante con espressione

Julius Röntgen: Serenade in A Major, Op. 14: IV. Allegro molto vivace

Julius Röntgen: Thema mit Variationen, Op. 17

Julius Röntgen: Motetten: I. Wieder den Frieden. Klage-, Anklage, und Trostgesang

Julius Röntgen: Motetten: II. Gleichwie die grünen Blätter auf einem schönen Baum

Julius Röntgen: Motetten: III. Kommt her zu mir, alle die ihr mein begeeret

Julius Röntgen: Symphony in C-Sharp Minor
Disk 2
Julius Röntgen: Piano Trio in C Minor, Op. 50: I. Allegro non troppo e serioso

Julius Röntgen: Piano Trio in C Minor, Op. 50: II. Andante

Julius Röntgen: Piano Trio in C Minor, Op. 50: III. Allegro non troppo

Julius Röntgen: Sonata in F-Sharp Minor, Op. 20: I. Allegro non troppo

Julius Röntgen: Sonata in F-Sharp Minor, Op. 20: II. Andante

Julius Röntgen: Sonata in F-Sharp Minor, Op. 20: III. Agitato

Julius Röntgen: Sonata No. 5 in B Minor, Op. 56: I. Moderato

Julius Röntgen: Sonata No. 5 in B Minor, Op. 56: II. Allegro con moto

Julius Röntgen: Sonata No. 5 in B Minor, Op. 56: III. Poco andante, teneramente

Julius Röntgen: Sonata No. 5 in B Minor, Op. 56: IV. Molto passionato e vivace