Rolla: Music for Viola and Ensemble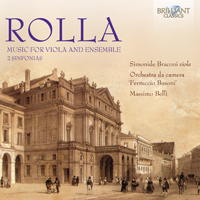 Composer
Alessandro Rolla
Artist
Simonide Braconi viola
Orchestra da Camera 'Ferruccio Busoni'
Massimo Belli conductor
Format
1 CD
Cat. number
94971
EAN code
5028421949710
Release
March 2015
About this release
Alessandro Rolla was, in his time, so exalted for his virtuosic viola skills that his playing was said to make women faint. His extraordinary abilities took him away from his hometown of Pavia, leading him to settle in Milan at the world famous Teatro alla Scala. Known for his ballet music, Rolla was also a renowned composer of instrumental works, and the influences of his two most admired composers, Mozart and Beethoven, can be clearly heard in much of his music.

This release brings together an important selection of Rolla's compositions, clearly anchored in the Classical style. The virtuosic Viola Concerto in E flat gives the solo instrument a starring role, as the somewhat sparse orchestral accompaniment serves only to highlight the soloist's dexterity. The Divertimento and Concertino are similarly styled, with grand orchestral entries marking the start of long virtuosic passages in the viola. Soloist Simonide Braconi, a highly experienced player, makes light work of the demanding material, allowing his instrument to soar over the orchestral tapestry. The two Sinfonias are taken from manuscripts found in the library in Parma, generously lent for this release and specially revised by conductor Massimo Belli. Written in the same key, the two symphonies have much in common, though Rolla adds an interesting addition in the Sinfonia BI531, with an unexpected violin solo rising high above the rest of the ensemble.

The Grove Dictionary of Music calls it "inexplicable" that Rolla's viola music has been neglected throughout the 20th century, and this release is certainly putting that neglect to rights. The Orchestra da camera 'Ferruccio Busoni', which is celebrating its 50th anniversary this year, is an established institution in Trieste, and has given performances in major concert venues throughout Europe and beyond. The ensemble is joined by Simonide Braconi, principal violist of the Teatro alla Scala orchestra – the very orchestra once conducted by Alessandro Rolla himself.
Italian composer Alessandro Rolla lived from 1757 till 1841, outliving both Mozart and Beethoven, his most important musical influences. He was an extraordinary virtuoso on the viola, the "Paganini of the viola", were it not that he was actually the teacher of Paganini. Many of the technical innovations that Paganini introduced in his devilish violin works were invented by Rolla.
This new recording presents several concertante works for viola and orchestra, the style firmly rooted in Viennese Classicism, the melodies glowing with Italian warmth and elegance.
Played by Simonide Braconi, principal violist of the famous Scala Orchestra, the orchestra Rolla himself conducted in his time.

Other information
Recorded in Trieste, Italy, in September 2013.
Booklet contains extensive notes on the music and artists.
Track list
Disk 1
Divertimento BI 330 for Viola and String Quartet: I. Andante sostenuto – II. Allegro alla Polacca

Viola Concerto in E-Flat Major, BI 545: I. Andante sostenuto – Allegro

Viola Concerto in E-Flat Major, BI 545: II. Largo —

Viola Concerto in E-Flat Major, BI 545: III. Rondo. Allegro

Viola Concertino in E-Flat Major, BI 328: I. Allegro maestoso —

Viola Concertino in E-Flat Major, BI 328: II. Andante un poco sostenuto

Viola Concertino in E-Flat Major, BI 328: III. Polonese. Allegretto

Sinfonia in D Major, BI 530: Maestoso sostenuto – Allegro vivo

Sinfonia in D Major, BI 531: Maestoso sostenuto – Allegro vivo