Romances for Violin by Beethoven, Saint-Saëns, Dvorak, Bruch, Svendsen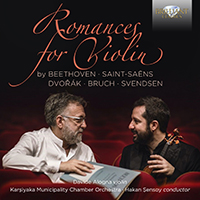 Download booklet
Composer
Antonín Dvorák, Camille Saint-Saëns, Ludwig van Beethoven
Artist
Davide Alogna violin
Karsyiaka Chamber Orchestra
Hakan Sensoy conductor
Format
1 CD
Cat. number
95896
EAN code
5028421958965
Release
August 2019
About this release
An accomplished young Italian violinist with an appealing collection of concertante romances by great composers from Beethoven to Bruch.

The romance in music is an often-overlooked, independent genre. Vocal romanzas were popular from the 15th century onwards, with their roots in the songs of medieval troubadours. Many slow concerto movements carry the subtitle, too, with its implication of softness, gentleness and melodic beauty. But more and more composers through the 19th century grasped the possibilities of the Romance as an instrumental song without words and a form in its own right. They had before them a growing audience of non-connoisseur listeners and amateur performers who would take delight in accessible but touching music: these are the origins of the music on this album.

From an extensive field, Davide Alogna has constructed a beautifully varied sequence of Romances by celebrated and lesser-known composers. The two best examples of the genre remain those composed on the cusp of the 19th century by Beethoven, though they are little heard in concert these days. Seventy years later, Saint-Saëns enriched the repertoire with his own pair of Romances, more richly expressive compared to Beethoven's delicacy and restraint. From later still the mood changes again, with the fresh Slavonic rhythms of Dvořák's F minor Romance, the cool beauty of Svendsen's G major Romance and the ripe sentimentality of Bruch's F major Romance (originally for viola and orchestra).

Having completed his studies at the Accademia Chigiana of Siena, Davide Alogna was acclaimed by his teacher Giuliano Carmignola as 'an amazing talent'. A previous recording was praised for its virtuosity and brilliance by the Italian Musica magazine, and his partnership with the veteran pianist Bruno Canino has delighted audiences throughout Europe.

This new recording presents a delightful program of Romances for Violin and Orchestra, a quintessentially romantic genre of a one-movement work of average length (ca 10 minutes), characterized by long-spun lyrical melodies for the violin against the warm and harmonious support of the orchestra.
Presented are the famous Romances by Beethoven (the Op. 40 and 50), Saint-Saëns (the Op. 37 and 48), Svendsen, Dvořák and Bruch.
Beautifully played by Davide Alogna, one of Italy's best known violinists. Alogna was soloist with conductors like Riccardo Muti, Eliahu Inbal, and Zubin Mehta. The Turkish Karsiyaka Municipality Chamber Orchestra conducted by Hakan Şensoy offers stylish and generous support.
Listening
Track list
Disk 1
Ludwig van Beethoven: Romanze in F Major, Op. 50

Ludwig van Beethoven: Romanze in G Major, Op. 40

Camille Saint-Saëns: Romance in C Major, Op. 48

Camille Saint-Saëns: Romance in D-Flat Major, Op. 37

Antonín Dvorák: Romance in F Minor, Op. 11

Max Bruch: Romance in F Major, Op. 85

Johan Svendsen: Romanza in G Major, Op. 26