Romantic Harp Concertos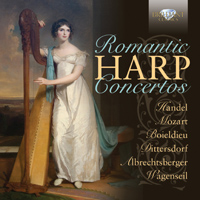 Composer
Georg Frideric Handel, Wolfgang Amadeus Mozart
Artist
Charlotte Balzereit harp
Giselle Herbert harp
Jutta Zoff harp
Jana Bouskova harp
Staatskapelle Dresden
Les Violins du Roy
Stuttgart Chamber Orchestra
Nicol Matt conductor
Südwestdeutsches Kammerorchester Pforzheim
Vladislav Czarnecki conductor
Format
2 CD
Cat. number
95167
EAN code
5028421951676
Release
March 2015
About this release
The harp is the ultimate romantic icon: the instrument of angels, and of Cupid, the god of love. One of the world's oldest musical instruments, yet one of the most versatile and cherished, its modern counterpart also has the largest range of any orchestral instrument. This dreamy collection pulls together an equally extensive range of concertos for harp, contrasting the towering figures of Handel and Mozart with gems by lesser-known composers such as François-Adrien Boieldieu and Johann Georg Albrechtsberger.

Handel's Harp Concerto in B flat is a glorious piece that is frequently performed on the organ, but it is often forgotten that it was originally written for the harp; Charlotte Balzereit performs it here in a delightfully joyous manner. A simple contrast is offered in the form of Mozart's Flute and Harp Concerto – the only work the great man composed to include the instrument, whose prowess is not diminished in this three-movement work in which it shares the limelight with the flute. Carl Ditters von Dittersdorf's Concerto is a favourite of harpists the world over; it is also a transcription – this time of a harpsichord work – which, despite being less well known than its counterpart, reminds the listener why he was considered one of the greatest composers of his day during his lifetime.

The concertos are performed by a glittering array of soloists, supported by world-renowned ensembles, including the Stuttgart Chamber Orchestra and Staatskapelle Dresden.
The harp, with its angelic, ethereal sounds and timbres, is the most universally loved classical instrument. Ever since the antiquity the instrument was used to express human emotions and accompany song and dance. Also today the love for the harp exceeds the traditional boundaries of classical music.
This set presents an appealing selection of concertos for harp and orchestra, from the Baroque to the Classical Viennese style, by Handel and Mozart, and lesser known composers like Wagenseil, Dittersdorf and Albrechtsberger: music of great charm and appeal, perfectly suited for relaxing, dreaming and chilling!
A comprehensive collection bringing together harp concertos previously released on several different albums.
Track list
Disk 1
Harp Concerto in B-Flat Major, HWV 294: I. Andante – allegro

Harp Concerto in B-Flat Major, HWV 294: II. Larghetto

Harp Concerto in B-Flat Major, HWV 294: III. Allegro moderato

Concerto for Flute and Harp in C Major, K. 299: I. Allegro

Concerto for Flute and Harp in C Major, K. 299: II. Andantino

Concerto for Flute and Harp in C Major, K. 299: III. Rondo. Allegro

Harp Concerto in C in Major: I. Allegro brillante

Harp Concerto in C in Major: II. Andante lento –

Harp Concerto in C in Major: III. Rondo. Allegro agitato
Disk 2
Harp Concerto in A Major: I. Allegro molto

Harp Concerto in A Major: II. Larghetto

Harp Concerto in A Major: III. Rondo. Allegretto

Harp Concerto in C Major: I. Allegro moderato

Harp Concerto in C Major: II. Adagio

Harp Concerto in C Major: III. Allegro

Partita in F Major: I. Presto

Partita in F Major: II. Adagio un poco

Partita in F Major: III. Menuetto

Partita in F Major: IV. Finale. Allegro

Harp Concerto in G Major: I. Allegro

Harp Concerto in G Major: II. Andante

Harp Concerto in G Major: III. Vivace