Romantic Piano Concertos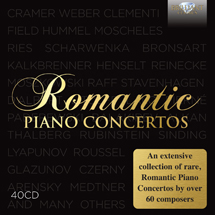 Download booklet
| | |
| --- | --- |
| Artist | Various artists |
| Format | 40 CD |
| Cat. number | 95300 |
| EAN code | 5028421953007 |
| Release | May 2016 |
About this release
Why is it that, when asked to name the most magnificent piano concertos of the Romantic age, only a select few spring to mind? And while these may have been recorded numerous times, why do we allow other concertos of the period to languish in obscurity?

This exciting new release aims to shine a light on those other pieces from the period, which deserve to be better known. It takes in over 60 composers and runs the full gamut of the age we now call 'Romantic' – from the initial stirrings of Romanticism in the works of Clementi and Stamitz, through the early adopters such as Field and Hummel, to the passionate virtuosity of Liszt, Saint-Saëns and Lalo, as well as those neo-Romantic composers who looked fondly back to the era, such as Samuel Barber.

Although some of the earliest composers on this boxset are essentially Classical, it is not difficult to detect qualities we now call 'Romantic' evident in the composers' writing, as they leaned away from the restraint, symmetry and clarity of the Classical period. Among those on this release are Stamitz, Hoffmeister and Paisiello, who went on to influence some of the most important composers of the 18th and 19th centuries. These composers, born towards the end of the 18th century, were just beginning to benefit from new advances inthe development of the piano; it would be up to their successors to exploit these fully. Born around the same time was John Field, an Irish composer, who was the forerunner of the Romantic period and is best known as the instigator of the nocturne. Five of his piano concertos feature on this release, revealing the composer's foreign influences, as – having spent much of his life in Russia – he began to add local flair to his works, such as the balalaika.

Almost an exact contemporary of Field was Hummel, who taught Czerny, who went on to teach Liszt. Hummel – who himself had been taught by Mozart – was one of the greatest virtuosi of his time, and his A minor and B minor piano concertos were standard repertoire works of the early 19th century, studied by all the budding virtuosos of the period. The concept of a 'virtuoso' performer was a relatively new one, exemplified by Paganini and the attention he drew to the violin as a virtuosic instrument. The piano was not far behind, however, and this reached its climax with the rivalry between Liszt and Thalberg – two stupendous pianists, the same age, whose performance at a benefit in Paris was tantamount to a piano duel. Some of Liszt's most fiendish works feature on this release, including his Malédiction for piano and strings, and Totentanz, famed for its shockingly percussive piano effects. Thalberg is not forgotten, with his Piano Concerto No.5 showcasing the composer and pianist's penchant for virtuosity, even if it was written in his teens.

The release is rounded off by Romantic composers from further afield; some of the finest American composers of the late 19th and early 20th centuries appear, including Daniel Mason – little known here but much admired during his lifetime – as well as Beach, Barber and Gershwin. Mason was a devotee of Brahms and fiercely opposed to modern developments in music, such as Impressionism. Amy Beach was more open to stylistic changes during her lifetime, while Barber – born in 1910 – loved to utilise the expressive tonality of the 19th century in his compositions, including in his 1962 Piano Concerto, on CD19 of this boxset.

The perfect starting point for exploring Romantic piano music. It features historic recordings of a truly excellent standard, including Blumental with the Vienna Symphony Orchestra under Helmuth Froschauer, the Orchestra of Radio Luxembourg with Pierre Cao accompanying French pianist Dosse, Boehm with the Westphalian Symphony Orchestra under Siegfried Landau, and Antal Doráti conducting the Royal Philharmonic Orchestra with Ilse von Alpenheim.


This 40 CD set contains a wealth of 19th century piano concertos written by composers who for some reason or other have been neglected by history, so called "minor masters" who may have lost the battle against the giants but nevertheless wrote very attractive, impressive and brilliant concertos for the piano (which in many cases was "their" instrument).
To name just a few: Hummel, Field, Czerny, Cramer, Ries, Clementi, Thalberg, Moscheles, Litolff, Kalkbrenner, Lyapunov, Balakirev, Medtner, Glazunov, Henselt, Moszkowski, Scharwenka and many more, over 60 composers!
Most of the recordings come from the rich and unique VOX catalogue, featuring such excellent pianists as Michael Ponti, Felicja Blumenthal, Hans Kann, Martin Galling, Jerome Rose, Roland Keller and many more.
A treasure trove of the unexpected, the unjustly neglected and the gloriously restored, a must for the collector and excellent value for money!
Listening
Track list
Disk 1
John Baptist Cramer: Piano Concerto No. 5 in C Minor, Op. 48: I. Allegro maestoso

John Baptist Cramer: Piano Concerto No. 5 in C Minor, Op. 48: II. Larghetto

John Baptist Cramer: Piano Concerto No. 5 in C Minor, Op. 48: III. Rondo à l'hongroise

Carl Czerny: Divertissement de concert, Op. 204

Ferdinand Ries: Piano Concerto No. 3 in C-Sharp Minor, Op. 55: I. Allegro maestoso

Ferdinand Ries: Piano Concerto No. 3 in C-Sharp Minor, Op. 55: II. Larghetto

Ferdinand Ries: Piano Concerto No. 3 in C-Sharp Minor, Op. 55: III. Rondo. Allegretto
Disk 2
Muzio Clementi: Piano Concerto in C Major: I. Allegro con spirit

Muzio Clementi: Piano Concerto in C Major: II. Adagio e cantabile, con grande espressione

Muzio Clementi: Piano Concerto in C Major: III. Presto

John Field: Piano Concerto No. 2 in A-Flat Major, H.31: I. Allegro moderato

John Field: Piano Concerto No. 2 in A-Flat Major, H.31: II. Poco adagio

John Field: Piano Concerto No. 2 in A-Flat Major, H.31: III. Allegro moderato innocente

Johann Nepomuk Hummel: Piano Concertino in G Major, Op. 73: I. Allegro moderato

Johann Nepomuk Hummel: Piano Concertino in G Major, Op. 73: II. Andante grazioso

Johann Nepomuk Hummel: Piano Concertino in G Major, Op. 73: III. Rondo
Disk 3
Ignaz Moscheles: Piano Concerto in G Minor, Op. 58: I. Allegro moderato

Ignaz Moscheles: Piano Concerto in G Minor, Op. 58: II. Adagio

Ignaz Moscheles: Piano Concerto in G Minor, Op. 58: III. Allegro agitato

Ferdinand Hiller: Piano Concerto No. 2 in F-Sharp Minor, Op. 69: I. Moderato, ma con energia e con fuoco

Ferdinand Hiller: Piano Concerto No. 2 in F-Sharp Minor, Op. 69: II. Andante espressivo

Ferdinand Hiller: Piano Concerto No. 2 in F-Sharp Minor, Op. 69: III. Finale. Allegro con fuoco

Henry Litolff: Concerto symfonique No. 3 in E-Flat Major, Op. 45: I. Allegro

Henry Litolff: Concerto symfonique No. 3 in E-Flat Major, Op. 45: II. Scherzo

Henry Litolff: Concerto symfonique No. 3 in E-Flat Major, Op. 45: III. Andante

Henry Litolff: Concerto symfonique No. 3 in E-Flat Major, Op. 45: IV. Furioso
Disk 4
Friedrich Kalkbrenner: Piano Concerto No. 1 in D Minor, Op. 61: I. Allegro maestoso

Friedrich Kalkbrenner: Piano Concerto No. 1 in D Minor, Op. 61: II. Adagio molto

Friedrich Kalkbrenner: Piano Concerto No. 1 in D Minor, Op. 61: III. Rondo. Vivace

Johann Nepomuk Hummel: Piano Concerto No. 4 in E Major, Op. 110: I. Allegro pomposo e spirituoso

Johann Nepomuk Hummel: Piano Concerto No. 4 in E Major, Op. 110: II. Andante con moto

Johann Nepomuk Hummel: Piano Concerto No. 4 in E Major, Op. 110: III. Rondo. Allegro moderato ma con brio
Disk 5
Carl Maria Von Weber: Piano Concerto No. 1 in C Major, Op. 11: I. Allegro

Carl Maria Von Weber: Piano Concerto No. 1 in C Major, Op. 11: II. Adagio

Carl Maria Von Weber: Piano Concerto No. 1 in C Major, Op. 11: III. Presto

Carl Maria Von Weber: Piano Concerto No. 2 in E-Flat Major, Op. 32: I. Allegro moderato

Carl Maria Von Weber: Piano Concerto No. 2 in E-Flat Major, Op. 32: II. Adagio

Carl Maria Von Weber: Piano Concerto No. 2 in E-Flat Major, Op. 32: III. Rondo. Presto

Carl Maria Von Weber: Konzertstück in F Minor, Op. 79

Robert Volkmann: Konzertstück in C Minor, Op. 42
Disk 6
Adolf von Henselt: Piano Concerto in F Minor, Op. 16: I. Allegro patetico

Adolf von Henselt: Piano Concerto in F Minor, Op. 16: II. Larghetto

Adolf von Henselt: Piano Concerto in F Minor, Op. 16: III. Allegro agitato

Ferdinand Hiller: Konzertstück for Piano and Orchestra, Op. 113

Frédéric Chopin: Allegro de concert in A Major, Op. 46
Disk 7
Moritz Moszkowski: Piano Concerto in E Major, Op. 59: I. Moderato

Moritz Moszkowski: Piano Concerto in E Major, Op. 59: II. Andante

Moritz Moszkowski: Piano Concerto in E Major, Op. 59: III. Scherzo. Vivace

Moritz Moszkowski: Piano Concerto in E Major, Op. 59: IV. Allegro deciso

Xaver Scharwenka: Piano Concerto No. 2 in C Minor, Op. 56: I. Allegro

Xaver Scharwenka: Piano Concerto No. 2 in C Minor, Op. 56: II. Adagio

Xaver Scharwenka: Piano Concerto No. 2 in C Minor, Op. 56: III. Allegro non troppo
Disk 8
Joachim Raff: Piano Concerto in C Minor, Op. 185: I. Allegro

Joachim Raff: Piano Concerto in C Minor, Op. 185: II. Andante quasi larghetto

Joachim Raff: Piano Concerto in C Minor, Op. 185: III. Finale. Allegro

Mihály Mosonyi: Piano Concerto in E Minor: I. Allegro moderato, II. Adagio con moto, III. Allegro

Bernhard Stavenhagen: Piano Concerto No. 1 in B Minor, Op. 4: I. Sehr energisch und lebhaft

Bernhard Stavenhagen: Piano Concerto No. 1 in B Minor, Op. 4: II. Adagio

Bernhard Stavenhagen: Piano Concerto No. 1 in B Minor, Op. 4: III. Erstes Zeitmaß. Sehr leidenschaftlich
Disk 9
Felix Mendelssohn: Concerto for Violin and Piano in D Minor, MWV O 4: I. Allegro

Felix Mendelssohn: Concerto for Violin and Piano in D Minor, MWV O 4: II. Adagio

Felix Mendelssohn: Concerto for Violin and Piano in D Minor, MWV O 4: III. Allegro molto

Felix Mendelssohn: Piano Concerto in A Minor, MWV O 2: I. Allegro.

Felix Mendelssohn: Piano Concerto in A Minor, MWV O 2: II. Adagio

Felix Mendelssohn: Piano Concerto in A Minor, MWV O 2: III. Finale, allegro ma non troppo
Disk 10
Franz Liszt: Malédiction in E Minor, S. 121

Eugen D'Albert: Piano Concerto No. 2 in E Major, Op. 12

Hans Von Bronsart: Piano Concerto in F-Sharp Minor, Op. 10: I. Allegro maestoso

Hans Von Bronsart: Piano Concerto in F-Sharp Minor, Op. 10: II. Adagio ma non troppo

Hans Von Bronsart: Piano Concerto in F-Sharp Minor, Op. 10: III. Allegro con fuoco
Disk 11
Franz Berwald: Piano Concerto in D Major: I. Allegro con brio, II. Andantino, III. Allegro molto

Charles Henri Valentin Alkan: Concerto da camera No. 2 in C-Sharp Minor

Robert Schumann: Konzertstück in G Major, Op. 92

Joachim Raff: Ode au printemps in G Major, Op. 76

Franz Liszt: Totentanz, S. 126
Disk 12
Simon Mayr: Piano Concerto No. 1 in C Major: I. Allegro moderato

Simon Mayr: Piano Concerto No. 1 in C Major: II. Andante grazioso

Simon Mayr: Piano Concerto No. 1 in C Major: III. Rondo

Albert Roussel: Piano Concerto in G Major, Op. 36: I. Allegro molto

Albert Roussel: Piano Concerto in G Major, Op. 36: II. Adagio

Albert Roussel: Piano Concerto in G Major, Op. 36: III. Allegro con spirit

Gabriel Pierné: Piano Concerto in C Minor, Op. 12: I. Allegro

Gabriel Pierné: Piano Concerto in C Minor, Op. 12: II. Scherzando

Gabriel Pierné: Piano Concerto in C Minor, Op. 12: III. Final. Allegro un poco agitato
Disk 13
Piotr Ilyich Tchaikovsky: Piano Concerto No. 3 in E-Flat Major, Op. 75: I. Allegro brillante

Piotr Ilyich Tchaikovsky: Piano Concerto No. 3 in E-Flat Major, Op. 75: II. Andante

Piotr Ilyich Tchaikovsky: Piano Concerto No. 3 in E-Flat Major, Op. 75: III. Finale. Allegro maestoso

Piotr Ilyich Tchaikovsky: Concert Fantasy in G Major, Op. 56: I. Quasi rondo. Andante mosso

Piotr Ilyich Tchaikovsky: Concert Fantasy in G Major, Op. 56: II. Contrastes. Andante cantabile
Disk 14
Christian Sinding: Piano Concerto in D-Flat Major, Op. 6: I. Allegro non troppo

Christian Sinding: Piano Concerto in D-Flat Major, Op. 6: II. Andante

Christian Sinding: Piano Concerto in D-Flat Major, Op. 6: III. Allegro non assai

Hermann Goetz: Piano Concerto No. 2 in B-Flat Major, Op. 18: I. Mäßig bewegt, II. Mäßig langsam

Hermann Goetz: Piano Concerto No. 2 in B-Flat Major, Op. 18: III. Langsam, IV. Lebhaft
Disk 15
Carl Reinecke: Piano Concerto No. 1 in F-Sharp Minor, Op. 72: I. Allegro

Carl Reinecke: Piano Concerto No. 1 in F-Sharp Minor, Op. 72: II. Adagio, ma non troppo

Carl Reinecke: Piano Concerto No. 1 in F-Sharp Minor, Op. 72: III. Finale. Allegro con brio

Felix Mendelssohn: Capriccio brillant in B Minor, Op. 22

Josef Rheinberger: Piano Concerto in A-Flat Major, Op. 94: I. Moderato

Josef Rheinberger: Piano Concerto in A-Flat Major, Op. 94: II. Adagio pathetico

Josef Rheinberger: Piano Concerto in A-Flat Major, Op. 94: III. Finale. Allegro energico
Disk 16
Anton Rubinstein: Piano Concerto No. 4 in D Minor, Op. 70: I. Moderato assai

Anton Rubinstein: Piano Concerto No. 4 in D Minor, Op. 70: II. Andante

Anton Rubinstein: Piano Concerto No. 4 in D Minor, Op. 70: III. Allegro

Sigismond Thalberg: Piano Concerto in F Minor, Op. 5: I. Allegro maestoso

Sigismond Thalberg: Piano Concerto in F Minor, Op. 5: II. Adagio

Sigismond Thalberg: Piano Concerto in F Minor, Op. 5: III. Rondo. Allegro
Disk 17
Nikolai Medtner: Piano Concerto No. 3 in E Minor, Op. 60: I. Con moto, largamente

Nikolai Medtner: Piano Concerto No. 3 in E Minor, Op. 60: II. Interludium. Allegro molto sostenuto, misterioso, III. Finale. Allegro molto

Mili Balakirev: Piano Concerto No. 2 in E-Flat Major: I. Allegro non troppo

Mili Balakirev: Piano Concerto No. 2 in E-Flat Major: II. Adagio, III. Allegro risoluto

Sergei Lyapunov: Rhapsody on Ukrainian Themes, Op. 28
Disk 18
Édouard Lalo: Piano Concerto in F Minor: I. Lento – Allegro

Édouard Lalo: Piano Concerto in F Minor: II. Lento

Édouard Lalo: Piano Concerto in F Minor: III. Allegro

Alexander Glazunov: Piano Concerto No. 2 in B Major, Op. 100
Disk 19
George Jacob Gershovitz Gershwin: Piano Concerto in F Major: I. Allegro

George Jacob Gershovitz Gershwin: Piano Concerto in F Major: II. Andante con moto

George Jacob Gershovitz Gershwin: Piano Concerto in F Major: III. Allegro agitato

Samuel Barber: Piano Concerto Op. 38: I. Allegro appassionato

Samuel Barber: Piano Concerto Op. 38: II. Canzone. Moderato

Samuel Barber: Piano Concerto Op. 38: III. Allegro molto
Disk 20
Edward MacDowell: Piano Concerto No. 2 in D Minor, Op. 23: I. Larghetto calmato

Edward MacDowell: Piano Concerto No. 2 in D Minor, Op. 23: II. Presto giocoso

Edward MacDowell: Piano Concerto No. 2 in D Minor, Op. 23: III. Largo – Molto allegro

Amy Beach: Piano Concerto in C-Sharp Minor, Op. 45: I. Allegro moderato

Amy Beach: Piano Concerto in C-Sharp Minor, Op. 45: II. Scherzo. Vivace

Amy Beach: Piano Concerto in C-Sharp Minor, Op. 45: III. Largo

Amy Beach: Piano Concerto in C-Sharp Minor, Op. 45: IV. Allegro con scioltezza
Disk 21
Ludwig van Beethoven: Piano Concerto in E-Flat Major, WoO 4: I. Allegro moderato

Ludwig van Beethoven: Piano Concerto in E-Flat Major, WoO 4: II. Larghetto

Ludwig van Beethoven: Piano Concerto in E-Flat Major, WoO 4: III. Rondo. Allegretto

Johann Nepomuk Hummel: La galante in E-Flat Major, Op. 120

Johann Nepomuk Hummel: Piano Concerto in A Minor, Op. 85: I. Allegro moderato

Johann Nepomuk Hummel: Piano Concerto in A Minor, Op. 85: II. Larghetto , III. Rondo. Allegro moderato
Disk 22
Anton Arensky: Piano Concerto in F Minor, Op. 2: I. Allegro maestoso

Anton Arensky: Piano Concerto in F Minor, Op. 2: II. Andante con moto

Anton Arensky: Piano Concerto in F Minor, Op. 2: III. Finale. Allegro molto

Ignacy Paderewski: Piano Concerto in A Minor, Op. 17: I. Allegro

Ignacy Paderewski: Piano Concerto in A Minor, Op. 17: II. Romanza. Andante

Ignacy Paderewski: Piano Concerto in A Minor, Op. 17: III. Finale. Allegro molto vivace

Franz Liszt: Rhapsodie espagnole, S.254: Folies d'Espagne

Franz Liszt: Rhapsodie espagnole, S.254: Jota aragonesa

Franz Liszt: Rhapsodie espagnole, S.254: Un poco meno allegro – Non troppo allegro
Disk 23
Georg Joseph Vogler: Variations on "Marlbrough s'en va t'en guerre"

Giovanni Battista Viotti: Double Concerto in A Major: I. Allegro

Giovanni Battista Viotti: Double Concerto in A Major: II. Rondo. Allegro

Václav Tomaschek: Piano Concerto No. 1 in C Major, Op.18: I. Allegro con brio

Václav Tomaschek: Piano Concerto No. 1 in C Major, Op.18: II. Lento

Václav Tomaschek: Piano Concerto No. 1 in C Major, Op.18: III. Allegro
Disk 24
Giovanni Battista Viotti: Piano Concerto in G Minor: I. Allegro maestoso

Giovanni Battista Viotti: Piano Concerto in G Minor: II. Adagio non troppo

Giovanni Battista Viotti: Piano Concerto in G Minor: III. Rondo

Carl Czerny: Piano Concerto in A Minor, Op. 214: I. Allegro moderato

Carl Czerny: Piano Concerto in A Minor, Op. 214: II. Adagio con moto, cantabile, III. Rondo. Allegro con anima
Disk 25
Claude Debussy: Fantaisie for Piano and Orchestra: I. Andante ma non troppo

Claude Debussy: Fantaisie for Piano and Orchestra: II. Lento e molto espressivo – Allegro molto

Jean Françaix: Piano Concerto: I. Allegro

Jean Françaix: Piano Concerto: II. Andante

Jean Françaix: Piano Concerto: III. Scherzo

Jean Françaix: Piano Concerto: IV. Finale. Allegro

Ernő Dohnányi: Variationen über ein Kinderlied, Op. 25
Disk 26
Isaac Albéniz: Concierto fantástico, Op. 78: I. Allegro ma non troppo

Isaac Albéniz: Concierto fantástico, Op. 78: II. Rêverie et Scherzo: Andante – Presto

Isaac Albéniz: Concierto fantástico, Op. 78: III. Allegro

Anton Rubinstein: Konzertstück in A-Flat Major, Op. 113

Camille Saint-Saëns: Africa, Op. 89
Disk 27
Leopold Kozeluch: Piano Concerto in D Major: I. Allegro

Leopold Kozeluch: Piano Concerto in D Major: II. Andante

Leopold Kozeluch: Piano Concerto in D Major: III. Andantino

Giovanni Benedetto Platti: Piano Concerto No. 1 in G Major: I. Allegro assai

Giovanni Benedetto Platti: Piano Concerto No. 1 in G Major: II. Largo

Giovanni Benedetto Platti: Piano Concerto No. 1 in G Major: III. Allegro assai

Friedrich Kuhlau: Piano Concerto in C Major, Op. 7: I. Allegro

Friedrich Kuhlau: Piano Concerto in C Major, Op. 7: II. Adagio

Friedrich Kuhlau: Piano Concerto in C Major, Op. 7: III. Rondo. Allegro
Disk 28
César Auguste Franck: Symphonic Variations, FWV 46

Ferruccio Busoni: Konzertstück Op. 31a, BV 236

Germaine Tailleferre: Ballade

Daniel Gregory Mason: Prelude and Fugue, Op. 12
Disk 29
Franz Hoffmeister: Piano Concerto in D Major, Op. 24: I. Allegro brioso

Franz Hoffmeister: Piano Concerto in D Major, Op. 24: II. Adagio

Franz Hoffmeister: Piano Concerto in D Major, Op. 24: III. Allegretto

Carl Stamitz: Piano Concerto in F Major: I. Allegro

Carl Stamitz: Piano Concerto in F Major: II. Andante moderato

Carl Stamitz: Piano Concerto in F Major: III. Rondo. Allegro

Giovanni Paisiello: Piano Concerto in C Major: I. Allegro

Giovanni Paisiello: Piano Concerto in C Major: II. Largo

Giovanni Paisiello: Piano Concerto in C Major: III. Rondo
Disk 30
John Field: Piano Concerto No. 3 in E-Flat Major, H. 32: I. Allegro moderato

John Field: 18 Nocturnes: Nocturne No. 2 in C Minor H. 25. Moderato e molto espressivo

John Field: Piano Concerto No. 3 in E-Flat Major, H. 32: III. Rondo. Tempo di polacca

John Field: Piano Concerto No. 4 in E-Flat Major, H. 28: I. Allegro moderato

John Field: Piano Concerto No. 4 in E-Flat Major, H. 28: II. Siciliano. Un pocio adagio

John Field: Piano Concerto No. 4 in E-Flat Major, H. 28: III. Rondo. Allegretto
Disk 31
John Field: Piano Concerto No. 5 in C Major, H. 39 "L'incendie par l'orage": I. Allegro [moderato]

John Field: Piano Concerto No. 5 in C Major, H. 39 "L'incendie par l'orage": II. Adagio

John Field: Piano Concerto No. 5 in C Major, H. 39 "L'incendie par l'orage": III. Rondo. Allegro

John Field: Piano Concerto No. 6 in C Major, H. 49: I. Tempo di Marcia. Allegro moderato

John Field: Piano Concerto No. 6 in C Major, H. 49: II. Larghetto

John Field: Piano Concerto No. 6 in C Major, H. 49: III. Rondo. Moderato
Disk 32
Antonín Dvorák: Piano Concerto in G Minor, Op. 33: I. Allegro agitato

Antonín Dvorák: Piano Concerto in G Minor, Op. 33: II. Andante sostenuto

Antonín Dvorák: Piano Concerto in G Minor, Op. 33: III. Finale. Allegro con fuoco

Robert Schumann: Introduction and Allegro in D Minor, Op. 134
Disk 33
Camille Saint-Saëns: Piano Concerto No. 1 in D Major, Op. 17: I. Andante – Allegro assai

Camille Saint-Saëns: Piano Concerto No. 1 in D Major, Op. 17: II. Andante sostenuto quasi adagio

Camille Saint-Saëns: Piano Concerto No. 1 in D Major, Op. 17: III. Allegro con fuoco

Camille Saint-Saëns: Piano Concerto No. 2 in G Minor, Op. 22: I. Andante sostenuto

Camille Saint-Saëns: Piano Concerto No. 2 in G Minor, Op. 22: II. Allegro scherzando

Camille Saint-Saëns: Piano Concerto No. 2 in G Minor, Op. 22: III. Presto

Camille Saint-Saëns: Piano Concerto No. 4 in C Minor, Op. 44: I. Allegro moderato

Camille Saint-Saëns: Piano Concerto No. 4 in C Minor, Op. 44: II. Allegro vivace
Disk 34
Camille Saint-Saëns: Piano Concerto No. 3 in E-Flat Major, Op. 29: I. Moderato assai

Camille Saint-Saëns: Piano Concerto No. 3 in E-Flat Major, Op. 29: II. Andante, III. Allegro non troppo

Camille Saint-Saëns: Piano Concerto No. 5 in F Major, Op. 103: I. Allegro animato

Camille Saint-Saëns: Piano Concerto No. 5 in F Major, Op. 103: II. Andante

Camille Saint-Saëns: Piano Concerto No. 5 in F Major, Op. 103: III. Molto allegro

Camille Saint-Saëns: Africa, Op. 89
Disk 35
Felix Mendelssohn: Piano Concerto No. 1 in G Minor, Op. 25: I. Molto allegro con fuoco

Felix Mendelssohn: Piano Concerto No. 1 in G Minor, Op. 25: II. Andante

Felix Mendelssohn: Piano Concerto No. 1 in G Minor, Op. 25: III. Presto – Molto allegro e vivace

Felix Mendelssohn: Piano Concerto No. 2 in D Minor, Op. 40: I. Allegro appassionato

Felix Mendelssohn: Piano Concerto No. 2 in D Minor, Op. 40: II. Adagio

Felix Mendelssohn: Piano Concerto No. 2 in D Minor, Op. 40: III. Finale. Presto scherzando

Felix Mendelssohn: Capriccio brillant in B Minor, Op. 22
Disk 36
Frédéric Chopin: Variations on "Là ci darem la mano" in B- Flat Major, Op. 2

Frédéric Chopin: Grande fantaisie sur des airs polonais in A Major, Op. 13

Frédéric Chopin: Krakowiak in F Major, Op. 14

Frédéric Chopin: Andante spianato and grande polonaise in E-Flat Major, Op. 22
Disk 37
Alfredo Casella: Scarlattiana in E Minor, Op. 44: I. Sinfonia. Lento, grave – Allegro molto vivace

Alfredo Casella: Scarlattiana in E Minor, Op. 44: II. Minuetto. Allegretto ben moderato e grazioso

Alfredo Casella: Scarlattiana in E Minor, Op. 44: III. Capriccio. Allegro vivacissimo ed impetuoso

Alfredo Casella: Scarlattiana in E Minor, Op. 44: IV. Pastorale. Andantino dolcemente mosso

Alfredo Casella: Scarlattiana in E Minor, Op. 44: V. Finale. Lento molto e grave – Presto vivacissimo

Alfredo Casella: Triple Concerto, Op. 56: I. Largo, ampio, solenne – Allegro molto vivace

Alfredo Casella: Triple Concerto, Op. 56: II. Adagio non troppo, alquanto solenne e assai tranquillo

Alfredo Casella: Triple Concerto, Op. 56: III. Rondò, tempo di giga. Allegro vivace ma non troppo

Alfredo Casella: A notte alta, Op. 30
Disk 38
Ludwig van Beethoven: Piano Concerto in D Major, Op. 61a: I. Allegro ma non troppo

Ludwig van Beethoven: Piano Concerto in D Major, Op. 61a: II. Larghetto

Ludwig van Beethoven: Piano Concerto in D Major, Op. 61a: III. Rondo. Allegro

Ludwig van Beethoven: Rondo in B-Flat Major, WoO 6
Disk 39
Max Reger: Piano Concerto in F Minor, Op. 114: I. Allegro moderato

Max Reger: Piano Concerto in F Minor, Op. 114: II. Largo con gran espressione

Max Reger: Piano Concerto in F Minor, Op. 114: III. Allegretto con spirit
Disk 40
Ottorino Respighi: Toccata: I. Grave

Ottorino Respighi: Toccata: II. Andante lento

Ottorino Respighi: Toccata: III. Allegro vivo

Ottorino Respighi: Concerto in modo misolidio, P. 145: I. Moderato

Ottorino Respighi: Concerto in modo misolidio, P. 145: II. Lento

Ottorino Respighi: Concerto in modo misolidio, P. 145: III. Passacaglia