Rosa Mystica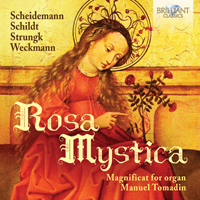 Composer
Delphin Strungk, Heinrich Scheidemann, Matthias Weckmann, Melchior Schildt
Artist
Manuel Tomadin organ
Giuseppe Maletto tenor
Format
1 CD
Cat. number
95506
EAN code
5028421955063
Release
September 2017
About this release
Eminent Italian early music keyboardist Manuel Tomadin adds to a splendid discography on Brilliant Classics with his eighth release for the label. Commemorating the centenary of the apparition of Mary at Fátima, Portugal (1917), Tomadin performs settings for organ of the well-known Marian hymn Magnificat by four composers from the Hanseatic north of Germany, all talented students of Dutch organist–composer Jan Pieterszoon Sweelinck, father of the north German organ tradition. And what more fitting organ could be selected for this tribute than the fine Dell'Orto & Lanzini instrument, modelled on 17th-century organs of the Hanseatic school, housed in a Piedmontese parish church dedicated to Our Lady of Fatima? This organ reflects the rich tonal resources that would have been at the skilled fingertips of Scheidemann, Schildt, Weckmann and Strungk, who were active in the 17th century around the Hanseatic area on such organs as those at St Catherine's and St James's, Hamburg, the Marktkirche, Hannover, and Braunschweig's St Martini church.

Manuel Tomadin is joined in these Magnificat performances by award winning tenor and early music ensemble director Giuseppe Maletto.

The Magnificat, the hymn to the Virgin Mary, is one of the most ancient and sacred liturgical texts, and has been set to music numerous times by composers between the 16th and 18th century.
This new recording presents Magnificat settings by Scheidemann, Schildt, Weckmann and Strungk, all active in Northern Germany and all pupils of the great Sweelinck, master of Baroque counterpoint.
This recording was made on the occasion of the centenary of the apparition of Mary of Fatima, and played on the beautiful Dell'Orto & Lanzini organ of the Parish of Pinerolo, an instrument inspired by the 17th century Hanseatic school. The booklet offers extensive liner notes in English and Italian, and the full specifications and photos of the organ.
Track list
Disk 1
Heinrich Scheidemann: Magnificat VI toni: I. Versus 1

Heinrich Scheidemann: Magnificat VI toni: II. Versus 2

Heinrich Scheidemann: Magnificat VI toni: III. Versus 3

Heinrich Scheidemann: Magnificat VI toni: IV. Versus 4

Heinrich Scheidemann: Dixit Maria ad Angelum

Heinrich Scheidemann: Canzon in F Major

Heinrich Scheidemann: Dic nobis Maria

Melchior Schildt: Magnificat primi modi: I. Versus 1

Melchior Schildt: Magnificat primi modi: II. Versus 2

Melchior Schildt: Magnificat primi modi: III. Versus 3

Melchior Schildt: Magnificat primi modi: IV. Versus 4

Melchior Schildt: Magnificat primi modi: V. Versus 5

Matthias Weckmann: Toccata IV in A Minor

Delphin Strungk: Magnificat noni toni: I. Versus 1

Delphin Strungk: Magnificat noni toni: II. Versus 2

Delphin Strungk: Magnificat noni toni: III. Versus 3

Matthias Weckmann: Magnificat II toni: I. Versus 1

Matthias Weckmann: Magnificat II toni: II. Versus 2

Matthias Weckmann: Magnificat II toni: III. Versus 3

Matthias Weckmann: Magnificat II toni: IV. Versus 4