Rossini: Ariettes italiannes for voice and guitar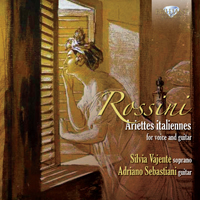 | | |
| --- | --- |
| Composer | Gioacchino Rossini |
| Artist | Silvia Vajente/Adriano Sebastiani |
| Format | 1 CD |
| Cat. number | 94628 |
| EAN code | 5028421946283 |
| Release | January 2015 |
About this release
The embodiment of grace and refinement, the Huit Ariettes for soprano from Rossini's Soirées musicales are late pieces written after his enormous success in Paris with Guillaume Tell, and are the fruit of delightful musical evenings – or soirées ¬– held by the composer in his Parisian house during the 1820s. Contained within these beautiful melodies are deeper meanings and inspirations: each aria is like a personal meditation stimulated by states of mind, memories and emotions; reflections full of brilliant touches and effects. Based on texts by Pietro Metastasio and Count Carlo Pepoli, a variety of topics are covered – including a gondola ride and an orgy – often characterised by the irony and sarcasm befitting a composer retired from the highs and lows of the operatic stage. This is salon music at its most sophisticated.

The Douze Ariettes italiennes are the perfect companion pieces to Rossini's Soirées musicales. With many also based on texts by Metastasio, these pieces are arrangements of the most famous themes from Rossini's operas, made by the Neapolitan composer and virtuoso guitarist Ferdinando Carulli. Distinctly Italian in feel, the simple melodic lines are elegant and graceful, with an intimate atmosphere fostered through the sensitive and expressive guitar accompaniment.

Adriano Sebastiani made his recording debut on Brilliant Classics with the songs for voice and guitar of Louis Spohr (BC94274); here Adrian accompanies the soprano Silvia Vajente in her Brilliant Classics debut. A seasoned performer of this repertoire, Vajente is a past winner of the first Concorso Internazionale di Canto Barocco 'Francesco Provenzale' (held in Naples) and the 10th Premio Bonporti International Early Music Competition (in Rovereto, Italy).

The Ariettes Italiennes are 8 pieces taken from the Soirées Musicales, a collection of songs and arias written by the "pensioned" Rossini after his retirement as a highly successful opera composer. They are pure delight, each one written on a certain topic or emotion, full of humour, wit, nostalgia and old age irony and wisdom.
The Douze Ariettes Italiennes are written by guitar composer and virtuoso Ferdinando Carulli, on popular and famous themes from Rossini's operas, elegant and charming, salon music of high distinction and entertainment.
Sung by soprano Silvia Vajente, with the right touch of beauty, sentiment and tongue-in-cheek, guitarist Adriano Sebastiani supplying the perfect instrumental foundation.
Booklet contains full original song texts, liner notes and biographies.

Recorded in 2014.
Track list
Disk 1
Gioacchino Rossini: 12 Ariettes: I. Ecco quel fiero istante

Gioacchino Rossini: 12 Ariettes: II. Sognai mia Fillide

Gioacchino Rossini: 12 Ariettes: III. O bella Fillide

Gioacchino Rossini: 12 Ariettes: IV. Tornate sereni begl'astri

Gioacchino Rossini: 12 Ariettes: V. Ha negli occhi

Gioacchino Rossini: 12 Ariettes: VI. Se son lontana

Gioacchino Rossini: Les soirées musicales: I. La promessa

Gioacchino Rossini: Les soirées musicales: II. Il rimprovero

Gioacchino Rossini: Les soirées musicales: III. La partenza

Gioacchino Rossini: Les soirées musicales: IV. L'orgia

Gioacchino Rossini: 12 Ariettes: VII. Già la notte s'avvicina

Gioacchino Rossini: 12 Ariettes: VIII. Amene selve, amiche piante

Gioacchino Rossini: 12 Ariettes: IX. Conservati fedele

Gioacchino Rossini: 12 Ariettes: X. Amo te sola

Gioacchino Rossini: 12 Ariettes: XI. Son lungi e non mi brami

Gioacchino Rossini: 12 Ariettes: XII. Già pronta là t'aspetta

Gioacchino Rossini: Les soirées musicales: V. L'invito

Gioacchino Rossini: Les soirées musicales: VI. La pastorella dell'alpi

Gioacchino Rossini: Les soirées musicales: VII. La gita in gondola

Gioacchino Rossini: Les soirées musicales: VIII. La danza