Rota: Piano Music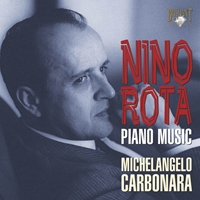 | | |
| --- | --- |
| Composer | Nino Rota |
| Artist | Michelangelo Carbonara piano |
| Format | 1 CD |
| Cat. number | 9097 |
| EAN code | 5029365909723 |
| Release | May 2009 |
About this release
Nino Rota (1911 - 79) is best remembered for his film scores, of which he composed some 157 examples. These included many memorable scores for movies directed by Visconti, Zeffirelli and Coppola. Less is known about Rota the composer and pianist, and this CD reveals a composer with a mastery of the keyboard, and who, like his older contemporary Korngold, had a life and career away from the world of movies.

Rota's family was a musical one, and contained at least two pianists of concert standard. He studied with Pizzetti and Casella in Rome in the 1920s, and then, on the advice of Toscanini, went to Philadelphia for further studies with Rosario Scalero for composition, and Fritz Reiner for conducting. He returned to Italy for a career as a composer of orchestral and chamber music, but despite his symphonies, piano concertos and operas, it was the film business that called him in the much-changed world of post-war Italy. A friend said of Rota: 'For him, playing the piano was as natural as eating'.

Surprisingly, aside from three concertos, his piano output runs to only 14 opus numbers. These works, however, provide a wonderful insight to the musical personality of Rota. The Preludes have all the anguished melodies we associate with his film scores, together with dazzling virtuosity and sonorities. The Fantasia in G was written for his friend Arturo Benedetti Michelangeli. It was lost after the war, and only rediscovered among his papers after his death. It receives its premiere recording on this CD, as does the Waltz, the Bagatella, and the short album leaf or musical birthday card to his aunt – 'Ballodella villanotta in erba'.

A fascinating recording of a composer we are only just reassessing, and who had at least two musical personalities – as a master of the movie soundtrack, and as a composer of concertos, symphonies, piano and chamber music, and an amazing 22 operas.

Other information:
- A fascinating story of rediscovery and detective work – Bagatella (1941) was reconstructed from papers and other material found after the composer's death in 1979.
- Includes several first recordings.
- "An unforgettable Scarlatti" (Sunday Times UK reviewing a Carbonara recital).
- "An incredible, deep sound, rich and refined…..a blend of gentleness and greatness" (Le Soir reviewing a Carbonara recital).
Track list
Disk 1
Ippolito Gioca: Allegro

Fantasia in G: Andante

Ballo delLa villaNotta in Erba: Allegretto rustico

Suite From Fellini's CasaNova: I. O Venezia, Vanaga, Venusia

Suite From Fellini's CasaNova: II. L'uccello Magico

Suite From Fellini's CasaNova: III. L'intermezzo delLa Mantide Religiosa

Suite From Fellini's CasaNova: IV. The Great Mouna

Suite From Fellini's CasaNova: V. Il Duca Di Württenberg - 1a parte

Suite From Fellini's CasaNova: VI Il Duca Di Württenberg - 2a parte

Suite From Fellini's CasaNova: viI. La Poupée Automate

Bagatella: Andante espressivo

15 Preludes: I. Allegro molto

15 Preludes: II. Allegro, ma espressivo e delicato

15 Preludes: III. Allegretto Con spirito

15 Preludes: IV. Andante sostenuto ed espressivo

15 Preludes: V. Con impeto

15 Preludes: VI Andante

15 Preludes: viI. Allegro Con spirito

15 Preludes: viII. Lento, Con accento

15 Preludes: IX. Allegretto quasi andantiNo

15 Preludes: X. Allegro mosso e marcato

15 Preludes: XI. Andante senza lentezza

15 Preludes: XII. Allegro

15 Preludes: XIII. Andante cantabile

15 Preludes: XIV. Allegro Non troppo e marcato

15 Preludes: XV. Allegro robusto

Waltz: Valse lento molto cantabile, un poco liberamente