Rubinstein: Complete Violin Sonatas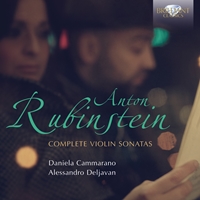 Composer
Anton Rubinstein
Artist
Daniela Cammarano violin
Alessandro Deljavan piano
Format
3 CD
Cat. number
94605
EAN code
5028421946054
Release
January 2014
About this release
Anton Rubinstein was an enfant prodige and virtuoso pianist, undertaking his first concert tour of Europe when he was just 11 years old. His performances led to encounters with Liszt and Chopin, and his skill was compared to other well-known 19th-century contemporaries such as Sigismond Thalberg.

Rubinstein's impact on Russian music history is undeniable – he founded Russia's first conservatory in St Petersburg in 1862, appointing Cesare Ciardi as his collaborator; Italian music, especially opera, was enjoying a great vogue in Russia at the time. Along with the French, German and Austrian styles that were prevalent, Rubinstein craved a more indigenous style, and he therefore began to carve out a place for Russian music in Europe.

His violin sonatas were written over a timespan of 20 years, and yet there is a sense of extended narrative through which Rubinstein seems to link the First (Op.13) and Third (Op.98); written in the related the keys of G major and B minor, some of the thematic material from the first movement of the former appears again in the first movement of the latter. This disc comprises his complete music for violin and piano, performed by acclaimed violinist Daniela Cammarano (who plays 1780 Guadagnini violin and is regularly invited to appear as concertmaster with the most important Italian orchestras) and pianist Alessandro Deljavan (whose discography also includes recordings for the labels OnClassical, Stradivarius and Grand Piano).

Other information:
- Recorded in 2013 at the Teatro 'La Nuova Fenice', Osimo, Ancona, Italy.
- Anton Rubinstein (1829-1894) was born in Moscow, went to Berlin (like many of his compatriots in his time) for his education, and returned to St Petersburg to start a successful career as composer, pianist and teacher. St Petersburg was a melting pot of different musical cultures, the German tradition as personified by Liszt and Wagner, Italian opera, and the budding Russian nationalism, as propagated by the Group of Five.
- Rubinstein's works are essentially romantic, based on the aesthetics of Schumann and Chopin. His violin sonatas span a period of over 20 years, and offer an abundance of warm, sweeping melodies and instrumental brilliance.
- Excellent new recordings by the Italian duo Daniela Cammarano and Alessandro Deljavan.
- Contains notes on the composer and works as well as artist biographies.
Track list
Disk 1
Violin Sonata No. 1 in G Major, Op. 13: I. Moderato con moto

Violin Sonata No. 1 in G Major, Op. 13: II. Moderato

Violin Sonata No. 1 in G Major, Op. 13: Variation I. Allegro non troppo

Violin Sonata No. 1 in G Major, Op. 13: Variation II. Moderato assai

Violin Sonata No. 1 in G Major, Op. 13: III. Scherzo. Prestissimo

Violin Sonata No. 1 in G Major, Op. 13: IV. Finale. Adagio non troppo – Moderato con moto – Adagio non troppo – Tempo I

Three Salon Pieces, Op. 11: I. Allegro appassionato

Three Salon Pieces, Op. 11: II. Andante – Più mosso – Meno mosso – Tempo I

Three Salon Pieces, Op. 11: III. Allegro
Disk 2
Violin Sonata No. 2 in A Minor, Op. 19: I. Allegro non troppo

Violin Sonata No. 2 in A Minor, Op. 19: II. Scherzo. Allegro assai

Violin Sonata No. 2 in A Minor, Op. 19: III. Adagio non troppo

Violin Sonata No. 2 in A Minor, Op. 19: IV. Allegro

Romance in E-Flat Major
Disk 3
Violin Sonata No.3 in B Minor, Op. 98: I. Lento – Allegro vivace

Violin Sonata No.3 in B Minor, Op. 98: II. Moderato assai

Violin Sonata No.3 in B Minor, Op. 98: III. Moderato assai

Violin Sonata No.3 in B Minor, Op. 98: IV. Allegro moderato – Presto scherzando – Tempo I – Moderato assai – Allegro assai