Rubinstein: Music for Piano Four Hands, Vol. 2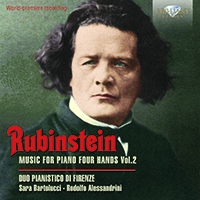 Download booklet
| | |
| --- | --- |
| Composer | Anton Rubinstein |
| Artist | Duo Pianistico di Firenze |
| Format | 2 CD |
| Cat. number | 95965 |
| EAN code | 5028421959658 |
| Release | December 2019 |
About this release
Conductor, virtuoso pianist, founder of the St Petersburg Conservatory and composer of solo works, symphonies and operas, Anton Rubinstein (1829–1894) is a key figure in Russian musical culture and achieved international celebrity during his lifetime. In the midst of a busy world touring schedule, he also found time to be composition teacher to Tchaikovsky. Often only selected pieces from Rubinstein's piano four-hands repertoire are performed, but in a rare feat, Duo Pianistico di Firenze take on the full 20 movements of the epic suite Bal Costumé.

Excluding the opening and closing movements, the Suite is a musical depiction of the fashionable masked balls frequented by the elite. The elaborate costumes, the dancing and, in particular, the interaction between two characters, one male and the other female are represented in the music. Each movement references different historical periods from the 12th to the 18th century and although largely romantic in style, the movements nod to their corresponding era with baroque inflections.

Toréador et Andalouse, with its distinctly Spanish feel, is the most famous movement and is often performed as a stand-alone piece. The movement is fast-paced and concise, complimented by a memorable melody-line sprinkled with chromaticisms. Although Bal Costumé can work as a collection of individual pieces, the effect is most profound when appreciated as a whole, transporting the listener to Rubinstein's musical plane. The Introduction sets the scene in a bold symphonic mood, then moves through folk-songs, Arabian dances and a military parade before reaching the climatic final movement: Danses. This extravagant finale begins as a Great Waltz becoming a jubilant Polka and then a whirling Galop.

Coupled with the recording of Rubinstein's sonatas and Characteristic Pieces that launched this series (Rubinstein: Music for Piano 4 Hands Volume 1 BC95016), this new release is unique in its dedication to the composer and his repertoire. Admired by Mendelssohn, Schonberg, Rachmaninov and Chopin, friends with Liszt and Saint-Saëns and adored by fans around the globe, Rubinstein has had a monumental impact on Russian musical traditions and education. The breadth and depth of his music deserves to be heard today.

The second volume of the complete recording of Anton Rubinstein's (1829-1894) music for 4-hand piano: the first recording of the Suite Le Bal Costumé.
Anton Rubinstein was a legendary pianist in the 19th century, admired by Liszt and even the young Rachmaninoff. As a pianist he tirelessly toured Europe, his fame spreading widely. As a composer he was equally tireless, composing a substantial oeuvre of practically every genre. His creative roots were, despite his Russian origin, in the German Romantics Mendelssohn, Schumann and Liszt.
Rubinstein's works for piano 4 hands are high quality salon music: picturesque tone painting, romantic and idyllic, with an occasional touch of Russian folklore. This second volume is completely dedicated to the Suite "Le Bal Costumé", a suite of 20 pieces, and the longest work ever written for piano duet.
The Duo Pianistico di Firenze is one of the foremost and best known piano duos of Italy, they are together for nearly 30 years, having played over 170 works in public of which 50 were first performances.
Listening
Track list
Disk 1
Anton Rubinstein: Bal costumé, Op. 103: I. Introduction

Anton Rubinstein: Bal costumé, Op. 103: II. Astrologue et Bohémienne (XVIe siècle)

Anton Rubinstein: Bal costumé, Op. 103: III. Berger et Bergère (XVIIIe siècle)

Anton Rubinstein: Bal costumé, Op. 103: IV. Marquis et marquise (XVIIIe siècle)

Anton Rubinstein: Bal costumé, Op. 103: V. Pêcheur napolitain et napolitaine (XVIIIe siècle)

Anton Rubinstein: Bal costumé, Op. 103: VI. Chevalier et Châtelaine (XIIe siècle)

Anton Rubinstein: Bal costumé, Op. 103: VII. Toréador et andalouse (XVIIIe siècle)

Anton Rubinstein: Bal costumé, Op. 103: VIII. Pèlerin et fantaisie (Étoile du soir)

Anton Rubinstein: Bal costumé, Op. 103: IX. Polonais et polonaise (XVIIe siècle)

Anton Rubinstein: Bal costumé, Op. 103: X. Bojard et bojarde (XVIe siècle)

Anton Rubinstein: Bal costumé, Op. 103: XI. Cosaque et petite-russienne (XVIIe siècle)
Disk 2
Anton Rubinstein: Bal costumé, Op. 103: XII. Pacha et Almée (XVIIIe siècle)

Anton Rubinstein: Bal costumé, Op. 103: XIII. Seigneur et dame (de la cour Henri III)

Anton Rubinstein: Bal costumé, Op. 103: XIV. Sauvage et indienne (XVe siècle)

Anton Rubinstein: Bal costumé, Op. 103: XV. Patricien allemand et demoiselle (XVIe siècle)

Anton Rubinstein: Bal costumé, Op. 103: XVI. Chevalier et soubrette (XVIIIe siècle)

Anton Rubinstein: Bal costumé, Op. 103: XVII. Corsaire et femme grecque (XVIIe siècle)

Anton Rubinstein: Bal costumé, Op. 103: XVIII. Royal tambour et vivandière (XVIIIe siècle)

Anton Rubinstein: Bal costumé, Op. 103: XIX. Troubadour et dame souveraine (XIIIe siècle)

Anton Rubinstein: Bal costumé, Op. 103: XX. Danses