Ruge: Concerto, Sinfonia, Arias and Chamber Music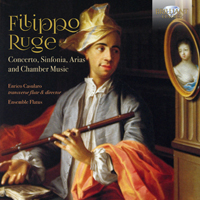 Composer
Filippo Ruge
Artist
Ensemble Flatus
Enrico Casularo transverse flute
Format
1 CD
Cat. number
95495
EAN code
5028421954950
Release
July 2017
About this release
With this release of Filippo Ruge (1725-1767), Brilliant Classics brings another forgotten name from the Baroque era to the attention of record buyers: there is not another disc of his music in the catalogue, making this an indispensable purchase for all lovers of Italian Baroque.

Ruge was a Roman by birth, and a flautist by training: hence the concentration in this survey of his output on works which feature the instrument in a soloistic capacity: not only a G major concerto and sonata but a D major duet, for two flutes, and an arietta in which a pair of sopranos is accompanied by a pair of flutes. The release is completed by a solo soprano aria and a dramatic three-movement sinfonia which concludes with the tone-painting of a violent storm.

Ruge was highly regarded in his day, and the lively imagination at work in the pieces on this disc gives ample reason for such admiration. He became a solo flautist at the prestigious series of Concerts Spirituelles in Paris, and his Op.3 collection of concertos was published in London by John Walsh, who handled music by all the significant European composers of the day. After the publication of the set of Duets from which the present D major example is taken, Ruge vanishes from the records; his exact date and location of death are presently unknown.

Leader of the Swiss-based Flatus Ensemble, Enrico Casularo also trained in Rome – at the Accademia di Santa Cecilia, where he is now a professor of Baroque flute – as a flautist, musicologist and organologist. He has played, recorded, studied and lectured on flute music of the Baroque era for international organisations and produced an authoritative treaty on the history of the transverse flute.

Filippo Ruge (1725-1767) was born in Rome, where he was a famous traverso player and a member of the prestigious Congregation of St. Cecilia. Later he settles in Paris, where he became a fashionable flautist and composer, soloist in the "Concerts spirituels", orchestra conductor, and editor and promoter of Italian music in the French capital.
In Paris he performed his own symphony "La tempête suivie du calme" (for strings and horns!), one of the most striking examples of French musical descriptivism. Other works on this new recording are two delightful arias for one resp. two sopranos and strings, a flute sonata and the flute concerto in G, music written in the transition from Baroque to Classical, charming, brilliant and innovating!
Played on copies of original instruments by flautist/ conductor/musicologist Enrico Casularo and Ensemble Flatus, consisting of strings and harpsichord.
Track list
Disk 1
Filippo Ruge: Concerto No. 1 in G Major: I. Allegro

Filippo Ruge: Concerto No. 1 in G Major: II. Andante

Filippo Ruge: Concerto No. 1 in G Major: III. Spiritoso

Filippo Ruge: "Son qui per mare ignoto" aria for soprano and strings: Poco allegro

Filippo Ruge: Flute Sonata in G Major: I. Moderato

Filippo Ruge: Flute Sonata in G Major: II. Adagio

Filippo Ruge: Flute Sonata in G Major: III. Allegro non tanto

Filippo Ruge: Vana di tua bellezza

Filippo Ruge: Duet in D Major: I. Allegretto grazioso

Filippo Ruge: Duet in D Major: II. Minuetto I / II

Filippo Ruge: Sinfonia "la tempête suivie du calme": I. Con spirit

Filippo Ruge: Sinfonia "la tempête suivie du calme": II. Andantino a mezza voce

Filippo Ruge: Sinfonia "la tempête suivie du calme": III. La Tempesta - Allegro ma non presto