Rummel: Chamber Music for Clarinet & Piano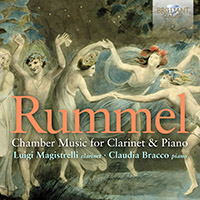 Composer
Christian Rummel
Artist
Luigi Magistrelli clarinet
Claudia Bracco piano
Format
1 CD
Cat. number
96608
EAN code
5028421966083
Release
May 2022
About this release
Christian Rummel (1787–1849) was born in Gollhofen, Bavaria. His main instrument was the piano, but he also played the violin, clarinet and basset horn and composed, conducted and taught.

His oeuvre features many fantasies on themes from operas both well-known (Rossini's Tancredi and Weber's Oberon) and less popular (Monsigny's Aline and Auber's La Muette de Portici). His 2 Nocturnes Op.85 (No.1 features on this album) take their themes from Meyerbeer's Robert le Diable. Rummel also wrote a Trio for clarinet, cello and piano on themes from Meyerbeer's Les Huguenots, a Fantasy Op.77 for clarinet and orchestra after Beethoven's concert aria Ah! Perfido and a Fantasy for horn and piano Op.88 after Donizetti's Lucia di Lamermoor.

The large-scale Fantaisie brillante after Oberon for clarinet and piano (also designated by Rummel for violin, oboe or flute) has very well-conceived and developed themes highlighting sections of Weber's opera. The Aline March, like the Tancredi Cavatina (which requires an A clarinet) begin with themes followed by technically demanding variations interspersed with slow, cantabile passages with flourishes in both the clarinet and piano. Aline, reine de Golconde is an opera (ballet-heìroïque) in three acts by Pierre-Alexandre Monsigny, which premiered in Paris in 1766.

The Andante varié for basset horn and piano was written around 1817 and features a cantabile theme followed by four variations and a cheerful, final Polacca.

On the whole, the chamber music output of this composer is appealing and deserves better recognition.

Christian Rummel (1787-1849) was born in Gollachostheim, Bavaria. He received his musical instruction in Mannheim under the kapellmeister Karl Jakob Wagner when the latter was living at Wuerzburg and the violinist Heinrich Ritter. Then he travelled for some years, first as a band military director to the Peninsular War (on the side of Spain), and later as a fighting soldier at Waterloo. After leaving the army he settled, with his Spanish wife, in Wiesbaden, where he came to be employed by the Duke of Nassau in 1806, and from whence he also made a number of tours after forming an orchestra under the commission of the Duke of Nassau for his court, which became one of the best in Germany.
Rummel was a famous clarinetist in his time, concertizing in several European countries. About his compositions for the clarinet Robert Schumann wrote: "What he lacks in French finesse he replaces with a German good nature and 'Gemütlichkeit' that is natural to him, which is why I always like him."
This recording presents Rummel's works for clarinet and piano, mainly Fantasies and Variations on famous opera melodies of the time, attractive and melodious works full of instrumental brilliance.
Played by Luigi Magistrelli, one of the foremost clarinet players of Italy. He made many recordings for Brilliant Classics with works by C.P.E. Bach (95307), Giuliani (95541), Kummer (94472), Archduke Rudolph (94952), Rebay (94171) and Fuchs (96305). 'Luigi Magistrelli is a skilled artist, with the fingers and the enthusiasm for Weber.' Gramophone.

Recorded August 2021 in Cesano Maderno, Italy.
Booklet in English contains liner notes by the soloist, Luigi Magistrelli, along with biographies of the two musicians.
Listening
Track list
Disk 1
Christian Rummel: Fantaisie brillante on Motifs from the Opera "Oberon", Op. 35

Christian Rummel: Nocturne No. 1 on Motifs from the Opera "Robert le Diable", Op. 85

Christian Rummel: Andante variè for Basset Horn and Piano

Christian Rummel: Variations on the March of the Opera "Alina", Op. 36

Christian Rummel: Fantaisie on the Cavatine of the Opera "Tancredi"