Russian Guitar Music of the 20th and 21st centuries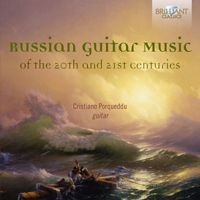 | | |
| --- | --- |
| Artist | Cristiano Porqueddu guitar |
| Format | 4 CD |
| Cat. number | 95385 |
| EAN code | 5028421953854 |
| Release | May 2017 |
About this release
Of all Cristiano Porqueddu's adventurous guitar-music surveys on record for Brilliant Classics, the latest may be the most invaluable and enlightening for listeners who may never even have suspected that Russia had a rich guitar tradition of its own.

As a detailed booklet essay complementing this new recording explains, the guitar flourished during the first half of the 19th century in Russia. Towards the turn of the 20th century, it became more of a folk instrument, a trend further exaggerated by the cultural demands of the Russian revolution which repurposed both instruments and musicians to vernacular ends for songs and marches to raise the spirits. However, a renaissance took place in classical guitar composition following the triumphant tour of Andres Segovia across Soviet Russia in 1926.

The impact of that event may be felt not only in the work of Boris Asafiev, who saw Segovia play, but even two generations later in the Hispanic flair of Edison Denisov's Sonata, with its edgy opening Toccata, gently swaying Berceuse and picture-postcard 'Souvenir d'Espagne'; in itself this revives the kind of naturalistic love-affair of Russian artists with the country that had produced Glinka's Jota aragonesa and Rimsky-Korsakov's Capriccio Espagnol.

But there is much more here than picture-postcard imitation and love in a cold climate. Local Georgian rhythms and traditions may be savoured in the sonata of Gherman Dzhaparidze; there are two early, vibrant miniatures of Sofia Gudaidulina; the work of more guitar-specialised composers such as Vitaly Kharisov, Valeri Kikta and Viktor Kozlov is much less well-known outside their native land.

To all of them Cristiano Porqueddu brings the technical mastery and interpretative conviction which has distinguished his work for Brilliant Classics, in boxes such as the set of 20th-century guitar sonatas (BC9455) which includes an earlier recording of the First Sonata by Evgeny Baev.

Although one would not automatically associate the guitar with Russia, the history of the Russian guitar goes far back, as early as 1790 the tradition starts with a 7-string instrument, continuing to flourish in the 19th century as a salon instrument, and gaining the status of a serious concert instrument in the 20th century.
This 4CD set offers a fascinating musical journey presenting known and lesser known composers Asafiev, Baev, Dzhaparidze, Denisov, Ivanov-Kramskoi, Kharisov, Gubaidulina, Kikta, Kozlov, Poplyanova, Rudnev.
Another innovating and stimulating issue by great Italian guitarist Cristiano Porqueddu, who already issued more than 50 CD's with Brilliant Classics covering a vast amount of great and neglected guitar repertoire.
The excellent and extensive liner notes are written by renowned guitarist Oleg Timofeyev.
Listening
Track list
Disk 1
Disk 2
Disk 3
Disk 4