Rutter & Bernstein & Poulenc: Choral Works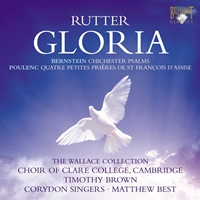 Composer
Francis Poulenc, John Rutter, Leonard Bernstein
Artist
The Choir of Clare College, Cambridge
Timothy Brown conductor
Corydon Singers
Matthew Best conductor
Format
1 CD
Cat. number
9087
EAN code
5029365908726
Release
April 2009
About this release
Here are dynamic modern performances of some of the most popular of all sacred vocal works written in the second half of the last century, expertly done by chamber choirs soaked in the tradition which the works themselves draw upon.

The Gloria is perhaps the best-known of the extended compositions by John Rutter, composer of such choral evergreens as A Gaelic Blessing and Shepherds' Pipe Carol. Rutter's setting fully captures the exuberance of the text, with sparkling orchestral colours and fullbodied choral parts.

Like the Gloria, Bernstein's Chichester Psalms (socalled because of the nature of their original commission, made in 1964 by the Dean of Chichester Cathedral, Walter Hussey) may be musically sophisticated in technical terms, but never at the expense of creating an instant impression or of serving the texts. The poignant treble solo in the second movement is still, along with 'Maria', one of Bernstein's most imperishable melodies.

Poulenc, too, had melodies pouring out of him, though his settings of ancient liturgical texts (and rustic peasant prayers) in Litanies à la Vierge Noire, Quatre Petites Prières de Saint François d'Assise, Exsultate Deo and Salve Regina are in the more austere tradition of French sacred works.

Other information:
- Recorded in 1995.
- Two of the finest chamber choirs in the English choral tradition, expertly directed and recorded.
- Includes booklet notes in English, and sung texts in the original language plus English translation.
Track list
Disk 1
Gloria: Gloria in Excelsis deo (Allegro vivace)

Gloria: Domine deus, Rex Coelestis (Andante)

Gloria: Quoniam Tu Solus Sanctus (vivace e ritmico)

Chichester Psalms: Psalm 108, v.2; Psalm 100 (Maestoso ma energico)

Chichester Psalms: Psalm 2, vv. 1-4; Psalm 23 vv. 1-6 (Andante Con moto, ma tranquillo)

Chichester Psalms: Psalm 131; Psalm 133, v.1 (Prelude - Peacefully flowing)

Quatre Petites Prières de St François d'Assise: Salut, Dame Sainte

Quatre Petites Prières de St François d'Assise: Tout Puissant, Très Saint

Quatre Petites Prières de St François d'Assise: Seigneur, Je Vous En Prie

Quatre Petites Prières de St François d'Assise: O Mes Très Chers Frères

Litanies à La vierge Noire

Exultate deo

Salve Regina