Sakamoto: For Mr Lawrence Piano Music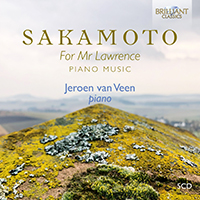 Download booklet
| | |
| --- | --- |
| Composer | Ryuichi Sakamoto |
| Artist | Jeroen van Veen piano |
| Format | 5 CD |
| Cat. number | 95389 |
| EAN code | 5028421953892 |
| Release | September 2019 |
About this release
A comprehensive collection of Sakamoto's instrumental songs and film music from a master of Minimalist piano.

Famed worldwide as a film composer, Ryiuchi Sakamoto began his career as a pianist, creating patterns, phrases and innovative arrangements before joining his first commercial electronic pop band in 1978, the Yellow Magic Orchestra. Around the same time, he worked on his first solo album, the Thousand Knives of Ryuichi Sakamoto (1978), which blends up-to-date electronic techniques with an old-fashioned gift for good tunes. Riot in Lagos brought him fame beyond Japan, and he went on to work with many top producers of pop, dance and electro.

In 1983, Nagisa Oshima's Merry Christmas Mr. Lawrence launched Sakamoto's career as a film composer, which has gone from strength to strength with scores for The Last Emperor (1987) and The Revenant (2015). All these pieces feature in Jeroen van Veen's survey, which is based on the best modern edition of these scores and often differs from Sakamoto's own, partly improvised recordings.

Classical listeners will appreciate Sakamoto's breadth of reference: to Chopin (Ubi), Bach (Andata, Solari), Glass (Bibo no Aozora), Satie (Opus), Brahms (Intermezzo) and Ravel (Bachata), for example. But his language of minimalist jazz is one enjoyed around the world as music that gives listeners the space to think and work and create for themselves.

'Van Veen has a lovely, rounded, ringing, almost bell-like sound (highly appropriate for Pärt's tintinnabuliations) and a wonderful sense of ebb and flow. Never does the music sound rushed in his hands, and more importantly never does it meander and lose its way... This may be the finest collection of his complete piano works available.' (Fanfare, March/April 2015 on the complete piano music of Arvo Pärt, BC95053)

Ryuichi Sakamoto is an internationally renowned music composer, born in Tokyo, Japan in 1952. Over the last three decades he has worked on numerous collaborative, solo- and film albums, winning numerous awards for his contributions to the world music industry. Sakamoto found a particular appeal in electronic music, later experimenting with a number of genres such as New Wave, Ambient and Minimalism. Having been educated in ethnic music, particularly South Asian and African music, Sakamoto began his career playing the piano, creating patterns, phrases and innovative arrangements before finally joining his first commercial electronic pop band in 1978, called Yellow Magic Orchestra.
On this new recording Dutch pianist Jeroen van Veen plays covers of Sakamoto's music, a unique experience that open the listener's mind providing space to think and create.
Another ground breaking concept by Jeroen van Veen, who previously released immensely successful sets of music by Einaudi, Yiruma, Tiersen, Richter, Adams, Glass, Nyman and many more.
The extensive liner notes in the booklet are in both English and Italian.
Listening
Track list
Disk 1
Disk 2
Disk 3
Disk 4
Disk 5