Salgado: The 9 Symphonies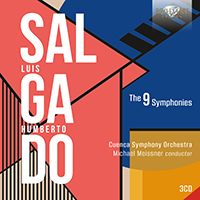 Composer
Luis Humberto Salgado
Artist
Cuenca Symphony Orchestra
Michael Meissner conductor
Format
3 CD
Cat. number
96256
EAN code
5028421962566
Release
March 2021
About this release
A nine-symphony cycle, never previously recorded: a notable first and an essential listen for fans of 20th-century symphonies.

Despite being the leading composer of his native Ecuador, the name and reputation of Luis Humberto Salgado (1903-1977) has hardly travelled beyond South America, and listeners may well wonder why after sampling the powerful and individual voice at work through the course of his nine symphonies. They stretch from 1949 to 1975: works of maturity, not outlandishly but colourfully orchestrated, originally structured (the Second and Ninth each in a single movement), nationalistically inflected, especially in several of the rackety finales, yet crafted with a fastidious ear, as one would expect from a pupil, then professor, then director of the leading conservatoire in his country, based in the capital of Quito.

The most overtly folkloristic of the symphonies is the First, in which each movement is based on a different indigenous style of music. The tendency to compression in Schoenberg's First Chamber Symphony impressed Salgado deeply, and influenced the compact form of the Second, while more widely encouraging concision of thought and expression where many of his contemporaries incline to bombast and blather. However, Salgado never followed the likes of Messiaen and Boulez down the path of total serialism: dating from 1956, the Third Symphony bears a distinct key signature – D major – and intriguing subtitle: 'written on a pentatonic scale in Rococo style'.

The Fourth is another vigorous assertion of Ecuadorean and Andean character within traditional symphonic form; Salgado wrote of the Fifth that 'In my fifth symphony, titled Neo-Romantic (of course, still unpublished), I expose the first theme with twelve-tone prosody; the descriptive idea infused with a melodic climate, consistent with the hedonistic spirit that animates this score.' The language of the Sixth (1968) is structured like a Concerto grosso and scored for strings and timpani, in the neoclassical vein of earlier European scores by Martinu and Martin.

Salgado styled the Seventh as a tribute to Beethoven on the bicentennial of his birth, but the symphony itself is strident and questing, reflecting the subject of devotion in spirit and temperament rather than pastiche. The Eighth Symphony of 1972 was composed to mark the sesquicentennial of the Battle of Pichincha, which wrested Quito and the independence of Ecuador away from their Spanish occupiers. Rather than relying on popular or even military tropes, however, Salgado continues with his mature personal style of fusing native melodic and rhythmic elements with dense, polytonal harmonies. Finally, the 12-minute Ninth makes an appropriately refined adieu, shaped around several 12-tone melodies, its exposition outlined in a mere 53 bars, and brought to a conclusion by a dense and chromatic fugato.

The project to record Salgado's symphonies for the first time has been led by the German-Mexican maestro Michael Meissner, who also contributes authoritative and detailed booklet notes on each symphony. He draws disciplined and vividly recorded performances from the Orquesta Sinfonica de Cuenca in the historic city in the south of Ecuador.

· Luis Humberto Salgado (1903 - 1977) was an Ecuadorian composer. He was regarded as one of the most influential and prolific composers of his country.
· He studied at the National Conservatory of Music, which his father Francisco Salgado had founded, and from where he graduated in 1924. He was both a teacher and twice, the director of the institution.
· Luis Salgado composed nine symphonies, four operas, an opera-ballet, an operetta, five ballets, and eight concertos, as well as chamber music, piano works, songs, and choral music, in addition to many pieces of Ecuadorian folk music, always with significant innovations. He extracted melodic motifs, rhythms, and harmonies from traditional Ecuadorian music, integrating them into a style both unique and universal, which he developed from their folkloric beginnings to a highly personal language. His music is vibrant, energetic, full of drive and Latin-American passion and lyricism while his orchestrations are extremely colorful and innovative.
· This first recording of the complete 9 symphonies is a labor of love and honor for the Cuenca Symphony Orchestra, conducted by Michael Meissner. The performances are of the highest international standards and the musicians play their hearts out for their compatriot composer.
· A major discovery of an original and exciting 20th century composer!
Track list
Disk 1
Luis Humberto Salgado: Sinfonía No. 1 – Andina: I. Allegro moderato

Luis Humberto Salgado: Sinfonía No. 1 – Andina: II. Largetto

Luis Humberto Salgado: Sinfonía No. 1 – Andina: III. Allegretto semplice

Luis Humberto Salgado: Sinfonía No. 1 – Andina: Andina – IV. Final – Allegro vivo

Luis Humberto Salgado: Sinfonía No. 2 – Sintética: I. solo movimiento/In One Movement

Luis Humberto Salgado: Sinfonía No. 3 – In Rococo Style: I. Lento – Andantino –Allegro con ánima

Luis Humberto Salgado: Sinfonía No. 3 – In Rococo Style: II. Grave alla zarabanda

Luis Humberto Salgado: Sinfonía No. 3 – In Rococo Style: III. Allegretto grazioso alla bourrée

Luis Humberto Salgado: Sinfonía No. 3 – In Rococo Style: IV. Final. Allegro giusto
Disk 2
Luis Humberto Salgado: Sinfonía No. 4 – Ecuatoriana: I. Andantino maestoso – Allegro con vita

Luis Humberto Salgado: Sinfonía No. 4 – Ecuatoriana: II. Andante cantabile

Luis Humberto Salgado: Sinfonía No. 4 – Ecuatoriana: III. Allegro festive

Luis Humberto Salgado: Sinfonía No. 4 – Ecuatoriana: IV. Final rapsódico

Luis Humberto Salgado: Sinfonía No. 5 – Neoromántica: I. Allegro risoluto

Luis Humberto Salgado: Sinfonía No. 5 – Neoromántica: II. Moderato assai

Luis Humberto Salgado: Sinfonía No. 5 – Neoromántica: III. Andantino mosso

Luis Humberto Salgado: Sinfonía No. 5 – Neoromántica: IV. Allegro dramático

Luis Humberto Salgado: Sinfonía No. 9: I. Allegro quasi maestoso –I solo movimiento/In One Movement
Disk 3
Luis Humberto Salgado: Sinfonía No. 6 – Para cuerdas y timbales: I. Maestoso – Allegro festive

Luis Humberto Salgado: Sinfonía No. 6 – Para cuerdas y timbales: II. Adagio espressivo

Luis Humberto Salgado: Sinfonía No. 6 – Para cuerdas y timbales: III. Allegretto poco mosso

Luis Humberto Salgado: Sinfonía No. 6 – Para cuerdas y timbales: IV. Allegro con vita

Luis Humberto Salgado: Sinfonía No. 7: I. Adagio sostenuto – Allegro con anima

Luis Humberto Salgado: Sinfonía No. 7: II. Adagio sostenuto

Luis Humberto Salgado: Sinfonía No. 7: III. Allegretto non troppo

Luis Humberto Salgado: Sinfonía No. 7: IV. Allegro maestoso

Luis Humberto Salgado: Sinfonía No. 8: I. Adagio – Allegro con brio

Luis Humberto Salgado: Sinfonía No. 8: II. Grave

Luis Humberto Salgado: Sinfonía No. 8: III. Maestoso – Allegretto con anima

Luis Humberto Salgado: Sinfonía No. 8: IV. Final. Allegro con vita