Sammartini: Late Symphonies Vol. I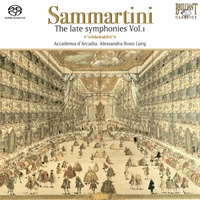 Composer
Giovanni Battista Sammartini
Artist
Accademia d'Arcadia
Alessandra Rossi Lürig conductor
Format
1 SACD
Cat. number
93610
EAN code
5028421936109
Release
April 2006
About this release
The first recordings of late symphonies by G.B. Sammartini, 'the father of the classical style'. Although Sammartini laid the foundations of the symphony his works are virtually unknown. In Italy the Arcadia Foundation seeks to correct this. The Sammartini project set out to publish and catalogue the composer's works. Another aim is to perform and record previously unpublished works, including the late symphonies.

There are 68 symphonies attributed to Sammartini with certainty. Another 74 might be by him as well. This release is the first of two volumes containing four late symphonies and a quintet.

Stylish performances by the Accademia d'Arcadia on period instruments under Alessandra Rossi Lürig. These first recordings offer a most enjoyable and interesting insight into this unjustly neglected composer.
Track list
Disk 1
Giovanni Battista Sammartini: Presto

Giovanni Battista Sammartini: Andante piano

Giovanni Battista Sammartini: Presto

Giovanni Battista Sammartini: Presto

Giovanni Battista Sammartini: Assai andante

Giovanni Battista Sammartini: Allegrissimo

Giovanni Battista Sammartini: Allegrissimo

Giovanni Battista Sammartini: Allegrino

Giovanni Battista Sammartini: Allegro moderato

Giovanni Battista Sammartini: Allegro assai

Giovanni Battista Sammartini: Andante

Giovanni Battista Sammartini: Allegro spiritoso e brillante

Giovanni Battista Sammartini: Allegro moderato

Giovanni Battista Sammartini: Allegrino

Giovanni Battista Sammartini: Allegro brillante