Santoliquido: Chamber Music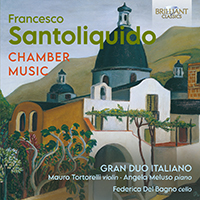 Composer
Francesco Santoliquido
Artist
Mauro Tortorelli violin
Federica Del Bagno cello
Angela Meluso piano
Format
1 CD
Cat. number
96589
EAN code
5028421965895
Release
September 2022
About this release
Chamber music aficionados of older generations will remember LPs of Brahms and Beethoven as performed by the Trio Santoliquido. The ensemble took its name from its pianist Ornella Puliti Santoliquido, who herself took the name when she married the composer Francesco Santoliquido. For several decades in the middle of the last century, husband and wife formed something of a power couple on the classical-music scene – especially in the field of chamber music – in Rome.

However, Francesco Santoliquido's own music has fallen into almost complete obscurity, a state which this attractive new recording by the established partnership of the Gran Duo Italiano should help to improve. Born in Naples in 1883 and trained in Rome, Santoliquido never espoused even the mild brand of modernism or the neoclassicism of contemporaries such as Casella, Malipiero and Pizzetti, and he issued diatribes against the evils and origins of modernism in the fascist press.

Beyond the precepts of a classic-romantic style, then, the individual flavour of Santoliquido's music owes something to his residence in Tunis during the 1910s, and subsequent support of a culture for classical music in north Africa, including the foundation of a concert society and music school in Tunis. Thus the piano music featured here includes a pair of Acqueforti Tunisine, as well as orientally scented nocturnes which were written for his wife to play. The album concludes with Ex Humo ad Sidera, a piece that describes mankind's terrible struggle in rising from the dark, savage state towards Light.

The main work here is a traditionally structured Violin Sonata in A minor with a turbulent opening movement, a languid and dreamy Andante and then a stormy finale. It is revived here with tremendous conviction by Mauro Tortorelli and Angela Meluso, who have a string of critically acclaimed albums on Brilliant Classics to their credit, most recently featuring chamber music by Ševčík, Auer (96213) and Castelnuovo-Tedesco (96007). According to Fanfare magazine, reviewing an album of Milhaud's chamber music (95449), 'the versatility and fine musicianship of Mauro Tortorelli… maintains its high standards here.'

Francesco Santoliquido (1883-1971) was born in San Giorgio a Cremano in 1883, and graduated from the Rome Conservatory of Santa Cecilia in 1908. From 1912 to 1921 he settled in Tunisia, staying mainly in Hammamet where he began studying Arabic music. He wrote three operas, a ballet, orchestral and chamber works.
In Tunis, he founded a concert society and a music school that later became a conservatory. In 1933 he returned to Italy, he settled in Anacapri. His vast production includes theatrical works with an evident verista imprint and numerous symphonic compositions in which, in addition to his undoubted compositional mastery, a descriptive style not far from that of Ottorino Respighi also shines through.
This new recording presents the substantial Violin Sonata in A minor, a dramatic work in late-romantic style, several shorter pieces for violin and piano or cello and piano, and solo piano works, in rhapsodic and improvisational style, with fascinating oriental colors and timbres.
Played by the Gran Duo Italiano, Mauro Tortorelli (violin) and Angela Meluso (piano), who built a substantial and important discography with Brilliant Classics, presenting unjustly neglected composers like Rosario Scalero, Otokar Sevcik, Leopold Auer, Mario Castelnuovo-Tedesco and Darius Milhaud.
Listening
Track list
Disk 1
Francesco Santoliquido: Sonata in A Minor: I. Allegro deciso e impetuoso

Francesco Santoliquido: Sonata in A Minor: II. Andante piuttosto lento

Francesco Santoliquido: Sonata in A Minor: III. Vivo e tempestoso

Francesco Santoliquido: Chiarità Lunare – Lento, triste e appassionato

Francesco Santoliquido: Rêverie – Andante tranquillo

Francesco Santoliquido: Trio fantasia "la favola di Helga"

Francesco Santoliquido: Aria antica

Francesco Santoliquido: 2 Acqueforti tunisine: I. La notte sahariana

Francesco Santoliquido: 2 Acqueforti tunisine: II. La danzatrice araba

Francesco Santoliquido: Notturno

Francesco Santoliquido: Piccola ballata

Francesco Santoliquido: Giardini notturni

Francesco Santoliquido: Ex Humo ad sidera