Sardelli: 6 Sonate a Tre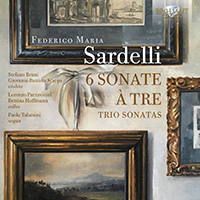 Download booklet
Composer
Federico Maria Sardelli
Artist
Stefano Bruni violin
Giovanni Battista Scarpa violin
Paola Talamini organ
Lorenzo Parravicini cello
Bettina Hoffmann cello
Format
1 CD
Cat. number
95999
EAN code
5028421959993
Release
June 2019
About this release
The 'living Baroque' idiom of Federico Maria Sardelli has been extensively documented on Brilliant Classics, with albums of concertos (BC94749), cantatas (BC95068) and harpsichord music (BC95488) that have advanced the reputation of this modern composer and scholar and won international attention, with 5-star reviews in Diapason and elsewhere.

Now Sardelli turns his imagination to the genre of the trio sonata that exemplified chamber music-making in the Baroque era. The collection of six presented here divides into two sub-genres, of the church sonatas (Nos. 2, 4, 5) and chamber sonata (Nos. 1, 3, 6) which would have been heard in a domestic, albeit aristocratically appointed, context. Sardelli makes passing and subtle allusions to poignant melancholy (in the Larghetto of the First Sonata), to an infernalrhythmic impulse (the second movement of the Fifth), to more profound meditations on mortality (such as the Adagio without bass of the Third), and even to declarations of love (the opening of the Sixth) – though the subject of Sardelli's affection is surely Vivaldi himself.

According to the composer, this is not Baroque pastiche. Rather, as a noted scholar of Vivaldi, he seeks to recreate such music in his own image with music of the present which 'regains its own original language and adheres to its own original criteria, expressing vibrant new ideas that are in keeping with its identity.' It would be quite possible to think that the trio sonatas here had been written with a goose quill in 17th-century Venice, but they are by no means dry exercises in imitation. Rather they are full of an authentically Venetian vibrancy and colour from any age, sparkling with a variety of knowing brilliance that belongs to the temperamental character of the city.

The performances here are given by musicians who have long worked with Sardelli in his Modo Antiquo ensemble which has made highly praised recordings of 'real' Vivaldi as well as Sardelli.

Following on the success of his instrumental music (5 star in Diapason) and Sacred Music this new recording presents "Sonate a tre", Trio Sonatas for two violins, cello and a continuo of cello and organ, composed in Baroques style by present day composer and conductor Federico Maria Sardelli.
Sardelli is one of the foremost conductors of Baroque music, his pioneering performances with his group Modo Antiquo have received glowing reviews in the international press. As a composer he has been inspired by the great Baroque masters, notably Vivaldi, and his compositions in this style seem to have been penned with a goose quill in 18th century Venice. His works are no dry exercises on the basis of the rules of the day, but are vibrant, alive, bursting with energy, passion and brilliance.
The liner notes in the booklet are in both English and Italian.
Listening
Track list
Disk 1
Federico Maria Sardelli: Sonata I in B-Flat Major: I. Allegro

Federico Maria Sardelli: Sonata I in B-Flat Major: II. Larghetto

Federico Maria Sardelli: Sonata I in B-Flat Major: III. Allegro molto

Federico Maria Sardelli: Sonata II in D Minor: I. Largo

Federico Maria Sardelli: Sonata II in D Minor: II. Allegro

Federico Maria Sardelli: Sonata II in D Minor: III. Andante

Federico Maria Sardelli: Sonata II in D Minor: IV. Allegro molto

Federico Maria Sardelli: Sonata III in E Major: I. Allegro ma d'un mezzo tempo

Federico Maria Sardelli: Sonata III in E Major: II. Adagio

Federico Maria Sardelli: Sonata III in E Major: III. Allegro e spiritoso

Federico Maria Sardelli: Sonata IV in A Minor: I. Andante

Federico Maria Sardelli: Sonata IV in A Minor: II. Allegro

Federico Maria Sardelli: Sonata IV in A Minor: III. Andante

Federico Maria Sardelli: Sonata IV in A Minor: IV. Allegro

Federico Maria Sardelli: Sonata V in C Major: I. Andante

Federico Maria Sardelli: Sonata V in C Major: II. Allegro

Federico Maria Sardelli: Sonata V in C Major: III. Largo e cantabile

Federico Maria Sardelli: Sonata V in C Major: IV. Allegro

Federico Maria Sardelli: Sonata VI in G Major: I. Allegro

Federico Maria Sardelli: Sonata VI in G Major: II. Largo

Federico Maria Sardelli: Sonata VI in G Major: III. Allegro