Sardelli: Suites pour le Clavecin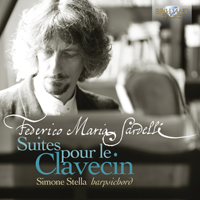 | | |
| --- | --- |
| Composer | Federico Maria Sardelli |
| Artist | Simone Stella harpsichord |
| Format | 1 CD |
| Cat. number | 95488 |
| EAN code | 5028421954882 |
| Release | June 2017 |
About this release
This is the third volume on Brilliant Classics of the unsettling, time-bending music of Federico Maria Sardelli. Born in 1963, he has composed astonishingly inventive pastiches within the style of Italian Baroque concertos (BC94749) and cantatas (BC95068), which he conducts with the same free-wheeling brilliance that he brings to 'authentic' music of the same era in his recordings of Vivaldi (BC94030) and Alessandro Scarlatti (BC93357), all with his historically informed ensemble, Modo Antiquo.

'In an antique way': it's a neat way to summarise the gifts of a musician not readily pigeonholed into particular categories. His latest album is his homage to the intricately stylised world of the French harpsichord tradition in the hands of Couperin, Rameau and others. In fact the concerto album concluded with a brief taster of Sardelli's imagination running riot in the world of the Baroque keyboard, with a brief suite of character pieces and dances.

The same suite is included here – in a new recording and expanded, into a nine-movement 'Troisième Suite de Pièces pour le Clavecin' completed in 2016: the Second (2006) and then the First (1990) follow, in a characteristically unexpected piece of reverse engineering by Sardelli. The album concludes, as have so many volumes of music from this era before, with a musical tombeau, in this case written 'to the eternal memory of Mr. De Lully'.

Simone Stella is fully conversant with the original idiom to which Sardelli pays homage, having made many well-received recordings for Brilliant Classics of Baroque keyboard collections, including the complete works for organ and harpsichord of Froberger (BC94740), Reincken (BC94606) and Böhm (BC94612). This is sure to be an album to delight, challenge and provoke lovers of such music.

This is the third album with original Baroque style compositions by Federico Maria Sardelli, following his successful previous albums with instrumental music (BC94749) and Sacred Music (BC95068).
Sardelli is one of the most interesting and original artists of today. He is a virtuoso flautist, musicologist and author, and founder/conductor of Modo Antiquo, the early music ensemble with which he made numerous first performances and recordings of unearthed works by Italian baroque composers, notably the operas by Antonio Vivaldi. He is a satirist and comical actor. One of his foremost passions however is composing, in the style and spirit of his beloved Baroque era. His works are not exercises in formal writing but the recreation of the daring originality and vibrant passion of the time, alive through the spirit of discovery.
This new album present works for the keyboard, Suites de pieces pour le clavecin, in the style of Couperin, Rameau and Royer. They are played by Sardelli's colleague, friend and amazing harpsichordist Simone Stella.
Listening
Track list
Disk 1
Federico Maria Sardelli: Troisième suite pour le clavecin in G Minor: I. La lunatique

Federico Maria Sardelli: Troisième suite pour le clavecin in G Minor: II. Le labyrinthe d'amour

Federico Maria Sardelli: Troisième suite pour le clavecin in G Minor: III. L'Étonnement

Federico Maria Sardelli: Troisième suite pour le clavecin in G Minor: IV. La timide

Federico Maria Sardelli: Troisième suite pour le clavecin in G Minor: V. Le talon rouge

Federico Maria Sardelli: Troisième suite pour le clavecin in G Minor: VI. Le plaintif

Federico Maria Sardelli: Troisième suite pour le clavecin in G Minor: VII. Le papillon à la bougie

Federico Maria Sardelli: Troisième suite pour le clavecin in G Minor: VIII. La colère

Federico Maria Sardelli: Troisième suite pour le clavecin in G Minor: IX. Tambourin I & II

Federico Maria Sardelli: Deuxième suite pour le clavecin in D Minor: I. Allemande I

Federico Maria Sardelli: Deuxième suite pour le clavecin in D Minor: II. Allemande II

Federico Maria Sardelli: Deuxième suite pour le clavecin in D Minor: III. Courante à l'Italienne

Federico Maria Sardelli: Deuxième suite pour le clavecin in D Minor: IV. Le brin d'herbe (sarabande legère)

Federico Maria Sardelli: Deuxième suite pour le clavecin in D Minor: V. Gigue

Federico Maria Sardelli: Deuxième suite pour le clavecin in D Minor: VI. Chaconne en rondeau

Federico Maria Sardelli: Première suite pour le clavecin in D Minor: I. Le misantrophe

Federico Maria Sardelli: Première suite pour le clavecin in D Minor: II. La méfiante

Federico Maria Sardelli: Première suite pour le clavecin in D Minor: III. L'ambitiéuse

Federico Maria Sardelli: Première suite pour le clavecin in D Minor: IV. La flatteuse

Federico Maria Sardelli: Première suite pour le clavecin in D Minor: V. L'impatient

Federico Maria Sardelli: Première suite pour le clavecin in D Minor: VI. Le jaloux

Federico Maria Sardelli: Première suite pour le clavecin in D Minor: VII. L'ingénue

Federico Maria Sardelli: Première suite pour le clavecin in D Minor: VIII. L'importune

Federico Maria Sardelli: Chaconne composé à la mémoire immortelle de l'incomparable Mr. De Lully in G Major