Scalero: Complete Music for Violin and Piano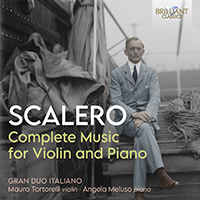 | | |
| --- | --- |
| Composer | Rosario Scalero |
| Artist | Gran Duo Italiano |
| Format | 3 CD |
| Cat. number | 96160 |
| EAN code | 5028421961606 |
| Release | October 2020 |
About this release
World-premiere recordings bringing back to life the individual voice of an Italian émigré composer who taught many of the great names of American musical life in the middle of the last century.

Rosario Scalero began his career as a violinist, in which guise he gave the first Italian performance of Beethoven's Violin Concerto. Moving to Vienna in the 1890s he studied composition with Brahms's friend Mandyczewski, and both his surroundings and his study inspired his chamber music. The D minor Sonata Op.12 was dedicated to Mandyczewski's wife Albine, and it made a huge impression on the violinist and influential educator David Mannes, who duly invited Scalero to head up the composition department of his conservatoire in New York.

In August 1919 Scalero sailed to the New World, and in 1924 he began teaching at the prestigious Curtis Institute in Philadelphia, becoming its head of theory and composition three years later. In this guise he taught the likes of Barber, Menotti and Rota, but his own music fell from view. The present issue allows us to hear for the first time the musical mind that directed the creative impulses of his students.
His violin and piano output shows that his music brought together three distinct strands of inspiration. There was his background as a virtuoso violinist, which comes to the fore in the Op.2 Capricci for solo violin and the Op.15 Variations on a theme of Paganini (not the famous one immortalised by Rachmaninov), and his native feeling for a cantabile melody, so evident in the Op.4 Romance. Then there is his life-long allegiance to his Italian roots to be enjoyed in the sets of Danze Napoletane Op.27 and the Danze Piemontesi. But equally his Viennese training yielded not only long-form structures such as the Sonata but also a trio of Waltz-Caprices Op.16 and neoclassical pieces in a lighter style such as the Suite of dances 'im alten Stil' and Eine kleine Suite of pieces 'after' Scarlatti.

Between them, Mauro Tortorelli and Angela Meluso form the Gran Duo Italiano with an enterprising discography on Brilliant Classics that includes well-received collections of lesser-known, late-Romantic and neoclassical repertoire by Saint-Saens (94848), Milhaud (95232) and Castelnuovo-Tedesco (95642). 'The synergy of the two performers is remarkable' (CDClassico, reviewing the Milhaud album).

Rosario Scalero (1870-1954) was born in Moncalieri, Italy. As a young boy he studied the violin at the Oratorio San Filippo in Turin, after which he went to Genoa to study with Camillo Sivori, Paganini's only acknowledged pupil. He then embarked on "years of wandering" around Europe, performing and meeting important composers like Gustav Mahler and Eusebius Mandyczewski. After WWII he accepted a post at the Mannes School of Music in New York. Soon his fame as a composition teacher spread and he was invited to the prestigious Curtis Institute, where his pupils included Samuel Barber, Nino Rota and Gian Carlo Menotti.
This 3-CD set presents the complete works for violin and piano by Scalero: a substantial violin sonata and sets of Character Pieces and Dances. His style might be described as Italo-Brahmsian: rich harmonic language and a strong melodic appeal characterize his works, a serious talent blazing under the Italian sun.
Played with deep understanding and obvious love by the Gran Duo Italiano, featuring violinist Mauro Tortorelli and pianist Angela Meluso, who already successfully recorded works by Saint-Saëns, Milhaud and Castelnuovo-Tedesco for Brilliant Classics.
Listening
Track list
Disk 1
Rosario Scalero: Violin Sonata in D Minor, Op. 12: I. Allegro

Rosario Scalero: Violin Sonata in D Minor, Op. 12: II. Adagio

Rosario Scalero: Violin Sonata in D Minor, Op. 12: III. Vivace, ma appassionato

Rosario Scalero: 3 Walzer-Capricen, Op. 16: I. Lento, poi tempo di Walzer

Rosario Scalero: 3 Walzer-Capricen, Op. 16: II. Andante malinconico

Rosario Scalero: 3 Walzer-Capricen, Op. 16: III. Allegro con brio

Rosario Scalero: 3 Capricci for Violin Solo, Op. 2: I. Allegro

Rosario Scalero: 3 Capricci for Violin Solo, Op. 2: II. Allegro «alla Scarlatti»

Rosario Scalero: 3 Capricci for Violin Solo, Op. 2: III. Allegro giusto

Rosario Scalero: 12 Variazioni nach den Barucabà/ Variationen von Paganini, Op. 15
Disk 2
Rosario Scalero: Suite im alten Stil: I. Preludio

Rosario Scalero: Suite im alten Stil: II. Sarabande

Rosario Scalero: Suite im alten Stil: III. Gavotte en Musette

Rosario Scalero: Suite im alten Stil: IV. Aria

Rosario Scalero: Suite im alten Stil: V. Rigaudon

Rosario Scalero: Eine Kleine Suite nach D. Scarlatti: I. Pastorale

Rosario Scalero: Eine Kleine Suite nach D. Scarlatti: II. Andante Doloroso

Rosario Scalero: Eine Kleine Suite nach D. Scarlatti: III. Presto

Rosario Scalero: 14 Variazioni über ein Thema von W. A. Mozart, Op. 8
Disk 3
Rosario Scalero: 3 Stücke, Op. 17: I. Gesang am Meeresstrand

Rosario Scalero: 3 Stücke, Op. 17: II. Nänie

Rosario Scalero: 3 Stücke, Op. 17: III. Bacchanal

Rosario Scalero: Romance, Op. 4

Rosario Scalero: Danze Napoletane, Op. 27, No. 1

Rosario Scalero: Danze Napoletane, Op. 27, No. 2

Rosario Scalero: Danze Piemontesi, No. 1

Rosario Scalero: Danze Piemontesi, No. 2

Rosario Scalero: Danze Piemontesi, No. 3

Rosario Scalero: Danze Piemontesi, No. 4

Rosario Scalero: Danze Piemontesi, No. 5

Rosario Scalero: Danze Piemontesi, No. 6

Rosario Scalero: Danze Piemontesi, No. 7

Rosario Scalero: Danze Piemontesi, No. 8

Rosario Scalero: Danze Piemontesi, No. 9