Scarlatti: 12 Sinfonie di concerto grosso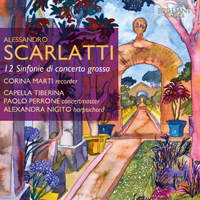 Download booklet
Composer
Alessandro Scarlatti
Artist
Capella Tiberina
Alexandra Nigito harpsichord
Corina Marti recorder
Paolo Perrone concertmaster
Format
2 CD
Cat. number
94658
EAN code
5028421946580
Release
April 2015
About this release
As compositions, Alessandro Scarlatti's Sinfonie di concerto grosso are a curiously mixed bag; only the first is a proper 'sinfonia', while the second is described as a "Concertata con li ripieni"; eight of the twelve are actually recorder concertos and the other four are concertos featuring various combinations of instruments. Although Scarlatti may have thrown the term around rather loosely, however, the diverse collection brims with his characteristic inventiveness, performed with aplomb by Corina Marti and the Capella Tiberina.

Despite the diverse instrumentation Scarlatti employed, each 'symphony' is structured in a fairly similar way. In general they consist of five movements, with two fast movements framed by three slower ones. The short introduction in quick time, culminating in a suspended cadence, owes much to the brilliant initial Presto of the opera sinfonie, while the second or third movement is invariably a one- or two-subject fugue. The slow movements are more varied in form and often feature a beautifully lyrical melody. Only one of the Scarlatti symphonies bears a characteristic title of its own: "La geniale". This does not necessarily allude to anything extravagant or extraordinary in the music, but rather refers to something that is 'congenial', particularly loved by audiences or the composer, a concept akin to the way Vivaldi felt about his Favorito RV277.

Capella Tiberina was founded by Alexandra Nigito in order to blend a passion for early music with a rigorous approach to musicological research. Such research is displayed on this disc, which was recorded in different dispositions relying on the documentary evidence of performances from the time. They perform on historical instruments and feature young and highly talented musicians, specialising in Baroque music – the perfect accompaniment for acclaimed recorder soloist Corina Marti, who brings her beautifully tempered playing to the four solo recorder concertos.

After being kept in relative obscurity the music of Alessandro Scarlatti is making a glorious come back, and is recognised as at least as innovative, brilliant and profound as the music of his son, the famous Domenico Scarlatti.
These '12 sinfonie di concerto grosso' are concertante works, either for a variety of solo instruments (concerto grosso) or for solo recorder and strings. These are delightful baroque concertos, brimming with energy, Italian charm and gusto.
Played by Early Music group Capella Tiberina on historical instruments, Corina Marti is the recorder soloist, who already excelled in her recording of the Mancini recorder concertos on Brilliant Classics (BC 94324).
Other information:

Recorded in Switzerland in 2014.
Notes on the music and artist biographies.