Scarlatti and the Neapolitan Song: Canzonas and Sonatas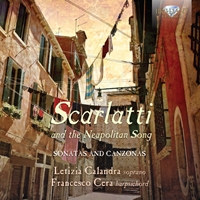 Download booklet
Composer
Domenico Scarlatti
Artist
Letizia Calandra soprano
Francesco Cera harpsichord
Michele Pasotti baroque guitar
Format
1 CD
Cat. number
94488
EAN code
5028421944883
Release
January 2013
About this release
Domenico Scarlatti, the sixth child of the celebrated composer Alessandro Scarlatti, was a prolific keyboard composer, and is best known today for his 555 sonatas for keyboard. Domenico was employed by various members of European royalty and nobility in Italy, Spain and Portugal throughout his career. His style was unusual and innovative, but very few of his works were published during his lifetime.

The disc combines several of Scarlatti's keyboard sonatas with Neapolitan songs by various composers of the era, exploring the influences of these songs on Scarlatti's sonatas. Scarlatti's style is notable for its improvisatory nature as well as its incorporation of elements of Spanish and Portuguese folk music (the composer having spent time in Lisbon, Seville and Madrid), and among the Neapolitan songs featured on the disc is the immensely popular Lo guarracino, a fast-talking and high-spirited number that narrates the story of a fish, and the lilting La Nova Gelosia. Two extracts from operas – 'So' li sorbe e le nespole amare' from Leonardo Vinci's Lo cecato fauzo and 'Chi disse ca la femmena' from Giovanni Battista Pergolesi's Lo frate 'nnamorato – are also present, both of which feature a light-hearted portrayal of women. Out of the many versions of the song Quanno nascette ninno, the one by the Nuova Compagnia di Canto Popolare was chosen for this disc, thanks to its fascinating minor modulation.

Acclaimed harpsichordist Francesco Cera is considered one of Italy's foremost interpreters of early music. He has toured all over the world and his recordings include interpretations of 17th-century keyboard sonatas, French suites and harpsichord concertos by J.S. Bach. Italian soprano Letizia Calandro's repertoire includes Neapolitan songs alongside the more traditional oeuvres of the Classical and Baroque periods. Having studied at the Santa Cecilia Conservatory in Rome, she won the Spoleto Award and has performed the lead role in operas by composers as diverse as Monteverdi, Mozart and Verdi.

Other information:
- New recording, recorded September 2009, Chisea di S. Anatolia, Colle di Tora, Rieti, Italy.
- An original concept: harpsichord sonatas by Scarlatti, alternated by Neapolitan songs.
- Domenico Scarlatti, a child of his time, was strongly influenced by the music of his home town Naples, where he heard opera buffa in Neapolitan dialect, tarantellas and ofcourse the characteristic Neapolitan songs. In this recording harpsichord sonatas are alternated by Neapolitan songs by contemporary composers, such as de Liguori, Pergolesi, Vinci and other anonymous composers.
- Beautifully sung by soprano Letizia Calandra, and played on the harpsichord by the eminent Francesco Cera.
- Harpsichord by Roberto Livi, Pesaro 1995, after Italian anonymous, Naples c.1650 (now housed in the Gemeentemuseum, The Hague). Guitar by Anna Radice, Bologna, after Italian anonymous, early 17th century.
- Extensive liner notes included in English and Italian. Sung texts available on the Brilliant Classics website.
Track list
Disk 1
Domenico Scarlatti: Sonata in G Major, K. 103: Allegrissimo

Composer Unknown: Lo guarracino

Domenico Scarlatti: Sonata in D Major, K. 214: Allegro vivo

Leonardo Vinci: So' li sorbe e le nespole amare

Domenico Scarlatti: Sonata in D Minor, K. 9: Allegro

Giovanni Battista Pergolesi: Chi disse ca la femmena

Domenico Scarlatti: Sonata in D minor K176 : Cantabile – Allegrissimo

Composer Unknown: Michelemmà

Domenico Scarlatti: Sonata in G Major, K. 153: Vivo

Composer Unknown: La nova gelosia

Domenico Scarlatti: Sonata in C Minor, K. 174: Allegro

Domenico Scarlatti: Sonata in G Major, K. 241: Allegro

Sant' Alfonso de Liguori: Quanno nascette ninno

Domenico Scarlatti: Sonata Pastorale in C Major, K. 513: Moderato – Presto

Composer Unknown: Facimmo mo l'amore — No quarto d'ora

Domenico Scarlatti: Sonata in B-Flat, K. 202: Allegro