Scelsi: Complete Flute Music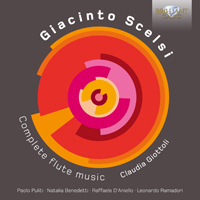 Composer
Giacinto Scelsi
Artist
Claudia Giottoli flute
Raffaele D'Aniello piano
Paolo Puliti oboe
Leonardo Ramadori percussions
Natalia Benedetti clarinet
Format
1 CD
Cat. number
95039
EAN code
5028421950396
Release
January 2016
About this release
The flute is ideally equipped as a mouthpiece for the singular aesthetic of Giacinto Scelsi (1905-1988): a voice but speaking no words, ethereal in tone, capable of infinite gradations of pitch and volume, unconfined by barlines or the twelve semitones of the diatonic scale.

Just as the man himself gave no interviews, took no posts and even avoided having his photograph taken, but chose a life of aristocratic isolation, his music stands apart, belonging to no school and subject to few conventional rules. The early Quays and Tetratkys can appear improvised, and much of his music was notated by intermediaries: the composer saw himself more literally than most of his colleagues as a channel or vessel through whom music flowed, as though it had a life independent of and predating him: a mystic priest of dissonance.

The sinuous melismas in these solo works are accelerated into dancing sprites in Rucke di Guck, though still moving in serially-derived harmony. By the time of Ko-Lho (1976), the sonorities of flute and clarinet have been brought together to form a gently shimmering whole, not so much of music or even instrumental colour as pure atmosphere, light-filled like a cloud. As the flautist Claudia Giottoli remarks in her own booklet notes for this valuable album, of which the only competing titles on record are at full price, Krishna e Radhai (1986) returns to the concept of antithesis which is usually thought intrinsic to the duo form: The title refers to the metaphysical union of the male and female principles represented by the god Krishna and his favourite consort Rada.

Giacinto Scelsi (1905-1988) was one of the most fascinating composers of the Italian Avant Garde. He experimented with the essentials of sound, sometimes writing music based around only one pitch, subjecting it to micro-oscillations, extreme dynamics and changes of timbre.
This set contains the complete music in which the flute is featured: from flute solo, duos with different other instruments (clarinet, piano, oboe), and: in ensemble with two gongs and cow bell.
Claudia Giottoli is one of the foremost flautists of Italy. A winner of several international competitions she specialises in unusual and contemporary repertoire.
"Sound is Mysticism in its absolute purity" (Scelsi).
Listening
Track list
Disk 1
Giacinto Scelsi: Hyxos: I. Tranquillo

Giacinto Scelsi: Hyxos: II. Con moto

Giacinto Scelsi: Hyxos: III. Tranquillo

Giacinto Scelsi: Suite for Flute and Clarinet: I. —

Giacinto Scelsi: Suite for Flute and Clarinet: II. —

Giacinto Scelsi: Suite for Flute and Clarinet: III. Prestissimo

Giacinto Scelsi: Suite for Flute and Clarinet: IV. —

Giacinto Scelsi: Quays for Flute

Giacinto Scelsi: Rucke di Guck for Piccolo and Oboe: I. —

Giacinto Scelsi: Rucke di Guck for Piccolo and Oboe: II. —

Giacinto Scelsi: Rucke di Guck for Piccolo and Oboe: III. —

Giacinto Scelsi: Ko-Lho for Flute and Clarinet: I. —

Giacinto Scelsi: Ko-Lho for Flute and Clarinet: II. —

Giacinto Scelsi: Tetratkys for Flute: I. —

Giacinto Scelsi: Tetratkys for Flute: II. (corresponding to Pwyll)

Giacinto Scelsi: Tetratkys for Flute: III. Molto veloce

Giacinto Scelsi: Tetratkys for Flute: IV. —

Giacinto Scelsi: Krishna e Rada for Flute and Piano